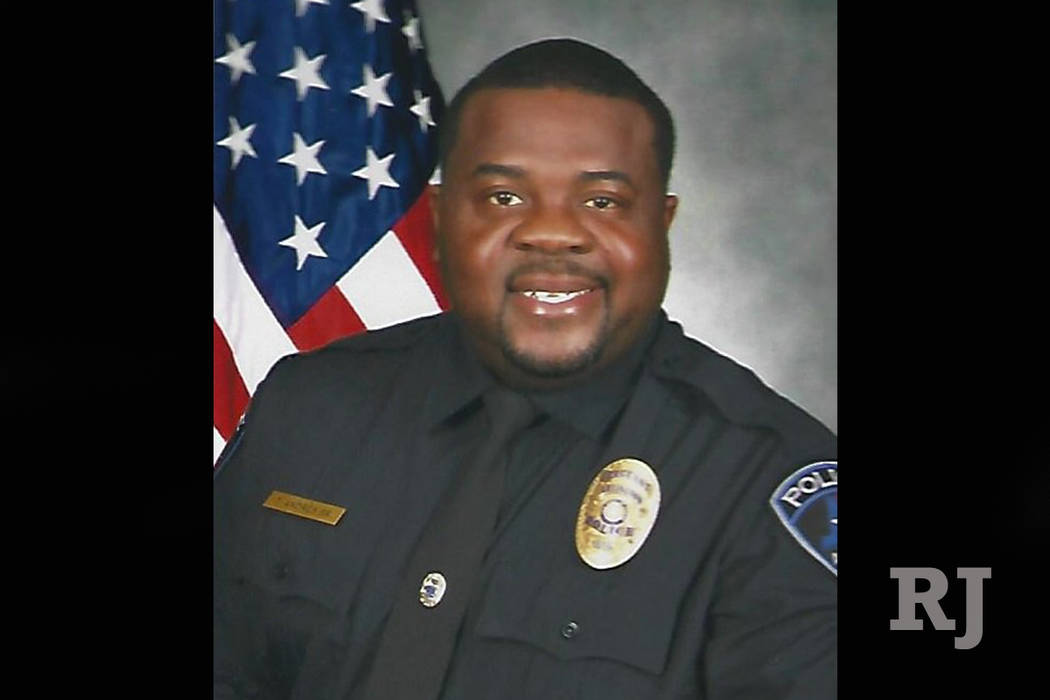 The Henderson Police Department has hired a new deputy chief, but he comes with a questionable past.
Police Chief LaTesha Watson, who came to Henderson from the Arlington Police Department in Texas, hired former colleague Lt. Thedrick Andres. The 48-year-old, who retired from the Arlington Police Department, will start Monday and oversee field operations.
But Andres' time at the Texas department had controversy.
On June 30, 2014, Andres was off-duty and on a party bus when he got into a fight with Juan May, a 45-year-old Marine Corps veteran who was part of the celebration. The fight, which allegedly started after May's cousin Patrick May suggested that Andres dance on a stripper pole in the party bus, spilled outside and escalated, according to a lawsuit filed in 2016 by May's family.
May hit Andres in the face first, and Andres fought with both Juan and Patrick May. The fight appeared to have ended until Andres got a gun from his car and fatally shot May, the lawsuit said.
Watson said she is not concerned about Andres' history.
"If someone was found guilty of wrongdoing, then they wouldn't have a job," Watson told the Las Vegas Review-Journal on Thursday.
Andres was investigated but not charged by a grand jury in May 2015 and was cleared after an internal affairs investigation. A hearing on dismissal of the lawsuit was held in October, but the federal judge presiding over the case has not ruled, court records show.
Andres also was accused of pulling a gun on a person during an alleged road rage incident in Coppell, Texas. Andres called 911 to say that he believed his life was in danger and that the other driver had pulled a hatchet, which turned out to be an ice scraper, according to the May lawsuit.
The police officer also was accused of excessive force while with the New Orleans Police Department, the May family's lawsuit said.
Watson said that Andres was attacked by two men from behind before the shooting. Andres, who has worked in law enforcement for 28 years, could not be reached for comment, but he issued a statement about his new role through a news release sent Friday.
"I am honored to have been selected for this important leadership position and to serve under Chief Watson," Andres said. "I look forward to working with the outstanding men and women of the Henderson Police Department and to using my extensive law enforcement experience to build on the successes that have made our community such a safe place to call home."
Watson said the key thing she was looking for in a deputy chief was someone with great interpersonal and communication skills.
"He's dealt with a lot of violent crimes, and while that may not be something that Henderson experiences, we need to be prepared to handle the worst," Watson said.
Andres began his career in 1990 and worked six years at the Louisiana State Penitentiary, known as Angola, the largest maximum-security prison in the United States and one of the most notoriously violent.
He went to the New Orleans Police Department in 1996 and worked in the patrol, narcotics and community-oriented policing divisions. In 2005, Andres moved to the Arlington Police Department, where he rose through the ranks of corporal, sergeant and lieutenant.
Watson highlighted that Andres was instrumental in developing a school-based program to help mentor at-risk young people in Arlington.
Andres, 48, attended Southern University, where he earned a bachelor's degree in psychology and a master's degree in criminal justice. He is also a graduate of the Law Enforcement Management Institute of Texas and the School of Executive Leadership at the Institute for Law Enforcement Administration.
He has a wife and two children.
More promotions, including the naming of a second deputy chief from within the department, will be announced by early April, Watson said.
Contact Sandy Lopez at slopez@reviewjournal.com or 702-383-4686. Follow @JournalismSandy on Twitter.