High-end bicycle concept wins Henderson's first Start Tank
October 31, 2017 - 8:35 am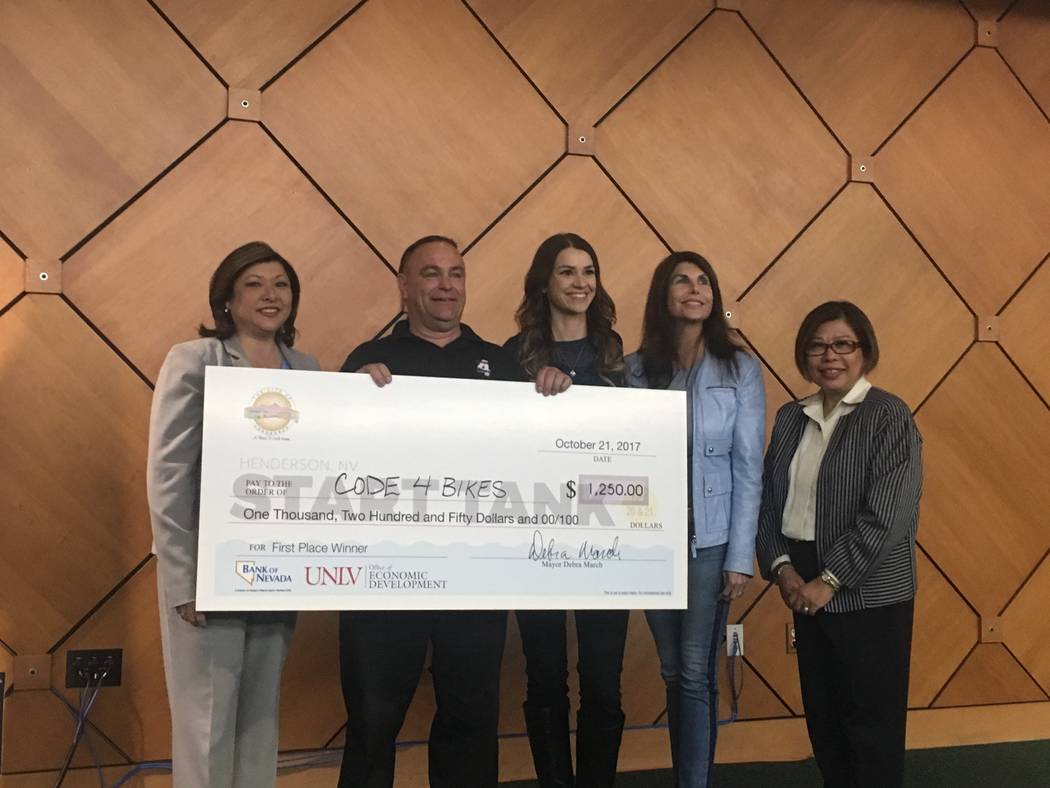 A panel of judges looked on as five finalists in the city of Henderson's Start Tank program presented their business pitches and competed for a cash prize and other awards. In the end, an idea for high-end, low-maintenance bicycles took first place.
The inuagural competition was held Oct. 21 at the College of Southern Nevada's Henderson campus. Barbra Coffee, Henderson's director of economic development and tourism, organized the event.
"It's really our way of reaching out into the community to see who's there," she said. "What entrepreneurs are working in the background on their ideas, their innovations, their business concepts. And through the business-pitch-competition format, it's a fun way for them to get exposure … and then help connect them to resources in our community to help them be successful."
The seven judges included representatives from Arizona-based Moonshot, an entrepreneurial business consulting firm, Bank of Nevada and UNLV's office of economic development. Twenty-two applications were submitted for the competition, and entries were not limited to Henderson residents.
Winner Brett Marshall's Code 4 Bikes is a concept for high-end, nearly maintenance-free bicycles geared toward police departments or security forces. Marshall, 50, said he spent 30 years performing in circuses and bike shows and began building his own bicycles at 13 and recently saw the potential for the business.
"There's tons of security places, and these guys don't have a way to fix the bikes," he said. "They have to take a fleet of bikes back and forth to the bike shops. … I started figuring out 'How can I build this bike?'"
Other finalist business ideas included Uncommon Questions, a game created by Nick Wester after he and his wife realized they had little time in their day to talk and reconnect. The game has a deck of cards with unique conversation topics, such as ones favorite band in middle school or what you would say to people in North Korea.
"We've spent a lot of time together," Wester said. "We've had a lot of great years, and kids come along and they change the dynamic. And pretty soon, you just are exhausted at the end of the day, and you just don't have a lot to talk about anymore. And so what we wanted to do was break through that and to find the little tiny things that we didn't know about each other but that would eventually add up over time."
CargoClear by Kim Daniels is aimed at easing cargo-shipping for small businesses; Travis William's Sports Entertainment Gear offers clothing with sound-activated, light-up patches with team logos and other designs.
The second-place finisher was Jim Smith, who was inspired after he had two break-ins at his home. The intruders kicked in his front and back doors, he said.
Smith's DoorBuster Alarm is a three-legged device placed underneath a doorknob that can help prevent the door from being kicked in by a would-be intruder. It also has an alarm that goes off if any pressure is placed on the door.
"We had an average of 40 to as many as 62 break-ins here in the city of Henderson on a weekly basis," said Smith, a statistician. "I just wanted to try to do something about it."
Smith won $500, and Marshall received $1,250. Both won a yearlong membership with the Henderson Chamber of Commerce and a mentorship package with Moonshot.
"Entrepreneurs, sometimes they can be very linear-focused and hyper-focused on their particular concept, but then there's a lot of things they need to be thinking about," Coffee said. "So that's where the mentoring comes into play."
Paul Thomas, a consultant with Moonshot and a Start Tank judge, said that while the panel chose two winners, the group saw potential in all five finalists and will continue to help them grow their businesses.
"One of the things that we love to see in entrepreneurs is that, it's not just about money. It's this passion that they have," he said. "When you see that, you can't help but want to help someone like that."
Contact Diego Mendoza-Moyers at dmendozamoyers@viewnews.com or call 702-383-0496. Follow @dmendozamoyers on Twitter.