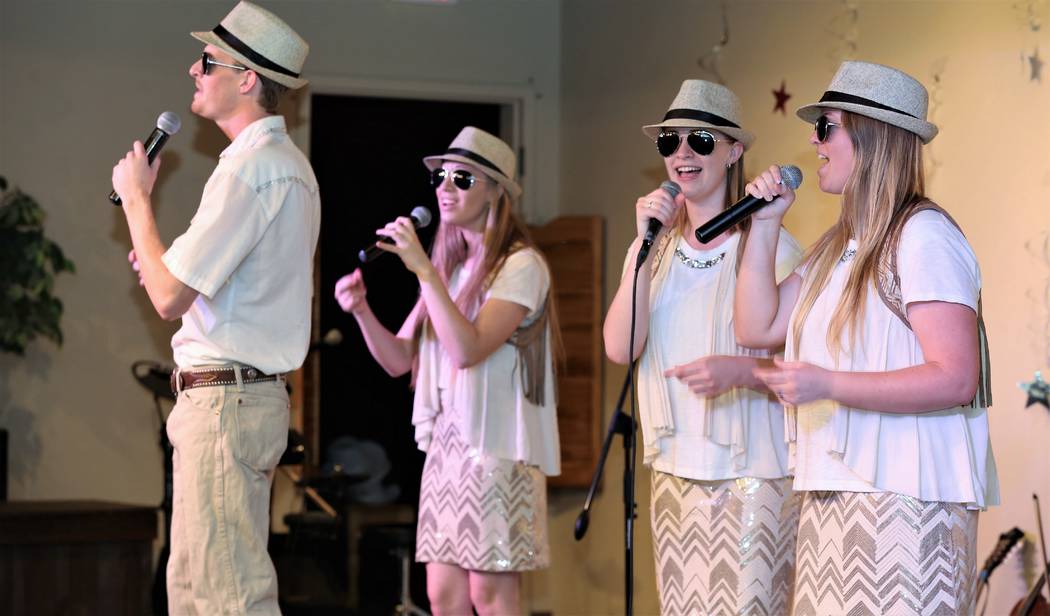 Customers strolled in and out of the coffee shop at South Eastern Avenue and West Horizon Ridge Parkway as Brian Gardner and Dave Carroll tune their instruments and set up for the night's performance.
The acoustic duo that goes by "Manzanita" plays at this Coffee Bean every other Thursday through the rest of the year. The men play upbeat covers and original Americana tunes.
"We play music that's very fun," said Gardner, 65, who began playing music near the Bay Area in 1969. "Some guitarists could say, 'Oh, I can play guitar better than that.' But maybe he wouldn't be personable with the audience, and it wouldn't work. I really work to engage the audience, have a lot of fun."
The men began performing music this summer and are part of the off-the-beaten-path music scene in Henderson. While most tourists and many residents look to the Las Vegas Strip for entertainment, Gardner is hoping to add another element for locals to enjoy.
"If we were 25, we'd be going, 'Yeah, let's build it. We're going to play every night.' We don't want to do that. We want to just have fun with it," Gardner said. "I think there should be more of this out there because if a society has more music happening, all over the place, I think it's a healthier society."
Gardner began playing as a drummer in the late 60s and picked up guitar in the mid-70s, he said. The two have played on the Art Train that goes to and from Boulder City, as well as other coffee shops, and are looking to expand their audience.
"You kind of just have to be a good hustler in this town," Gardner said. "We are kind of just continuously putting our feelers out there."
Across town in downtown Henderson, another local group readied for its show the same evening.
Mama's Wranglers, a family band consisting of mother Toni Jackson and her four children, own and perform at the Firelight Barn on Water Street. The group hosts a dinner-theater performance, serving barbecue dinners for the audience before performing an old-time Western show.
The group has been performing for 16 years, settling into the Firelight Barn as a permanent home in April 2015.
"Our main mission in doing this, as opposed to continuing to be out on the road, is to really provide a good, wholesome family entertainment place, so people don't always have to go to the Strip," Toni Jackson said.
Children Tess, 26, Grayden, 24, Mickinzie, 22, and Skyler, 16, all play multiple instruments, such as guitar, keyboard, banjo, fiddle, mandolin and drums, and incorporate clog dancing into the show. Skyler, who was introduced into the show as a three-year-old, also yodels.
"It does make me feel really special that no one else in the family can (yodel)," Skyler said, chuckling. "I don't think I'm actually any better than any of my siblings up on stage because we all have different strengths."
The Jackson family band formed after Toni had Tess learn piano at 3 and fiddle at 6, then expanded her learning at 10 to include the banjo, guitar and other instruments.
As the older siblings Tess, Grayden and Mickinzie began playing together and singing in three-part harmony as children, Toni Jackson realized the potential for a family band.
The group performs at the venue at 133 S. Water St. and typically hosts shows on Thursday, Friday and Saturday evenings.
Mama's Wranglers will begin its "Cowboy Christmas" show the weekend after Thanksgiving.
Contact Diego Mendoza-Moyers at dmendozamoyers@viewnews.com or call 702-383-0496. Follow @dmendozamoyers on Twitter.
Performances
Manzanita: Performs at the Coffee Bean at 10604 S. Eastern Ave. at 6 p.m. every other Thursday.
Mama's Wranglers: The family band welcomes large groups by reservation but also typically performs shows Thursday, Friday and Saturday evenings. Call 702-518-7464 to make reservations.