Independent investigator recommended firing Henderson police chief
Updated March 17, 2019 - 2:45 am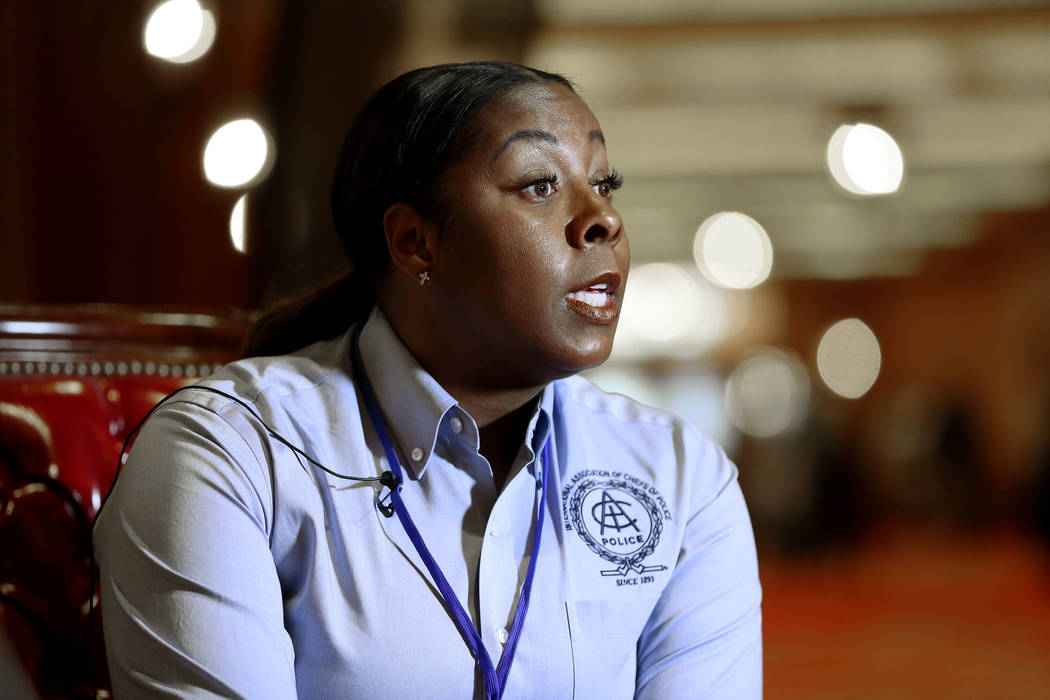 An independent investigator recommended Henderson officials seriously consider firing police chief LaTesha Watson, records obtained by the Las Vegas Review-Journal show.
The suggestion was the result of three internal investigations and was submitted two days before the chief was placed on paid leave indefinitely.
Watson did not respond to requests for comment Saturday.
The investigating firm, Littler Mendelson P.C., cited several reasons, including Watson's disregard of her supervisor's orders, sowing mistrust and division among employees, attempting to influence employee communication and engaging in a promotion process that led employees to question whether the results had been predetermined favoritism, records show.
"I believe that Chief Watson has engaged in inappropriate and ineffective leadership of HPD that is unlikely to be cured and creates vulnerability to the City," investigator Wendy Krincek wrote. "It is unlikely that coaching will change the inappropriate and ineffective decisions and behaviors engaged in or that the City could put into place an effective mechanism to prevent the issues from reoccurring."
The city declined comment.
Sworn in as chief in November 2017, Watson was brought in as an outsider and reformer after the former Henderson chief, Patrick Moers, was ousted amid a sexual harassment investigation. She came from the Arlington Police Department in Texas, where she was a deputy chief.
On Thursday, the city placed Watson on paid leave without explanation, and Deputy Chief Thedrick Andres was named acting chief in her absence. Watson's annual salary is $190,000.
The chief was the subject of several investigations last year, costing the city more than $50,000. Although most of the investigations found no policy infraction, other findings revealed issues with leaders at the Henderson Police Department.
Policy violations
Two of the three most recent investigations into Watson's actions found specific policy violations.
In one instance, Watson was found to be in violation of the city's performance and disciplinary actions policy for failing to follow her supervisor's orders with regard to the process of policy changes in the department.
Her supervisor, Bristol Ellington, Henderson's deputy city manager and chief operating officer, told Watson that policy changes must be vetted by the city attorney's office.
But Watson later changed department policy unilaterally and promoted three lieutenants — including two who had been at their rank less than a year — to captain, a violation of the Police Department's existing policy.
"This is especially important because one of the issues under the prior administration impacting morale at HPD that Chief Watson was made aware of and asked to address was the widespread belief that eligibility requirements were being modified specifically to enable the prior Chief to promote individuals that were in his favor," Krincek wrote.
The department was forced to rescind the promotions, causing a ripple effect and halting the promotions of other officers and sergeants to higher ranks.
Watson told Krincek that, in the past, people had been promoted against policy and nobody had a problem with it.
In another investigation, Watson was found to have violated Henderson's workplace professionalism policy by telling union leadership that what was said at executive board meetings would be reported to her.
The investigation determined Watson's conduct contributed to friction with the Henderson Police Supervisors Association.
"Moreover, she appears to have absolutely no awareness that her commentary to HPSA and others that anything negative they have to say will be leaked or snitched on by coworkers is inappropriate and will create a toxic work environment because employees will mistrust each other," Krincek wrote.
Unsubstantiated claims
In a third complaint, two employees alleged they were targeted by senior leadership in the department for their union activities.
None of the eight claims was substantiated, but Krincek wrote that Watson's actions and comments outlined in the report require serious action.
Watson's comments in a September 2018 meeting with union presidents were of significant concern, Krincek wrote.
"They strike a combative tone with the unions and no effort to bridge any discord with the unions is evidenced," she wrote. "Rather, Chief Watson makes inflammatory allegations that (redacted) has stated (redacted) is at war with the Chief."
Watson was told she could be charged with insubordination for refusing to provide sources for her allegation that another employee was pressuring co-workers to file complaints against her, according to the report.
She also refused to provide sources for her allegation that she was referred to by a racial slur, the report states. Watson told the investigator that she did not want to violate the trust of her sources.
Krincek's report also notes inflammatory comments she made during a November meeting with command staff.
"Especially inflammatory were those statements to her command staff that anyone on her command team or promoted to her command team should expect to be a 'casualty of war' and target of the HPSA," she wrote.
Contact Blake Apgar at bapgar@reviewjournal.com or 702-387-5298. Follow @blakeapgar on Twitter.