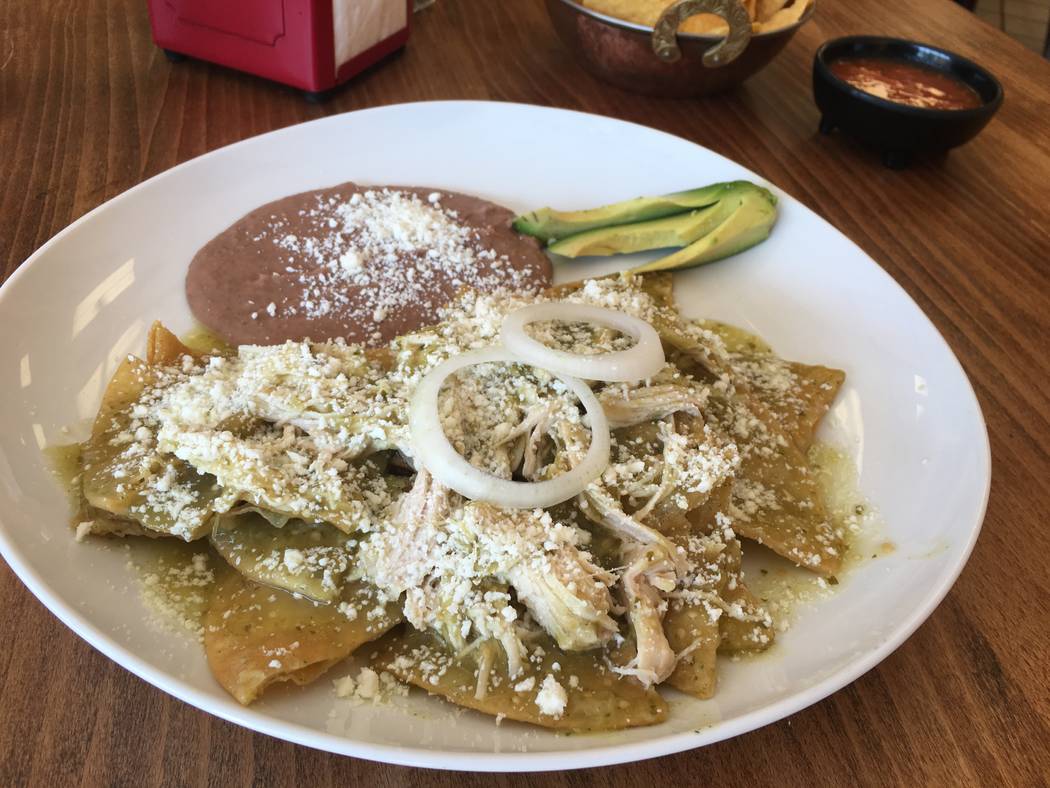 Las Cazuelas, which opened in 2013, specializes in dishes from the Puebla region in central Mexico.
"In the beginning it was a little rough because everybody wants the regular chimichangas," said Manuel Avendano, manager of the restaurant near Eastern Avenue at Silverado Ranch Boulevard. "Which is good, but we try to do a different menu."
A century ago, Puebla became a popular destination for emigrants from Lebanon and Iraq, who brought shawarma and pita bread with them. Mexicans integrated those ingredients into their own food, Avendano said.
"They said, 'OK, I'll do my style with your ingredients. So they do the shawarma with pork and keep some ingredients, like the oregano and the spices. So they're tacos in a pita," he said.
Other traditional dishes include mole poblano, a sauce made of several spices and chocolate, as well as the tacos arabe, which are $3 each, Avendano said.
The most popular items are the enchiladas, served with green, red or mole sauce and rice and beans ($11.50) and the molletas, a bruschetta-style dish of open bread baked and topped with pinto beans, cheese and pico de gallo ($7).
"That's a traditional dish for lunch in Mexico City," Avendano said.
A rare, seasonal dish chiles en nogada, which is a poblano pepper stuffed with beef, bathed in a walnut cream sauce and garnished with pomegranate seeds, typically is served in fall.
Chilaquiles ($9) and sopes ($7.50) are available, as well as traditional desserts like churros ($4) and flan ($2).
"All the food is simple … It's just tomatoes, tomatillos, simple things. It's the basic flavors, not too many condiments," Avendano said. "The people know the real Mexican food."
Contact Diego Mendoza-Moyers at dmendozamoyers@viewnews.com or call 702-383-0496. Follow @dmendozamoyers on Twitter.
Las Cazuelas
Where: 9711 S. Eastern Ave.
Hours: 11 a.m.-9 p.m. Sundays-Tuesdays and Thursdays; 11 a.m.-10 p.m. Fridays-Saturdays; closed Wednesdays
Phone: 702-837-0204
Website: lascazuelaslv.wixsite.com/pueblafood
Social media: facebook.com/lascazuelaslv