Las Vegas girl rewarded for fundraising with lemonade stands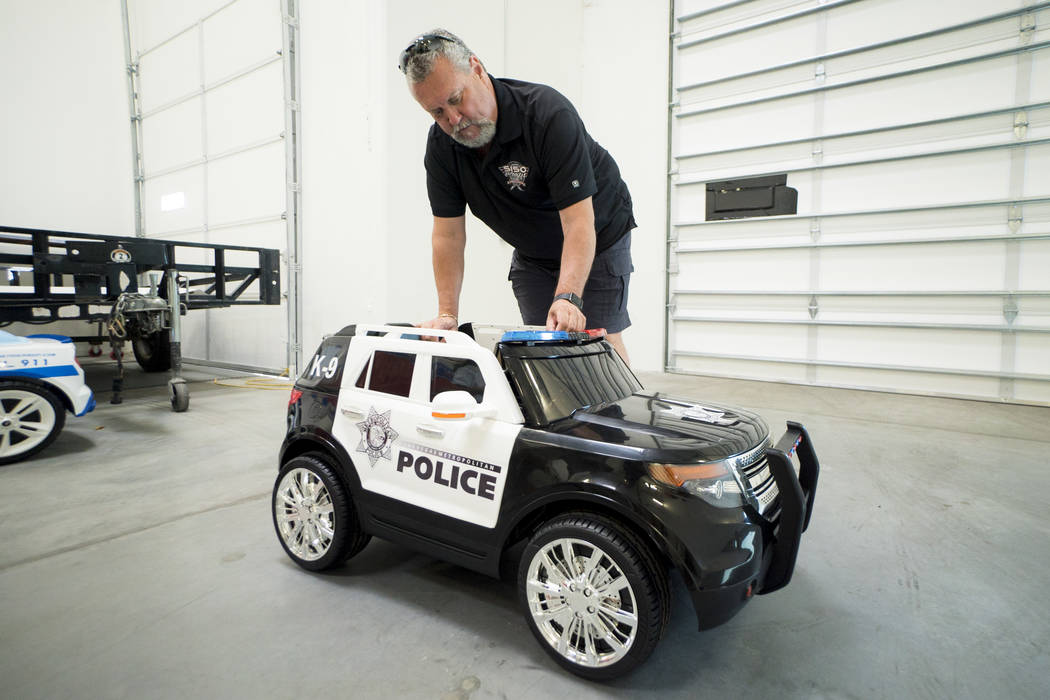 Theresa Ann Babcock has hundreds of older brothers and sisters, and they all work for the Henderson Police Department.
Theresa, 5, has hosted lemonade stands throughout the Las Vegas Valley the past two years. She has donated all the profits — more than $5,000 — to police departments and charities, particularly Henderson police.
She was 3 when a shooting injured three police officers and killed three more in Baton Rouge, Louisiana.
"She always wanted to do a lemonade stand," said her father, 43-year-old Robert Babcock. "I said if we do one, proceeds would go to the fallen officers at Baton Rouge."
Although Theresa said she can't remember it, she operated her first lemonade stand on July 19, 2016, outside of City Hall in her hometown of Henderson. Sitting on a sidewalk with a sign advertising lemonade, she raised $1,380 in one day.
Over the years she's raised more than $5,000, her dad said. She's donated to police departments in California and taken part in charity races for police officers.
During January's Officers Down 5K in Las Vegas, she ran in honor of Charleston Hartfield, an off-duty Metropolitan Police Department officer who died in the Oct. 1 shooting, Robert Babcock said.
She holds her lemonade stands "to help the police" and "to help their family (of the people) who died in the past," said Theresa, whose family now lives just over the Henderson border in Las Vegas.
Her efforts have not gone unnoticed. On July 7, Theresa received two kid-size cars detailed to look like police vehicles.
Robert Babcock said he wanted to get her "Frozen"-themed toy car repainted to look like a Henderson police vehicle, so he contacted the company 5150 Wraps. The company redid the car for free and invited officers from the Henderson and Metropolitan police departments to give it to her.
"We thought what she was doing was awesome," said John Hastings, one of 5150 Wraps' three owners.
Hastings wanted Theresa to enjoy an even bigger surprise, so he bought a second toy car online to turn into a replica of a Metro police car.
It arrived the day of the event, he said.
Hastings and Elliot Nail, another co-owner, spent the morning of July 7 building the car and placing the decal wraps. They hid it near the shop, and when the Babcock family gathered with visiting officers, a police dog sniffed out the car for Theresa.
"She was just giggly," Robert Babcock said. "The nice part about it was that there were other kids here, and she shared it with them. She was asking other kids if they wanted to drive her car."
Before her father took the toy car home, Theresa took it for a spin around the company's warehouse. The car's blaring siren echoed throughout the warehouse as she drove the car in circles, commanding imaginary criminals to "come here with your hands up" over the radio.
Theresa Babcock's new car doesn't resemble just any Metro vehicle; it looks just the vehicles used by her favorite officers — the two- and four-legged members of K-9 units.
Her favorite part of her lemonade charity is "going to all the stations and seeing dogs."
Since July 16, Theresa and her dad have been traveling across California, planning to visit 19 police stations in 10 days.
"Last year we went to Huntington Beach, and when we went to go visit them they were like, 'Where's the lemonade?' " Robert Babcock said. "And we were like, 'Oh, we didn't think about that,' so we planned this summer to go down there."
They also planned to hold lemonade stands during visits to the Los Angeles Police Department and Los Angeles County Sheriff's Department.
Theresa doesn't care too much about all the attention. She's just happy to help her police friends and their families, especially those in Henderson, where her efforts began.
The police are like "brothers and sisters to me," she said.
Contact Katelyn Newberg at knewberg@reviewjournal.com or 702-383-0240. Follow @k_newberg on Twitter.