Lawsuit: Inmate taken off suicide watch in Henderson jail kills himself
Updated May 19, 2023 - 11:05 am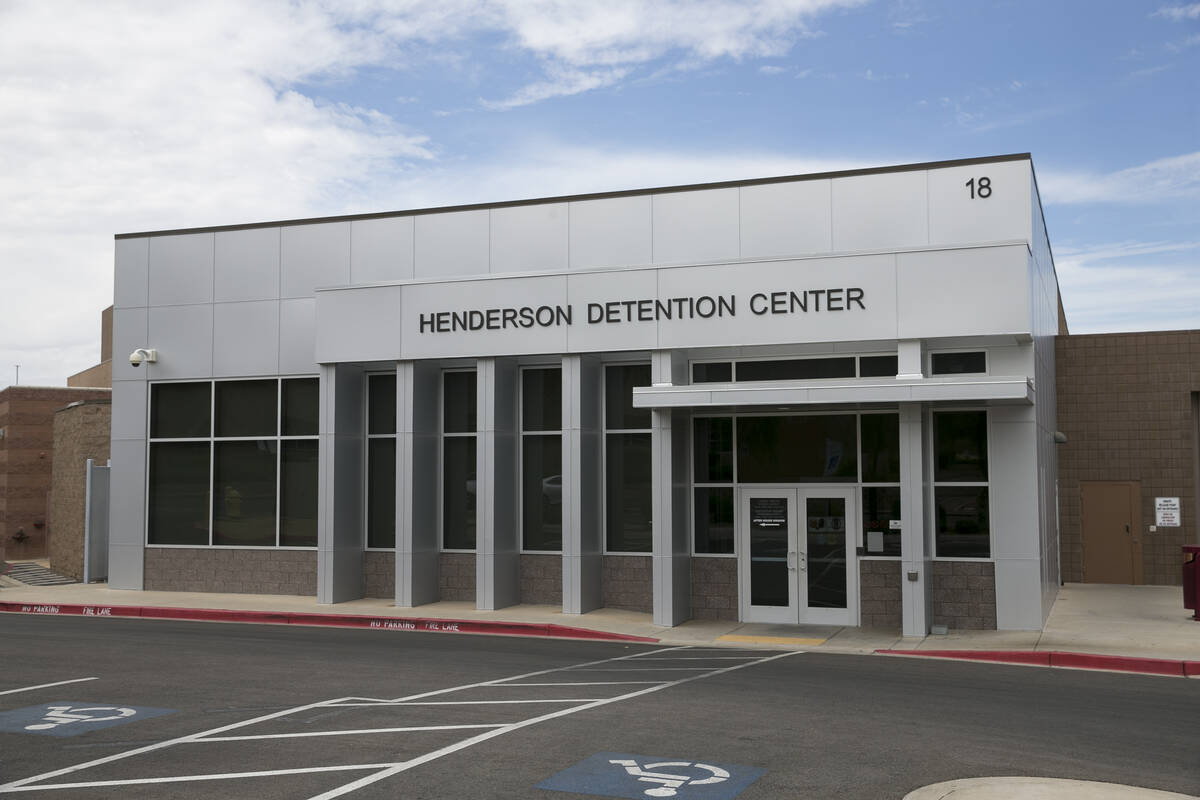 A wrongful death lawsuit filed on behalf of a man who killed himself at Henderson Detention Center alleged that the jail should not have removed him from suicide watch.
Jason Foy, 38, was found hanging inside his cell on April 25, 2021. He was taken to Henderson Hospital where he later died.
After his arrest on April 23, Foy told the officer taking him to jail that he wanted to kill himself. After being booked, Foy was placed on suicide watch, according to a complaint filed in District Court last month.
'I'm sick of this'
"You're going to have something else on your hands because I'm going to (expletive) hang myself," backseat video captured Foy saying to a police officer. "I'm sick of this."
The next morning Foy was cleared by a social worker and removed from suicide watch.
At around 2:40 p.m. on April 25, Foy was found hanging during a cell check.
The Clark County coroner's office said Foy died by hanging and ruled his death a suicide.
Foy was suffering from alcohol withdrawal and depression and was not provided adequate mental health treatment while in custody, according to the complaint.
Arrest details
According to a Henderson Police Department arrest report, Foy was arrested for misdemeanor assault against his girlfriend, who reported to police that Foy was prone to fits of sudden rage. She said Foy came home drunk and threw a water bottle at her. Foy then threw a door that was off its hinges down a hallway, shattering an overhead light in the process.
Body-camera footage from an officer who responded to the call showed officers asking Foy to tell his side of what happened. Foy said he defused the situation by going into his room to sleep and said telling his side wouldn't help because he would be going to jail either way.
"I'm not going to have a story because this keeps going on and on," Foy said. "I'm out on bail right now for the same exact thing."
A note addressed to his girlfriend was found in Foy's cell with the words "Waiting to Die," on it, according to a Henderson police incident report.
Surveillance footage from inside Henderson Detention Center on April 25 shows Foy in a common area by himself standing and then sitting before going into his cell. After some time, an officer walks through looking into the doors of the other cells. The officer stopped at Foy's door and soon after, several officers and medical personnel run into the room.
According to an incident report, Foy attempted to make five phone calls that were denied before going back into his cell to hang himself.
The report said officers continued to do routine checks of Foy's cell after he was cleared from suicide watch. Police noted that Foy had been placed on suicide watch at Henderson Detention Center in 2016, 2020 and 2021.
The city of Henderson, the Henderson Police Department, former Police Chief Thedrick Andres and Naphcare, Inc. were named as defendants in the case.
Naphcare contracts with Clark County to provide services to people detained at Henderson Detention Center, according to the complaint.
The lawsuit alleged a deprivation of civil rights, negligence, wrongful death and discrimination based on a disability.
When reached for comment Wednesday, George Hand, an attorney representing Foy, said, "We're just relying on the facts in the complaint at this time."
City of Henderson spokeswoman Madeleine Skains said the department and city could not comment on pending litigation.
Naphcare could not be reached for comment.
If you're thinking about suicide, or are worried about a friend or loved one, help is available 24/7 by calling or texting the Lifeline network at 988. Live chat is available at 988lifeline.org.
Contact David Wilson at dwilson@reviewjournal.com. Follow @davidwilson_RJ on Twitter.