Local volunteers participate in annual Christmas bird count
December 25, 2016 - 8:13 pm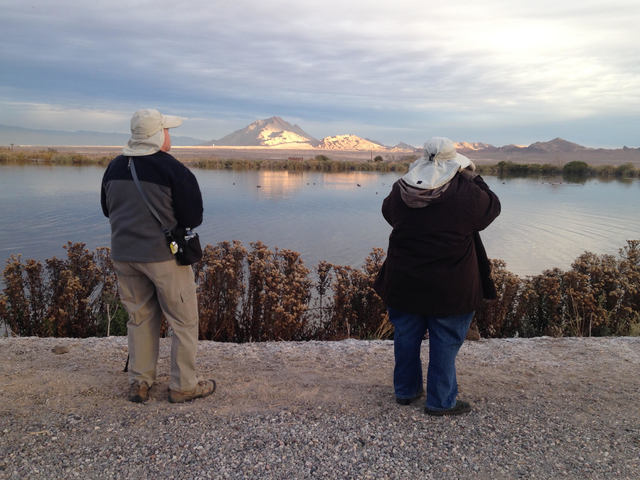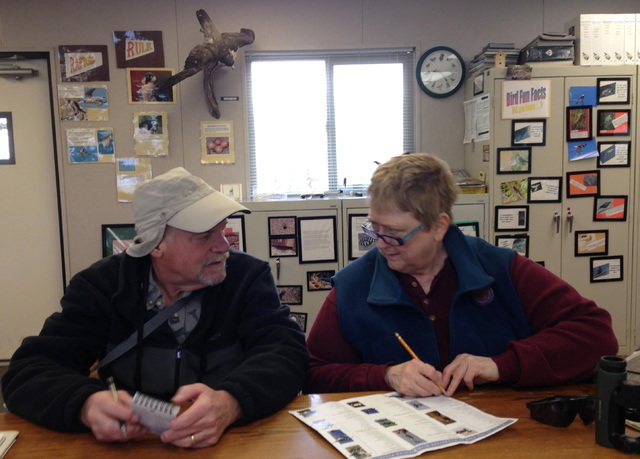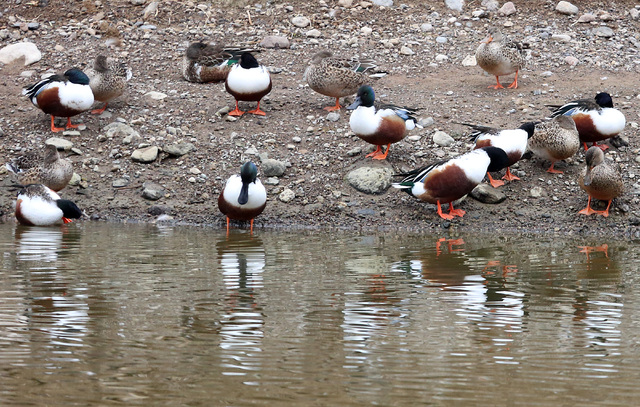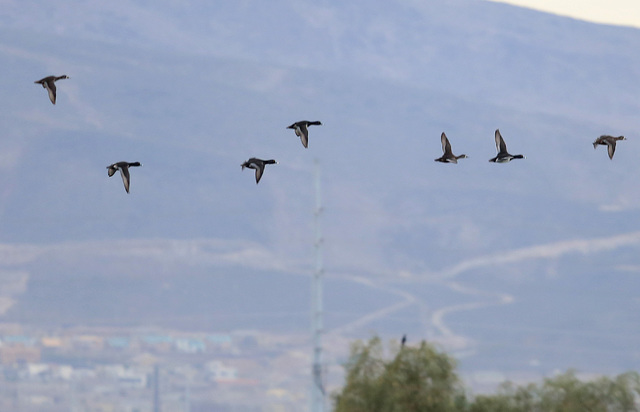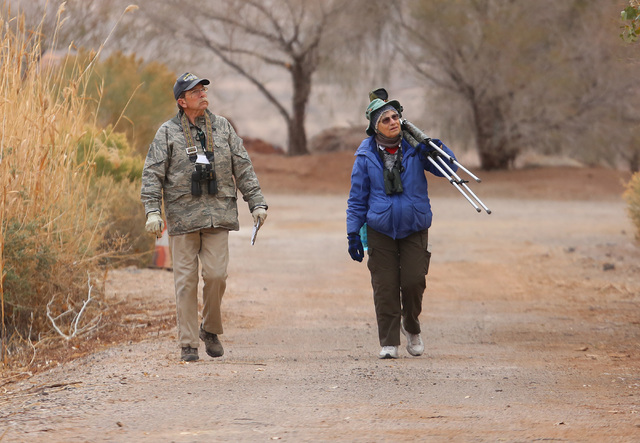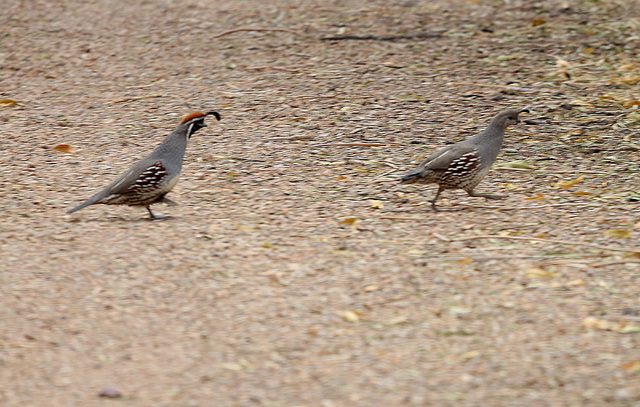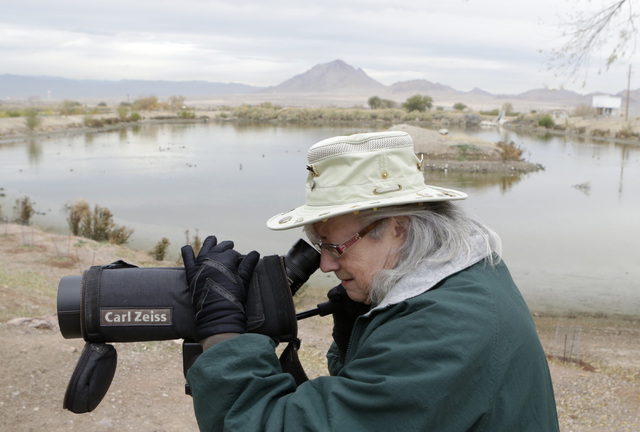 As winter dawned with no ice in sight, a group of nine volunteers fanned out across the Henderson Bird Viewing Preserve to count ducks, coots, wrens and warblers.
It was a welcome change for Ted and Paula Lupina.
After a decade of Audubon Society Christmas Bird Counts in the Midwest, Wednesday's tally was their first in Southern Nevada.
"We've done these in Indiana and in Michigan," Ted said.
"In blizzards," Paula added.
"We don't have to worry about snow here," Ted said.
Ornithologist Frank M. Chapman organized the first Christmas Bird Count in 1900.
Since then, the annual avian census by the National Audubon Society has grown to include tens of thousands of bird-watchers throughout the Western Hemisphere. Their observations each year between Dec. 14 and Jan. 5 are added to an online database available on the society's website.
Though each count provides little more than a one-day snapshot of a given area, over time the numbers can help chart changes in bird populations, habitat and behavior.
"It's giving us a good feel for what's having trouble and what's not," said Je Anne Blackman, who has been compiling the Christmas count results in Henderson for the past 11 years.
LOCAL COUNTING CONTINUES
The Red Rock Chapter of the Audubon Society also organized bird surveys this year at Ash Meadows National Wildlife Refuge on Dec. 16, along Corn Creek at Desert National Wildlife Refuge on Dec. 17 and at Pahranagat National Wildlife Refuge on Dec. 19.
Two more Christmas counts will be held Jan 1 along the Muddy River and Jan. 2 at Red Rock Canyon National Conservation Area.
Longtime local Audubon Society member John Hiatt said this year's tally in Henderson was "better than average," with 100 different bird species sighted, including three bald eagles, one peregrine falcon and several rare-for-here blue-phase snow geese.
Bird watchers also spotted roughly 2,500 eared grebes, a type of small water bird, at the western edge of Lake Mead, Hiatt said. "There were just big rafts of them out there. I've never seen anything like that."
Hiatt was also struck by what they didn't see. "We didn't see any robins at all. That's very unusual," he said.
The Henderson count has been conducted within the same 15-mile circle, centered near Lake Mead Parkway and the Calico Ridge subdivision, since 1975. "But the habitat within that circle has changed pretty dramatically over that time," Hiatt said.
For better or worse, so have the birds.
Decades ago, for example, Christmas bird counters might see as many as 40,000 western and Clark's grebes bobbing on the surface of Lake Mead. This year's count was 101, said Hiatt, who serves as conservation chairman for the Red Rock chapter.
Meanwhile, peregrine falcon sightings have become a regular occurrence — something that never happened in the early days of the Henderson count. "They were on the endangered species list (then), and they're weren't very many of them left," Hiatt said.
It takes someone watching to notice differences like these.
A LIFETIME OF GAZING SKYWARD
Ted and Paula Lupina have been married for 40 years, and they've been bird watching together for the past 38 years. Paula's life list — sort of a birder's scorecard — contains almost 600 different species, while Ted's is approaching 700.
Their passion for birds has taken them all over North America, from Fort Jefferson in the Florida Keys to Attu Island at the western end of Alaska's Aleutian chain.
They moved to Las Vegas from Indianapolis a little over a year ago, and now they walk around the ponds at the Henderson Bird Viewing Preserve once a week or so.
They no longer need to consult their field guides. At a glance, they can easily identify almost any bird at the preserve. In less than two hours Wednesday, the couple counted about 500 individuals from 19 different species.
"Everybody's a birder, just at different levels," Paula said as she walked beside one the ponds with her spotting scope strapped to her back.
It's a good hobby, because you can do it anywhere, Ted said. All you need is a pair of binoculars.
"I've birded before in a business suit in Washington, D.C.," he said. "You can use your tie to clean your lenses."
Contact Henry Brean at hbrean@reviewjournal.com or 702-383-0350. Follow @RefriedBrean on Twitter.