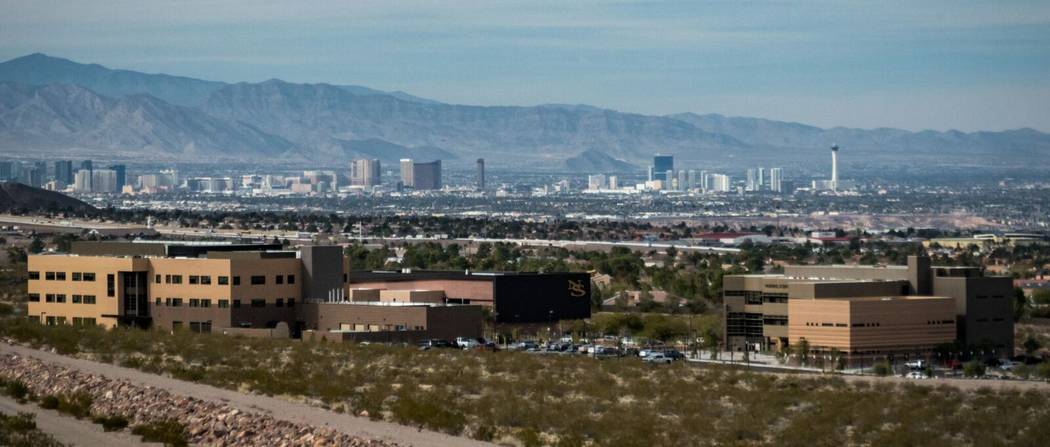 As one of her first actions as provost at Nevada State College, Dr. Vickie Shields sent a campuswide email survey about how to improve the college.
"I'd seen from others that the more you know about the real people that work at a place, the better it's gonna be," Shields said. "And in the provost position, you have to care about everything."
She was hired as provost in December , while the dean of social and behavioral sciences at Eastern Washington University in Spokane. She moved to Las Vegas in March and assumed her duties in June.
"(Eastern Washington's) student population is very similar to here, 50 percent first generation," Shields said.
Surrounded by copies of her favorite impressionist art by Pierre-Auguste Renoir, Shields reflected on her two decades in academia.
The Nampa, Idaho, native studied communication at Boise State University, before going to graduate school at Ohio State University. There she discovered her love of teaching.
She spent the first 12 years of her career as an assistant professor of telecommunications and women's studies at Bowling Green State University in Ohio. She became director of women's studies, then associate dean of arts and sciences.
"We are extremely fortunate to have her as our provost at this pivotal point in the college's evolution," said NSC President Bart Patterson. "I could not be happier to have her on our leadership team."
Shields said she often refers back to her own college experience and the experiences of her two daughters to visualize what everyday student life is like. She hopes to create a "seamless process" of student and academic support services.
"I would see my oldest daughter, and on any given day she was having really different experiences," Shields said. "If she was having an issue with financial aid, it would spill over into the classroom. And that's just counter to what we're trying to do at these institutions."
NSC's nursing and teaching programs are focal points of the upcoming year for Shields.
The college produces 30 percent of nurses in Nevada, Shields said. Last year, the school had a 98 percent pass rate on the National Council Licensure Examination, a requirement for registered nurses.
Shields also is concerned about the teacher shortage in Nevada. The college offers teacher academies at Las Vegas Valley high schools, such as Southeast Career Technical Academy.
To help boost the number of teachers, NSC plans a $29 million education building, with $6 million from fundraising and $23 million from the state.
"We're at an incredibly interesting time in our history," Shields said.