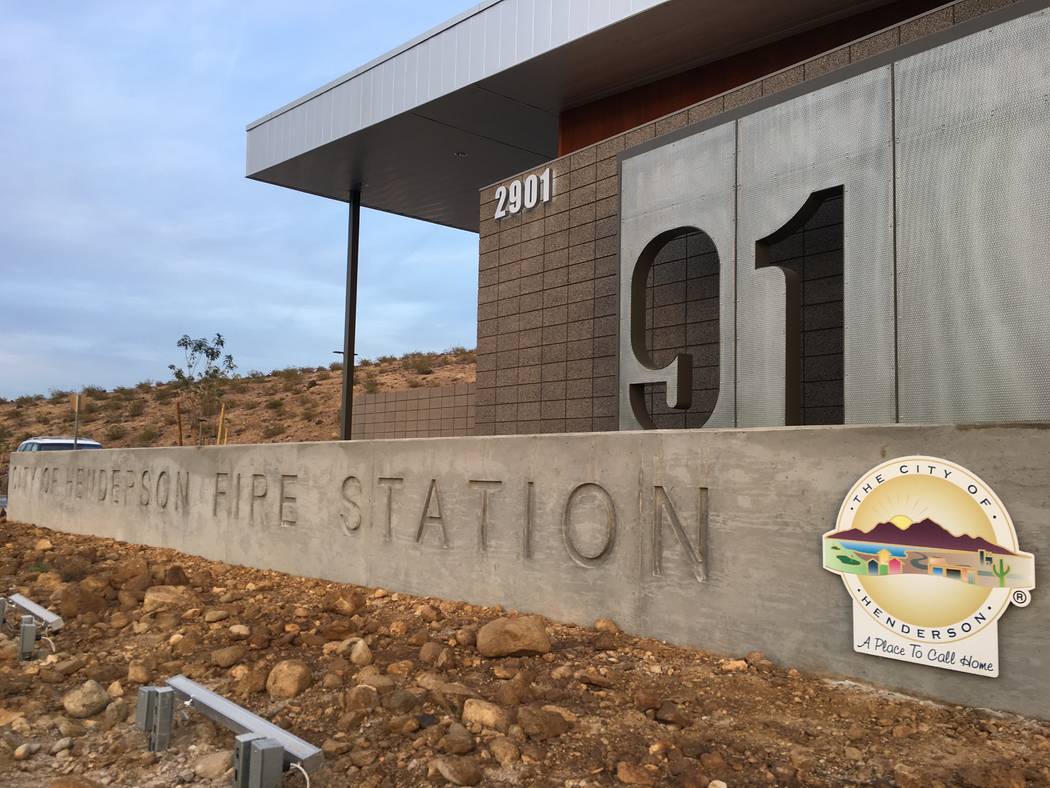 To keep up with rapid growth in Henderson's west side, the city built its first new new fire station in 15 years.
Station 91, 2901 Democracy Drive, primarily will serve the Inspirada and Madeira Canyon communities. Its grand opening was Nov. 13, but the station began responding to calls Oct. 23.
"This west side of Henderson is just exploding," Henderson Fire Chief Shawn White said. "Our goal is to get to any place in the city within six minutes or less, and we were struggling out here, so we got to the point where we had enough population to support the fire station."
The threshold for a new fire station to be justified was a little over 2,000 households, White said.
Prior to the opening of Station 91, the closest responders in the area were at stations 99, at Anthem Parkway and Atchley Drive, just under 3 miles away, and 98, at Coronado Center Drive and West Horizon Ridge Parkway, about 7 miles away.
Inspirada's developers agreed during the planning stages to donate land and funding for to the city to build the $6.1 million station, Inspirada project manager Jim Rizzi said.
"We, from day one, have let our residents know this was coming in the new future," he said. "This is just very strategically placed not only for Anthem, but all of Inspirada as well."
The nearly 11,000-square-foot facility has a kitchen, seven dorm rooms, four unisex bathrooms, two offices , laundry facilities, a workout room and a recreational room. White said at least four people will be on staff at all times.
In addition to its fire engine, the station has a rescue-operation vehicle, which will allow firefighters and paramedics to respond more easily to the nearly 14 miles of trails in the area, where people often get stuck because of injuries or dehydration, White said.
"Initially, we were just sending firefighters out into the wilderness to hike," he said. "We should probably do a little better than that."
Construction began in November 2016, city spokeswoman Kathleen Richards said. The station met LEED standards for its use of energy- and water-efficient systems and solar panels. Leadership in Energy and Environmental Design-certified buildings meet requirements developed by the U.S. Green Building Council.
The station will be the prototype for future fire stations in Henderson, Mayor Debra March said. The next one likely will be built to serve the growing Cadence community in east Henderson, she said.
Contact Diego Mendoza-Moyers at dmendozamoyers@viewnews.com or 702-383-0496. Follow @dmendozamoyers on Twitter.