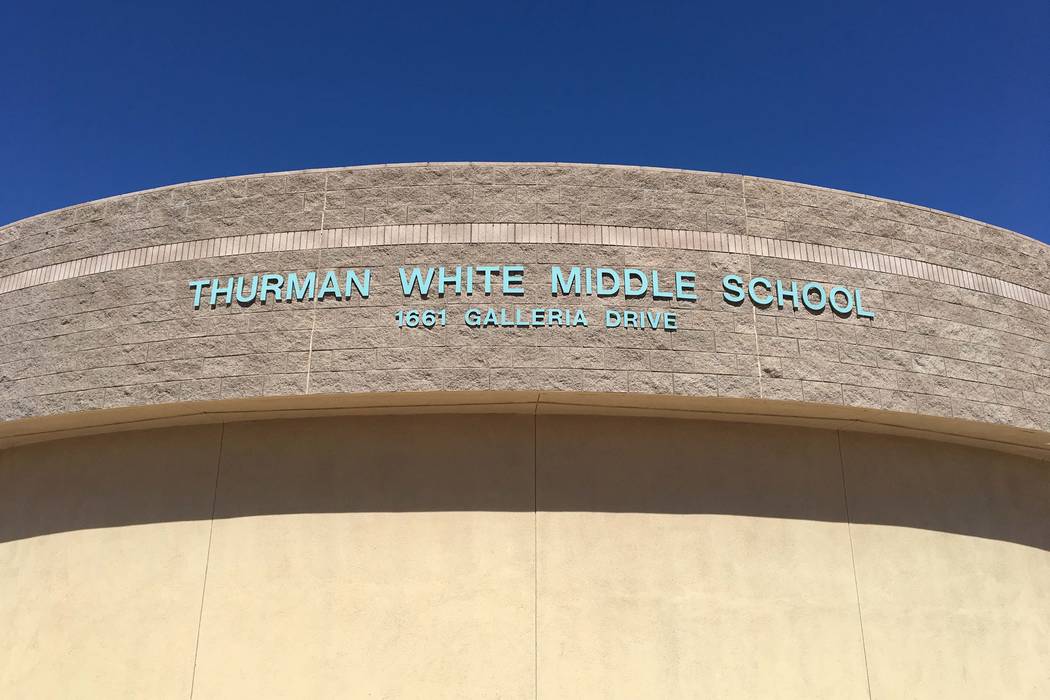 It was 8:30 a.m., on the first Friday of the school year, when the screaming started at a Henderson middle school.
Two girls, ages 12 and 16, fought for several minutes at White Academy before staff members intervened. The older girl was stabbed with a knife during the altercation but is expected to survive.
Outside the campus, as news of the incident spread, some parents arrived to pull their children out of school. Angel Bautista, a seventh-grader who left with his father, said it was scary to think that he or one of his friends could have been stabbed.
"School is supposed to be a safe place, and you just hear some kid gets stabbed. It's like you're in a nightmare," he said. "That is like the scariest thing that I've ever been through."
Capt. Ken Young of the Clark County School District Police Department said the teenage girl, a student at an unidentified high school in the district, had wandered onto campus and was stabbed by the younger girl, who attends White Academy.
Police arrest 12-year-old
The teen was taken to a medical facility with non-fatal injuries, and the younger girl was arrested on a charge of battery with a weapon resulting in substantial bodily harm, Young said.
"At this point there seems to be no gang affiliation," Young told reporters during a morning briefing outside the school. "There was an altercation off property that culminated here today."
The school district is collaborating with Henderson police on the investigation.
After the stabbing, students were only allowed to move from class to class, with restricted movement around the main area — the quad — where the incident occurred, Young said. The department is looking into how the older girl walked onto campus.
"It is the first week of school," Young said. "She may have been able to blend in with the other students."
No officers were present at the time, he said, but they responded to a call around 9:30 a.m.
The school district communications office said the incident happened before the 8:45 morning bell and that the school did not go into lockdown.
Incident 'was quickly contained'
White Academy Principal Andrea Katona sent out a message through the district's ParentLink system to inform parents of the stabbing. It said the incident occurred after someone entered the campus and confronted a student in the quad area.
"This incident serves as a reminder for parents and students to know that weapons are not permitted on campus and if students are aware of a situation where they may be confronted, to contact school administration or law enforcement authorities to prevent incidents like this from happening," according to the message.
Katona followed up with another message around 1 p.m. to tell parents that "the incident was quickly contained."
"No other students other than the two who were involved in the altercation were threatened or injured."
The message also said the school would operate on its normal bell schedule Monday.
As some students left Friday morning with their parents, they expressed concern for the girl who was stabbed.
Ricky Osorio, an 11-year-old sixth-grader, said he was at his locker when kids started screaming. That's when he heard that someone had been stabbed in front of the lunchroom. His teacher allowed him to answer his phone when his mother called, and she came to pick him up.
"I was confused and scared," he said. Then he saw the crime tape.
Young said the department is reviewing security protocols.
"If your kids were aware of something like this, give them a strategy of how to report it," he said, directing his comments to parents. "Be nosy."
Located on Galleria Drive in Henderson, the middle school serves about 1,600 students, according to state data from the 2015-16 year. Under the last state rankings, the school was given four out of five stars.
The school is a Title I school, a federal designation meaning the school services a high percentage of students in poverty. It also is a magnet school with a performing arts theme.
Angel Bautista talks about the stabbing at his Middle School in Henderson. @reviewjournal pic.twitter.com/olXRL4Bxbx

— Bizuayehu Tesfaye (@bizutesfaye) August 18, 2017
Contact Briana Erickson at berickson@reviewjournal.com or 702-387-5244. Follow @brianarerick on Twitter. Contact Dana Rutkin at drutkin@reviewjournal.com or 702-383-0381. Follow @danadrutkin on Twitter. Staff writer Meghin Delaney contributed to this story.
36.0791762,-115.0615424