Veganbites Bakery's sweets popular among Las Vegas eateries
January 8, 2018 - 3:29 pm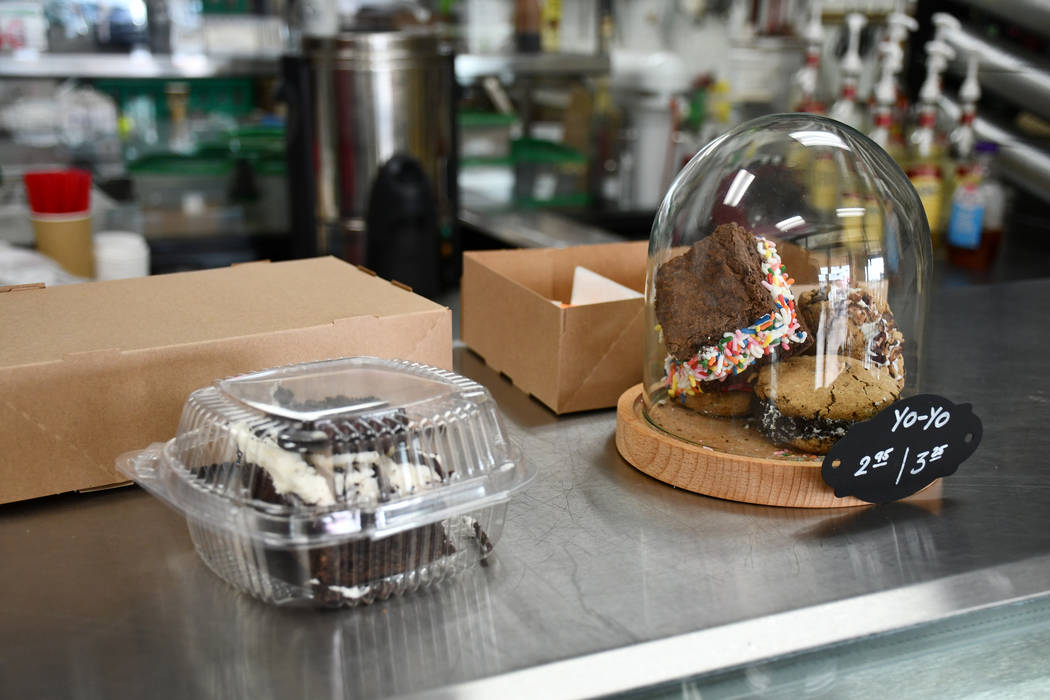 If you go to vegan restaurants in the Las Vegas Valley, there's a good chance desserts on their menus come from the same place.
Las Vegas' only organic and vegan bakery, Veganbites Bakery, is looking to become a franchise after the demand for its products skyrocketed among local restaurants and casinos.
Veganbites Bakery delivers desserts to restaurants such as Go Vegan Cafe, Violette's Vegan Organic Cafe & Juice Bar, VegeNation and Pancho's Vegan Tacos. It also supplies gluten-free food to casinos and works with several lunch-box companies.
Owner Franz Stanik opened the store three years ago with a partner and only recently became its owner.
"I was an athlete, so I always had a certain diet," he said. "Never was into meat, never into dairy … and I'm a big animal fan, so it was easy for me."
Stanik, who has been a vegan for seven years and previously for a real estate developer in Miami, said Las Vegas has been good for business.
"There's a huge food industry here, so it kind of made it easy," he said.
Early on, Stanik said, Oreo cake and carrot cake were the main items. The menu has expanded, and Veganbites sells close to 800 truffles per month. Recently it started making vegan doughnuts and vegan cinnamon rolls. Other items include coconut shortbread, oatmeal raisin cookies and chocolate bark.
"Now, we are slowly starting to look like a real bakery," Stanik said. "We do everything from scratch, even the popcorn, the date balls, the granola, cake pops. There's nothing that we buy somewhere else."
The bakery bills itself as a go-to place for sweets made with all-natural ingredients. The bakery uses flaxseed meal, almond milk and soy milk instead of eggs and milk. It uses coconut palm sugar and coconut oil for its gluten-free items. It also uses oat flour and organic pastry flour.
"It's huge difference. No eggs, no milk, no butter …" Stanik said.
Veganbites Bakery even delivers to markets outside of Las Vegas, including Los Angeles, San Diego and San Francisco
Contact Daria Sokolova at dsokolova@viewnews.com or 702-383-0496. Follow @DariaSokolova77 on Twitter.
Veganbites Bakery
Hours: 7:30 a.m.-6:30 p.m. Mondays-Saturdays; 9 a.m.-6 p.m. Sundays
Where: 8876 S. Eastern Ave., Suite 101
Phone: 702-487-3111
Website: vegan-bites.com