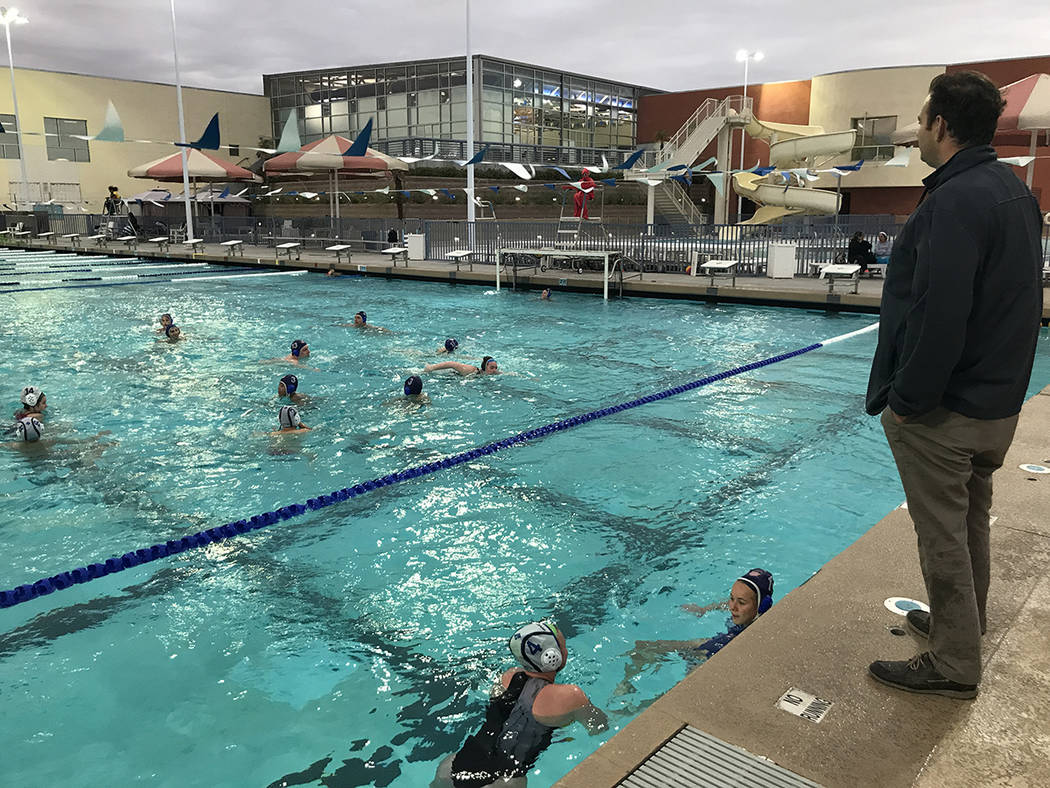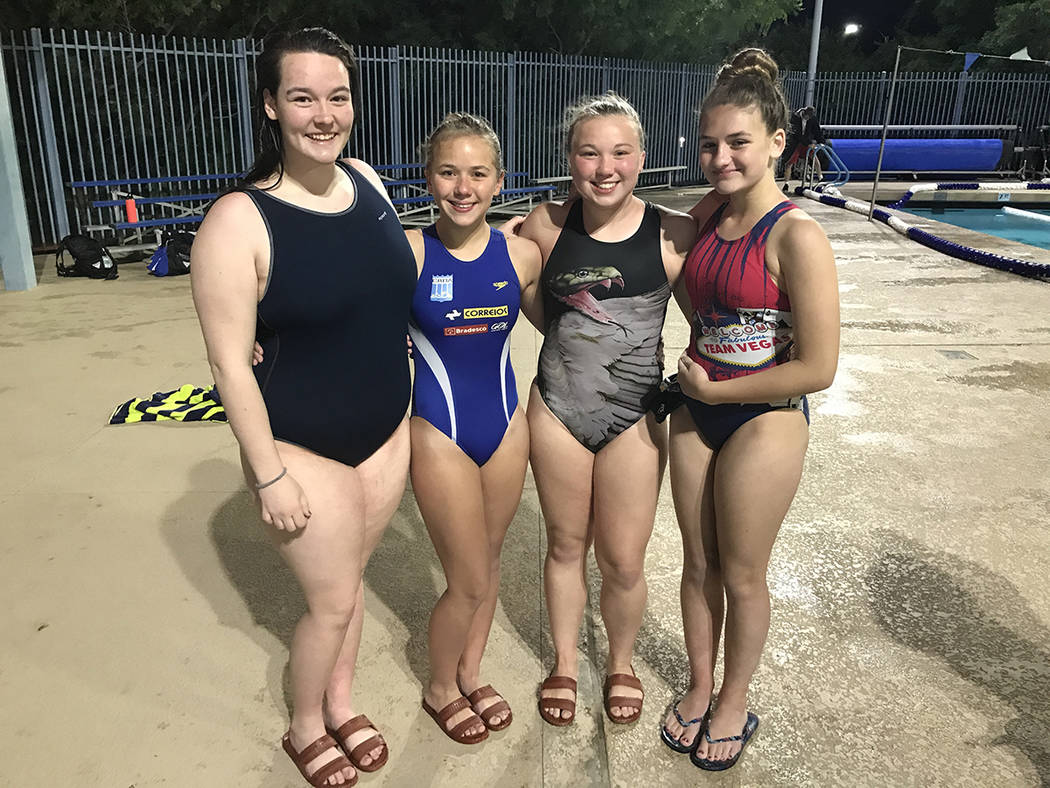 It's 62 degrees in early May outside the Henderson Multigenerational Center, 250 S. Green Valley Parkway. The clouds are dark, winds are howling at more than 40 mph, and rain is a possibility.
Team Vegas Water Polo's varsity girls team, the Surfs, is practicing in the outdoor pool. The elements do not bother this team, assistant coach Chris Magee says, after pulling off an upset gold-medal win April 22 in the Utah Summer Games at Southern Utah University in Cedar City.
"It's a big thing to have an all-girls team go into Utah and do what we did," said varsity team member Madison Szczublewski. "It was so great to go in there, dominate the whole pool and come out on top."
Team Vegas defeated Kearns Water Polo Club (Utah), 11-10, in overtime. Magee said it was a back-and-forth affair, with the lead no wider than two goals. Team Vegas didn't have a set goalie for the match, rotating the position four times.
Kearns played the extra frame down one player after she was ejected. With a 6-on-5 advantage, Ally Burke scored the game-winning goal.
"It was stressful," said varsity team member Brynn Walsh of the overtime period. "Probably the most stressed I've ever felt."
Team Vegas is now preparing for its next tournament, in Oakland, California.
Teammates agreed that winning a gold medal in anything is a big deal, but it means more winning in a sport that's not as prominent in Southern Nevada — winning against a team, from a state, that has played water polo since the early 1970s.
"(Kearns) got a really good jump as far as legacy, players playing for a long time," Magee said.
Since 1994, when former United States Olympic swimmer Sandy Nitta created Team Vegas Water Polo, coaches and athletes have found water polo to be a more popular concept than swimming, they say.
Magee is a former All-American swimmer at UNLV and has been with Team Vegas since its inception. Mark St. John is another assistant coach and played with the U.S. National Junior team. Vaune Kadlubek, another former swimmer at UNLV, is a former coach for the U.S. national water polo team.
Team Vegas consists of five age groups — Splashball for ages 5-9, Waves for 6-11, Rapids for 9-13, Surfs for 14-18 and Masters for 18 and older.
"It's just so much more fun than swimming, when you go back and forth," Walsh said. "Now, you have a ball, you get to throw it at people. It's fun."
Walsh is one of three girls who earned a scholarship to play water polo at the Division I level through Team Vegas, joining Sarah DeFucsco (University of Pacific) and Maci Taylor (Cal State East Bay). Her final three choices are Harvard, Cal Poly and Bucknell University in central Pennsylvania. Being from Boston, she has dreamed of attending Harvard to become a neuroscientist.
Magee mentioned that might come in handy.
"You can work on some of us when we get hit in the head with the ball," he said.
Contact Danny Webster at dwebster@viewnews.com or call 702-477-3834. Follow @DannyWebster21 on Twitter.
Team Vegas Water Polo
Practices: Every Tuesday, Thursday and Saturday (locations vary)
Fees: $57 to $82 a month, depending on team
Information: teamvegaswaterpolo.com