Woman receives Habitat for Humanity's last single family house in Henderson
Updated March 9, 2017 - 5:09 pm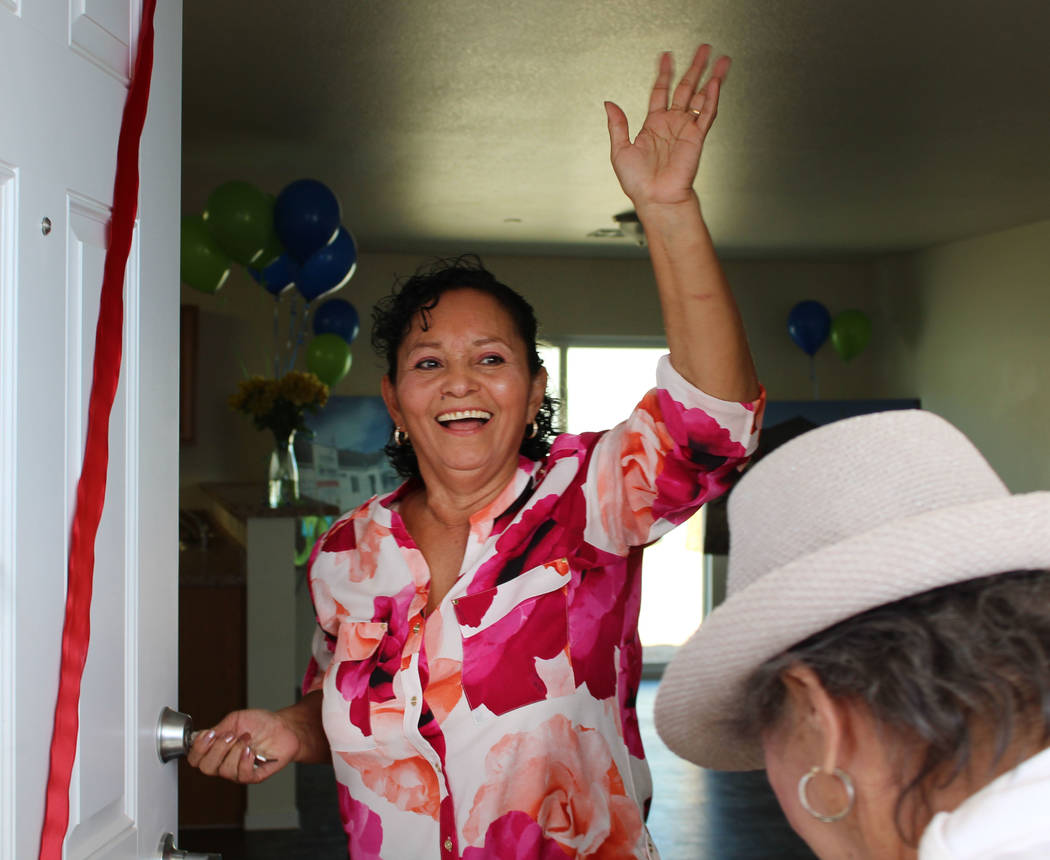 Ana Rosas-Hernandez, 63, had always dreamed of having her own home, but she thought it might never come true — until Thursday morning.
With tears in her eyes and a bright smile on her face, Ana accepted the keys to her new home, unlocked the door and waved happily as a small crowd cheered. Board members from Habitat for Humanity, volunteers that helped build the house and Ana's family approached her with wide smiles.
"Congratulations, Ana," one volunteer worker said. "Welcome home!"
"Ana is one of our homeowners that went through the program," Mike Borden, chairman of Habitat for Humanity Las Vegas, said. "Today is the start of a new journey for her to have the stability of home ownership and family and really change her social-economic situation and live the American Dream."
Habitat for Humanity, which partnered with Choice Center Leadership University for funding this project, threw her a house-warming party as it dedicated its last single family home in Henderson. Ana posed for photos with family, friends and the various team members who helped make her dream possible.
"Thank you so very, very much," Ana said as she hugged Rachel Villafuerte from ChoiceCenter, who helped raise the necessary funds to build the house with. "Thank you so much for everything."
Ana first heard about Habitat for Humanity from a friend, who, coincidentally, also was given a house from the nonprofit organization. But it wasn't without any hard work. After her application was approved, Ana immediately joined in helping with the construction.
"I put in 300 hours of work into the house, maybe a little more," she said with a laugh. "I painted, built walls, I cleaned. I did a lot."
Cathy Vo, community outreach manager for Habitat, said each applicant is required to put in a certain amount of sweat equity. Essentially, applicants are required to do 150 hours work on the construction site and complete 50 hours of financial literacy classes. The remaining 100 hours can be donated from family and friends who wish to help.
Now that she's moving onto the next chapter of her life, Ana is considering her next steps.
"Maybe I'll open a flower shop," she said. "Maybe."
Contact Gabriella Benavidez at gbenavidez@reviewjournal.com or at 702-387-5278. Follow @gabbydeebee on Twitter.