Las Vegas woman to join in Chicago gathering of organ donors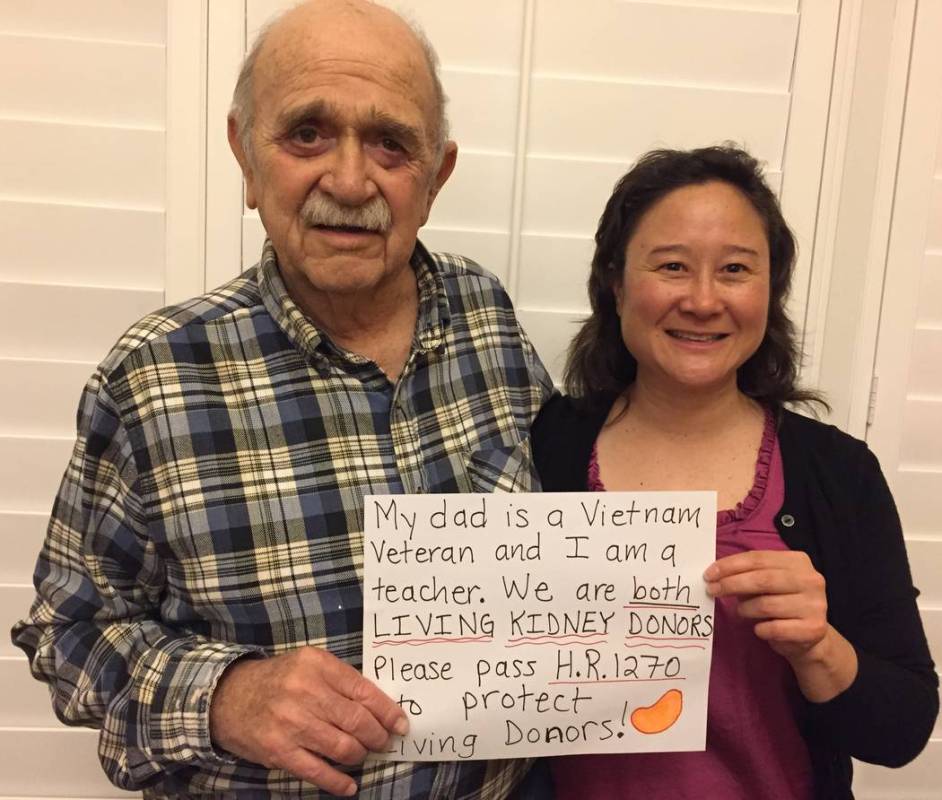 Growing up in Cypress, Texas, June Monroe knew that she would be a kidney donor one day. She just didn't know exactly when.
Now the second-grade teacher at West Prep Academy is one of the faces of living organ donation advocacy in Southern Nevada. On Saturday, she'll travel to Chicago to join more than 250 fellow living organ donors to try to break the Guinness World Record for the largest gathering of living organ donors at the Cloud Gate sculpture also known as "The Bean."
Monroe, 45, also volunteers with groups such as Donate Life and the National Kidney Foundation. The Las Vegas woman also serves as an advocate for legislation protecting living organ donors, of which there are about 6,000 new ones each year.
Monroe was a young girl when her brother, Brian, experienced kidney failure. No one knew why.
"There was no family history, so (his doctors) had no idea why they failed," Monroe said.
Once doctors determined her brother needed a transplant, Monroe's father donated his kidney.
People are born with two kidneys, but can live with just one. If someone has a kidney removed or is born with only one "healthy" kidney, it's likely the person will be able to lead a normal life.
Her brother's kidneys failed again in the early 2000s, after which he began dialysis treatments. When it was clear those treatments would no longer work, Monroe stepped in.
"My sister couldn't (donate) because she had health concerns, so it was kind of like, 'That was it,'" Monroe said. "This is your family member."
On March 9, 2005, Monroe had her kidney laparoscopically removed. It was much less invasive than her father's kidney removal years ago, which left him with a large scar that Monroe can recall to this day.
"It was a scary thing to think about," Monroe said. "They (doctors) do let you know that there is a possibility for complications."
Possibilities include infection, bleeding, pneumonia, allergic reactions to anesthesia and, in very rare cases, death, according to the National Kidney Foundation.
Monroe experienced no complications. Instead, she gained a new lease on life. She started to seek out adventure. She went sky diving and bungee jumping, and traveled to Africa by herself.
Monroe also connected with advocacy groups and volunteered to spread the word about organ and tissue donation.
Now she's trying to get legislation passed to give living donors more legal protection. She's working with the National Kidney Foundation to pass legislation that would prohibit discrimination against living donors by insurance companies.
Living donors are not protected under the Family and Medical Leave Act, which allows employees to take unpaid, job-protected leave for family and medical reasons.
"It's like, do you choose your job or do you choose to help your loved one and save their life?" Monroe said. "That shouldn't be an option."
Monroes didn't experience difficulty with insurance or getting time off, but said she's heard stories of others who have been afraid to donate out of fear of losing their jobs.
More than 100,000 kidney patients are on the wait list for a transplant, according to the National Kidney Foundation. More than 3,800 people died in 2017 before they were able to receive a transplant.
"I feel like this is my purpose," she said. "I'm a teacher, but I feel like this is more my purpose because we're saving lives."
Contact Madelyn Reese at mreese@reviewjournal.com or 702-383-0497. Follow @MadelynGReese on Twitter