Kolob Canyons a respite from bustling Zion park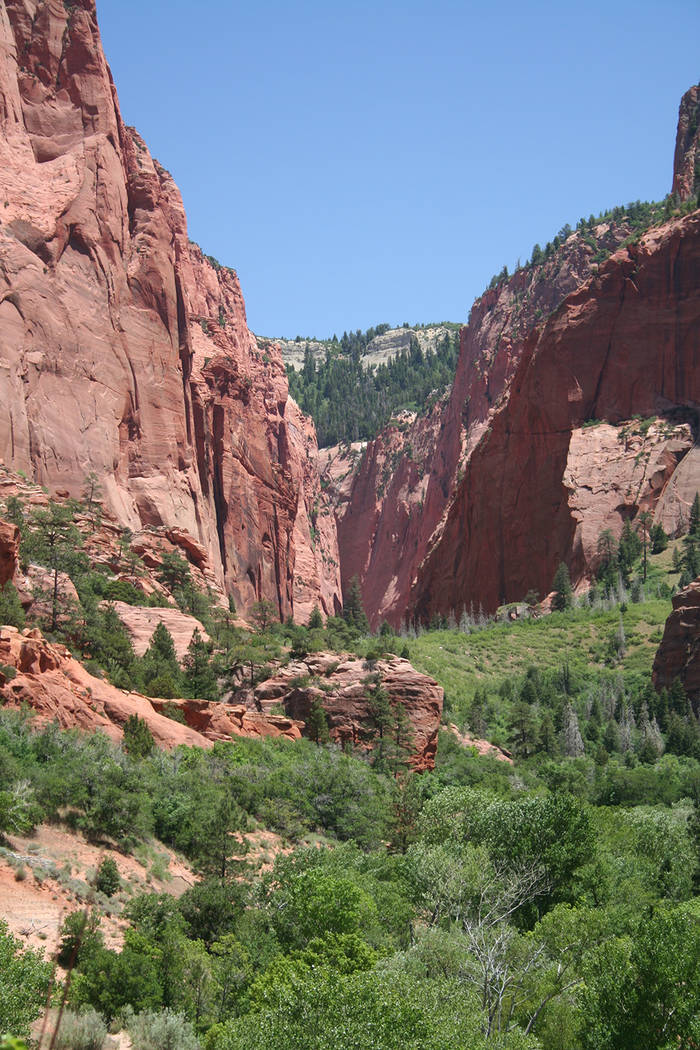 This time of year the main entrance of Zion National Park near Springdale, Utah, often sees bumper-to-bumper traffic. And that's just getting there; you'll also encounter crowds on the trails. If you nevertheless want to see Zion in fall, your experience might be more enjoyable in the Kolob Canyons, in the northwestern area of the park.
While Zion was established in 1919, the Kolob Canyons section only became a national monument in 1937 and was not added to the park until 1956. It is maintained as wilderness, so it's still possible here to experience solitude.
Kolob Canyon Road is a paved, 5-mile scenic drive that offers great views of the park's Navajo sandstone monoliths, many of which rise 2,000 feet from the valley floor. On this road you will be traveling up into the Hurricane Cliffs.
The scenic drive ends at the trailhead for the Timber Creek Overlook Trail. This is an easy, 1-mile roundtrip hike and good for almost everyone, except at the very end, where it is rocky with uneven footing. It also affords spectacular, far-reaching views. On a clear day you can see all the way to the Arizona Strip, views that have few equals in Zion without a lengthy, strenuous hike. It's a good idea to bring along binoculars.
Dress warmly, as the trail begins at an elevation of about 6,200 feet. The well-worn route is obvious within a pinyon pine and juniper plant community. Wildlife in this area of the park includes mule deer, bobcats, black-tailed rabbits and mountain lions. You might also see redtail hawks, golden eagles and bald eagles soaring above.
Once you reach the final leg of the trail, you will find it gets rocky with uneven footing. Most people won't have a problem, but little ones might need some help. You will find some flat-topped boulders to sit on.
Below you, to the northeast, is Timber Creek Valley, where an ample suplly of water supports a healthy community of mature box elder and cottonwood trees. Above this valley you will be looking at some of the most remote segments of the park. Here are mesas, high plateaus and buttes, mostly forested.
Here you'll also get some awesomely close views of Kolob landmarks. Timber Top Mountain rises above you at 8,055 feet, and just below that is Shuntavi Butte, at 6,995 feet. Just north of these formations is Horse Mountain Ranch and the highest elevation in Zion, at 8,726 feet.
Deborah Wall's book "Base Camp Las Vegas: 101 hikes in the Southwest" ($24.95, Imbrifex) is available on Amazon. She can be reached at deborabus@aol.com.
Directions
From Las Vegas, take Interstate 15 north about 150 miles. Go right on the signed exit to the Kolob Canyons Visitor Center, just a couple of hundred feet up the road.
If you go
The Kolob Canyons Visitor Center is open 8 a.m.-4:30 p.m. daily. It's closed Christmas Day. For more information on the park, call 435-772-3256 or visit nps.gov/zion, click on the "info" icon and select Kolob Canyons from the Visitor Centers menu.
In Kolob it's required that you stop at a visitor center to get weather information and any other relevant news. They'll collect the visitor fee ($30 per car, good for a week) or verify you have a longer-term pass.