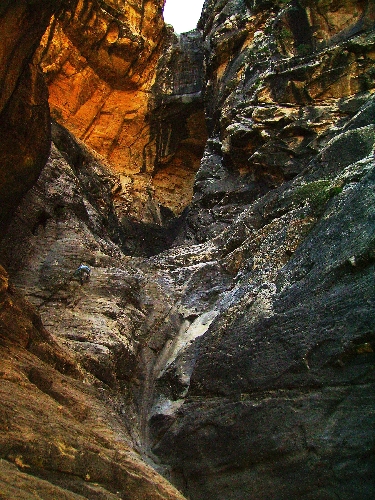 Any time of year is fine for driving the 13-mile scenic loop of Red Rock Canyon National Conservation Area, but by late September, it becomes fun to get out of the car and touch the landscape with your boots. A good place to start is Ice Box Canyon. With a trailhead at 4,300 feet, you can hope for temperatures around 10 degrees cooler than in Las Vegas on the same day.
To see the best part of the canyon, you will need to do some moderate rock scrambling and travel about 2.6 miles roundtrip with an elevation gain of about 300 feet. From the trailhead, head down the obvious path and cross over the broad Red Rock Wash. Although usually dry, this is the main drainage in the area and is subject to flash flooding. If rain threatens, don't cross it.
Assuming that you judged the weather reliable and did cross it, the next stage of the trail leads up man-made sandstone steps and onto a natural bench. There, head west toward the canyon itself. There you will find a plant community made up of scrub oak, pinyon pine and manzanita.
As you travel along the trail, you will be on the right side of the main Ice Box Canyon drainage. Be sure to stay on the most-worn trail, as many social trails veer off in all directions. Some of those lead to viewpoints, and others are used by rock climbers to access the steep sandstone cliffs that flank the canyon.
About one mile into the hike, the trail takes you abruptly down into the rocky drainage where you will go right or upstream. From there on, this usually dry wash will serve as your route. It is rock-strewn with large boulders which you will have to scramble over. You should definitely be wearing long pants, and gloves will come in handy.
As you continue up the drainage, you will come to a dead ponderosa tree that pretty much ends the hike for most people. After this, the canyon forks, and the terrain gets extremely tough to travel. Those experienced in tricky rock scrambling can travel farther. The left fork has more interesting rock formations and vibrant colors, but it can be dangerous; hikers have fallen and died there. Always keep in mind that while it is often easy to ascend the cliff walls, descending the same cliff may be quite perilous.
Those up to the task can head up within the box canyon of the left fork and see an interesting mix of smooth and polished dryfalls and cascade areas and often several pools of water if there has been rain recently. These water-filled tinajas are very important to the canyon's wildlife. A lot of creatures live in this canyon, including white-tail antelope squirrels, cottontail and jack rabbits, kit foxes, bobcats and desert bighorn sheep.
Deborah Wall is the author of "Great Hikes, A Cerca Country Guide" and "Base Camp Las Vegas: Hiking the Southwestern States," published by Stephens Press. She can be reached at deborabus@aol.com.