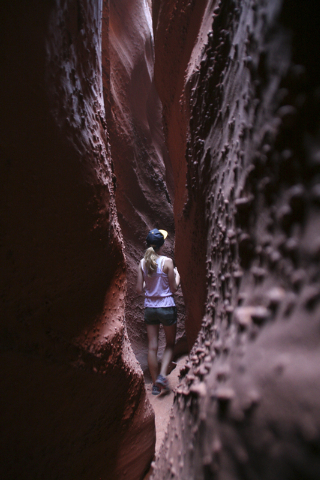 You could spend years exploring the 1.9 million-acre Grand Staircase-Escalante National Park in Utah, yet barely shorten the list of wonders still to see there. This remote park lies to the west of Bryce Canyon, north of the Arizona strip, and south of Capitol Reef National Park, extending eastward to Glen Canyon National Recreation Area.
The park is best known for its backpacking opportunities in the canyons around the Escalante River, but there are also great trails for those who prefer day hiking. A good place to start a first visit is Hole-in-the-Rock Road, outside the town of Escalante.
While there are numerous trailheads along the 55-mile gravel road, two stand out as truly enchanting half-day adventures: the slot canyons known as Peek-a-boo Gulch and Spooky Gulch. Besides the physical fun of rock scrambling, both provide good photo opportunities.
The trail to the slots involves a roughly 1-mile hike down a moderately steep slickrock slope, all marked by cairns. The route then drops you down into the sandy Dry Fork Wash. Peek-a-boo Gulch, on the other side of the wash from where you entered, is the first one you come to and involves a lot of rock scrambling.
Peek-a-boo is a fun hike, as you wind your way upward through a tight, corkscrew canyon, some parts of it requiring you to duck through and even, at times, to wade in water. The canyon cut its way through colorful orange, red and pink sandstone, and the formations it created, including a rare double arch, are enchanting. Plan on three or four hours, minimum, to hike and enjoy your experience.
The entrance to Spooky Gulch lies about a quarter-mile farther down the wash and can be found by looking for the worn hiking trail, on your left before a rock outcropping. At the same time, keep an eye out for rattlesnakes, as I have seen them several times around this section. This slot gets so narrow after just a few minutes that even thin people need to walk sideways. This is not a good place for anyone who gets claustrophobia. Given the possibility of meeting a venomous serpent in such tight quarters, I think you will figure out why they call it Spooky Gulch.
To visit these choice slot canyons or to find the park's other great hiking trails, you will have to travel gravel roads in remote areas, so preparation is the key to your safety and success. High-clearance vehicles with real off-road tires, including a full-size spare and the tools to change it, are the best choice. A prudent traveler will have a few extra days' worth of water and food. Tell some people where you are going and when you expect to come back.
Remember that slot canyons were carved by water, and the carving is still going on. You do not want to be there during a cloudburst. A good place to start any visit is at one of the park's visitor centers, picking up a map and asking for up-to-date information on road and weather conditions. The most relevant visitor center for this trip is Escalante Interagency Visitor Information Center, 755 W. Main St., Escalante. It is open from 7:30 a.m. to 5:30 p.m. daily this time of year, with shorter winter hours. From home and in advance, you can call 435-826-5499 or visit the websites Grand Staircase-Escalante National Monument, ut.blm.gov/monument, and Glen Canyon National Recreation Area, nps.gov/glca.
Deborah Wall is the author of "Great Hikes, A Cerca Country Guide" and "Base Camp Las Vegas: Hiking the Southwestern States," published by Stephens Press. She can be reached at deborabus@aol.com.
Directions
From Las Vegas, it is about 285 miles to the trailhead. Take Interstate 15 north 125 miles into Utah and take the Hurricane/Zion National Park exit. Follow state Route 9 for 57 miles through Zion National Park, and turn left onto U.S. Highway 89 north. Take Utah state Route 89 for 44 miles to a right onto Utah state Route 12. Follow that for 60 miles to the town of Escalante. Drive east on state Route 12 for 5 more miles, then turn right onto the well-marked Hole-in-the-Rock Road. Follow this gravel road for about 26 miles, and go left on Dry Fork Road, staying left at the fork and follow about 1 ½ miles to trailhead.