Summer fun flows at Big Bear Lake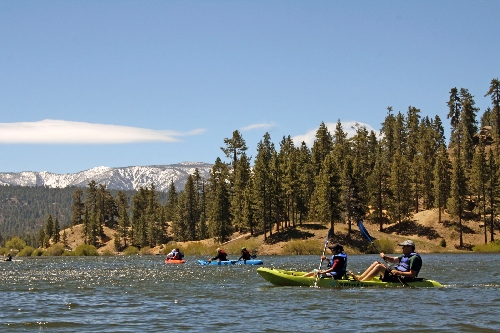 Big Bear Lake, Calif., is one of the closest high-elevation destinations for Southern Nevadans seeking a summer getaway with cool temperatures. In less than a four-hour drive from Las Vegas, you will find yourself in an alpine setting about 7,000 feet above sea level, where summer daily high temperatures average about 80 degrees.
Besides easy access, Big Bear offers more to do than many high-elevation locations. It's especially good for active outdoor experiences, particularly good for families with children. There are commercially developed amusements, besides the nature-intensive hiking and mountain biking trails I favor. And there are almost unlimited ways to enjoy the seven-mile-long Big Bear Lake itself.
While water skiing and wake boarding are popular ways to tour the lake, human-powered craft have their own appeals. Kayaks, canoes or the faddish stand-up paddle boards will take you to places inaccessible to motor boats and more quietly. You can rent these craft at one of the marinas around the lake and set out by yourself or even take a guided tour.
Two weeks ago, I joined about a dozen other kayakers on an interpretive tour from Big Bear Discovery Center. The naturalist who led this trip showed us a beaver lodge, named the many birds we saw and even told us about the area's rich history of gold mining.
Big Bear is justifiably popular as a mountain biking mecca, with more than 100 miles of trails and forest service roads. The terrain ranges from beginner-level to advanced, and rental bikes are readily available.
Some of the sweetest rides imaginable consist of taking the Snow Summit Scenic Sky Chair to the mountain top and bicycling back down. You avoid not only a strenuous uphill climb but even loading your wheels onto the Sky Chair; attendants do that for you. Once on top, you can grab a bite at the View Haus, an eatery aptly named for its far-reaching vistas. From the summit, you can choose among a variety of trails that take you back to the base for another trip up to the top or allow you to continue on into town.
Big Bear also offers many commercial amusements. Some of the more popular ones are the Alpine Slide at Magic Mountain, go-karts, miniature golf, a water slide and touring the lake aboard the Big Bear Pirate Ship (a 16th- century galleon) or on the 64-foot Miss Liberty Paddlewheel Tour Boat.
Big Bear is promoting an exciting new program called Kids. Get Outdoors. Win. Its goal is to draw youngsters away from video games and other electronic devices into a more active outdoor lifestyle. Besides the fun inherent in outdoor activities, the program also offers prizes to participants.
Children start by picking up the program pamphlet at the Big Bear Visitor Center or one of the participating local businesses (called Outdoor Fun Stops). The Fun Stops include Bear Valley Bikes, Snow Summit Sky Chair, five marinas on the lake and a variety of other locations.
Once your child finishes an activity associated with a participating business, he or she can get the pamphlet stamped. Even getting one stamp will get you a 20 percent discount at the other stops. With as few as three stamps, you will get a free ticket to ride the Big Bear Pirate Ship or the Miss Liberty Paddlewheel Tour boat. Four stamps get a free all-day water slide pass at Alpine Slide at Magic Mountain. If you get six or more stamps, you can turn in your child's pamphlet at the visitor center for a chance to win one of 10 prizes.
The grand prize is a trip to Big Bear Lake for four people and includes two nights lodging, ski lift tickets, ski rentals, passes for the Miss Liberty Tour Boat and season passes to the Big Bear Discovery Center's 2012 Concert series. Other prizes include a 2011-12 winter season ski/snowboard pass to Bear Mountain and Snow Summit, a mountain bike, a snowboard, boat rentals and boat tours of the lake.
Pamphlets need to be turned in by Sept. 12 for the drawing, which is set for Sept. 17.
For more information on the program, call 800-424-4232 or visit bigbearinfo.com.
If you are in Big Bear on July 9 and 10, you can take part in the fourth annual Big Bear PaddleFest, a jam-packed weekend of kayaking, canoeing and paddleboarding on the lake. The event includes clinics and board demos. But if you make it to Big Bear on any summer weekend at all and still find yourself bored, I have to suspect it's your own fault.
Deborah Wall is the author of "Great Hikes, A Cerca Country Guide" and "Base Camp Las Vegas: Hiking the Southwestern States," published by Stephens Press. She can be reached at deborabus@aol.com.
DIRECTIONS
From Las Vegas, take Interstate 15 south for about 155 miles to the Barstow Road exit. Go left onto CA-247 and drive about 32 miles. Go straight onto CA-18 and continue for about 24 miles to Big Bear Lake.