Try a slew of snowy thrills at Brian Head
February 21, 2012 - 12:16 am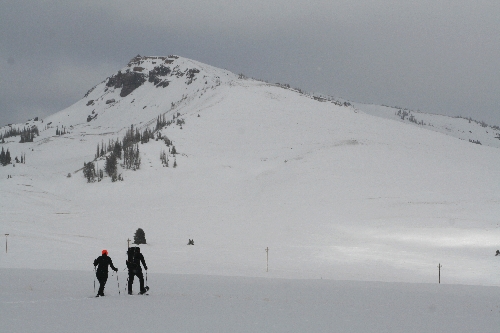 While Brian Head, Utah, is best known for its downhill skiing and snowboarding, a slew of other adventures await those who make their way there. In less than a four-hour drive from Las Vegas, you can be at 9,000 feet doing just about anything that requires snow.
And there is snow aplenty this year, with more on the way. That is not limited to the mountain itself but is also the case along many miles of trails in the surrounding Dixie National Forest and nearby Cedar Breaks National Monument. There you will find great opportunities for cross-country skiing, snowshoeing and snowmobiling.
If you travel by any of those three means, heading into Cedar Breaks should highlight your visit to these parts. Although most visitor services are closed in winter, and the main road through the park is not plowed, you'll see the park in perhaps its most stunning season.
You can drive to the boundary of the park, about three miles south from Brian Head, and find a plowed parking area.
Don your skis or snowshoes and head out along the groomed trail. On weekends you can even warm up by the fireplace and have a cup of hot chocolate at the park service's yurt, staffed by volunteers, a one-mile, one-way distance from the parking area.
The Breaks itself is a 2,000 feet in diameter natural amphitheater, filled with "hoodoos" — natural pinnacles, spires and buttresses of orange and red. Always a stunning sight, especially when contrasted against snow, they're downright spectacular. There are a couple of places where it's easy to access the rim and see these unforgettable vistas.
You can rent any equipment you need at Georg's Ski Shop in Brian Head, located just south of the ski bridge by Lift One, along the main road.
Besides skiing and snowboarding, snow tubing is extremely popular at Brian Head Resort. The Snow Tubing Park has six groomed lanes accessed by a surface lift to take you to the top of the run. Even small children can participate, as there is one gentle lane to take them safely down the slope. The park is located in the Navajo Mountain area of the resort and is open 11 a.m. to 3 p.m. Monday through Friday and 10 a.m. to 4 p.m. Saturday and Sunday. There are also night tubing sessions from 4 to 8 p.m. Friday and Saturdays.
On March 3, Brian Head Resort is planning its annual Spring Fair, fun for all ages. For complete details, visit brianhead.com. Highlights include pond skimming, a sport in which people try to ski or snowboard across a pond without getting wet. There also is a Dummy Jump Contest. Bring your own stuffed dummy and then send it down the jump.
Judging for this contest is based on how far and high your dummy flies and the kind of landing it makes.
Saturday night brings live entertainment, food, drinks and lots of giveaways including a customized snowboard, gift cards and lift tickets. Sweetening the weekend even further, you can save 50 percent on your lift ticket on both Friday and Saturday if you dress like a scary creature.
Deborah Wall is the author of "Great Hikes, A Cerca Country Guide" and "Base Camp Las Vegas: Hiking the Southwestern States," published by Stephens Press. She can be reached at deborabus@aol.com.