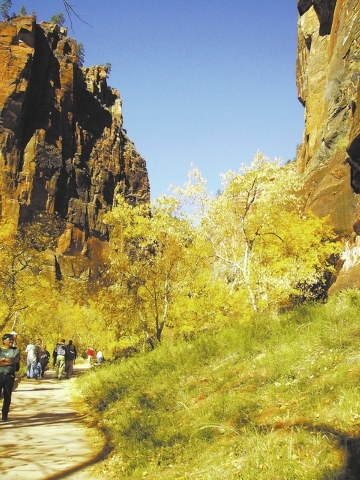 Directions: From Las Vegas, take Interstate 15 north 125 miles to Utah state Route 9 (exit 16-Hurricane/Zion National Park). Follow Route 9 east for 19 miles to Springdale, Utah, and the main entrance of Zion National Park.
There is never a bad time to enjoy the wonders of Zion National Park, Utah, but the next month or so could possibly be the tops. Foliage is starting to change, temperatures are often as nearly perfect as they get, and there is usually an abundance of sunshine to make the colors all the more eye-popping.
One of the best ways to visit some of the most stunning areas of the park — and learn at the same time — is to sign up for one of the many educational workshops offered by the Zion Canyon Field Institute. The institute offers these events year round and is in high gear over the next six weeks. The choices range from Navajo Medicinal Plant Usage to The Mammals of Zion to Fall Foliage Photography, all taking place in the great outdoors, for the most part. Here are some of the workshops the institute offers through mid-November.
Oct. 7 and Oct. 21: Navajo Medicinal Plant Usage
Join Ginny Sparks, a Navajo woman and registered nurse, is to speak about the medicinal uses of native plants in Zion. Sparks is set to explain how Navajos use certain plants to attain Hozho, a Navajo word that describes the balance of physical and spiritual equilibrium. Requires easy hiking.
Oct. 12: The Ferns of Zion
Join botanist Steve McKee on Zion's "east side" to learn about the park's 25 species of ferns and fern allies.
Oct 13 and Oct. 18: Rim to Floor or Rim and Back
Hike from the East Mesa Trail to the observation point and down to Weeping Rock, or the East Rim Trail to Deertrap Mountain and back. The choice will be decided on the morning of the excursion. Either trail is a strenuous, all-day, 7- to 8-mile hike, and suitable only for those in top hiking shape. You'll learn about the geology, botany and desert ecosystems with a field institute naturalist.
Oct. 17 and Nov. 7: Thursday Trek
This naturalist-led hike introduces to the park's geology, flora, fauna and cultural history. Learn how the wildlife and plants survive in Zion's diverse landscape. It is easy to moderate hiking.
Oct. 19: The Mammals of Zion
Learn how to identify and improve your chance of seeing some of the park's most interesting wildlife. Zion is home to about 70 species of mammals, including the kangaroo rat, ringtail cat, fox, mule deer, mountain lion and bighorn sheep.
Oct. 26: Fall Journaling
Create journal pages that will become meaningful memories of your Zion experience. Tools, materials and journaling methods will be discussed with workshop instructor Sandy Bell.
Oct. 26-28: Fall Foliage Photography
This workshop, catering to the serious photo enthusiast, will be led by the field institute's director, Michael Plyler, who is also a professional photographer.
Oct. 29-30: Archaeology Service Project
This hands-on two-day workshop is spent in the field doing site surveys and/or inventories. Participants will be in remote areas of the park, many without trails, and the hiking and work are considered strenuous.
Nov. 9: Zion Geology
This workshop focuses on the cutting and shaping of Zion Canyon's constantly changing landscape, including landslides and rock falls.
Nov. 16: Outside Looking In
This naturalist-led hike takes you to the Eagle Crag Trail, a moderately strenuous 5- to 6-mile trail just outside the park. Learn the basics of the geology, botany and human history while taking in excellent views.
The workshops are popular and fill up fast. If you are interested, call the institute to make a reservation at 800-635-3959 or 435-772-3264 or visit zionpark.org. Most are limited to 11 participants or fewer and have a minimum age limit of 15 or 16. The fees vary depending on workshop.
Deborah Wall is the author of "Great Hikes, A Cerca Country Guide" and "Base Camp Las Vegas: Hiking the Southwestern States," published by Stephens Press. She can be reached at deborabus@aol.com.