Arena ensures hockey is top of mind in Summerlin
December 19, 2017 - 4:23 pm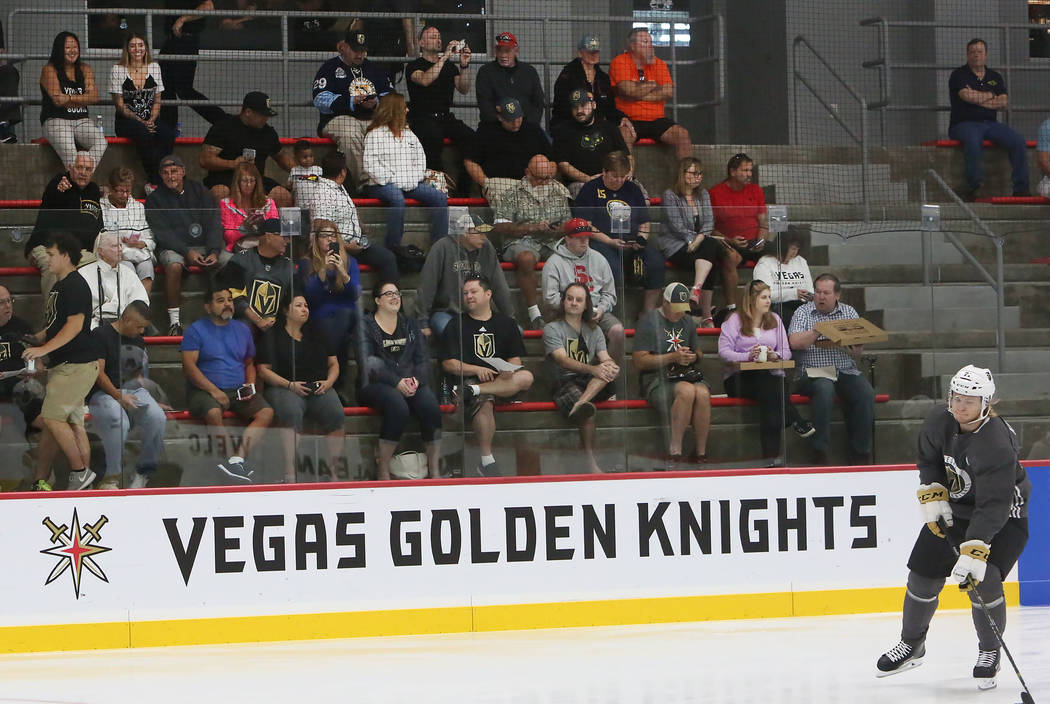 There he was, wearing a traditional hockey uniform while hugging his ice skates with one hand and holding on to his dad's hand with the other. Dad also held the little guy's hockey stick as they entered City National Arena in Downtown Summerlin.
"How old are you?" I asked. "He's going on 4," his dad replied proudly, "and he loves to ice skate."
Inside the arena, on one of the twin hockey-size rinks, a pick-up game was in progress involving two teams of teenagers. We watched as they played with great physical determination and passion.
Equally important, other youngsters sat in the stands. Some cheered for their favorites. Others sat in awe as they watched a sport many had only seen on television.
Those are just some of the rewards that Bill Foley, majority owner of the NHL's Vegas Golden Knights, can enjoy whenever he surveys daily activity at the arena. The community-minded Foley built the magnificent skating edifice to serve as both a practice facility for his team and a recreation center.
The man who brought the first major league sports franchise to Las Vegas also derives satisfaction from knowing that formal teams of youths are playing hockey on one of the rinks.
Then there are the Lil' Knights. When the 146,000-square-foot arena opened to the public Sept. 18, it initiated its Lil' Knights Cross-Ice program. The program has since opened a new world for tykes and teens who had been unaccustomed to such activities as hockey, figure skating and just plain ice skating for fun.
"Basically, the program is open to kids from 5-13, but in some cases we'll take older kids and even kids who are 3 or 4, provided that they can skate," said Robbert McDonald, hockey director and assistant manager of City National Arena.
"The program is really an entry-level class that teaches kids how to play the game of hockey," he went on. "We break out into teams that work on fundamentals, but we don't play competitive games as such."
The program emphasizes the four basic features of hockey. "Those are skating, stick-handling, passing and shooting, in addition to just having a lot of fun," McDonald said.
Lil' Knights is a six-week program consisting of one-hour sessions every Wednesday. The third six-week program since the arena opened was scheduled to begin Jan. 3 and the fourth is set to begin Feb. 21. The inaugural session included seven youngsters and the second session, which concluded just before Christmas, had 19.
"It has become very popular in recent weeks, and we plan to continue the program throughout the year," McDonald said. He added that classes are taught by experienced instructors.
The six-week session costs $135.
"Right now we have a good deal going because the Golden Knights have a promotion under which they will fund a portion of the tuition," McDonald said.
Lil' Knights is part of a national program supported by professional hockey. In accordance with guidelines for USA Hockey's ADM, "youth hockey is more than a game. It develops skills on the ice that build a foundation for a lifetime."
Anyone interested in signing up for Lil' Knights can reach McDonald at the arena or by calling 702-998-1059.
Herb Jaffe was an op-ed columnist and investigative reporter for most of his 39 years at the Star-Ledger of Newark, New Jersey. His most recent novel, "Double Play," is available. Contact him at hjaffe@cox.net.