Clark County Sheriff vows to increase presence of patrol cars in Sun City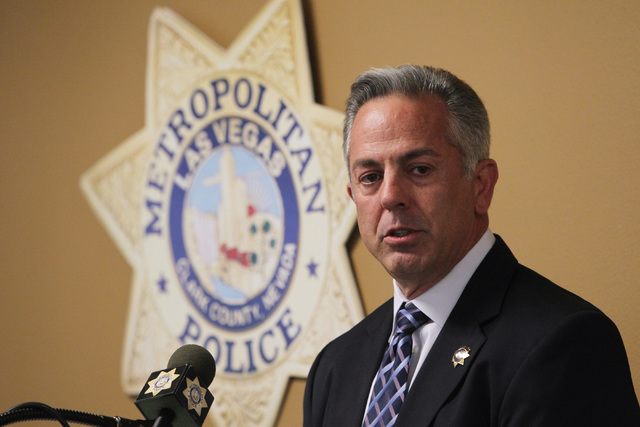 Sun City Summerlin residents take notice: You can rest assured that the Metropolitan Police Department is doing all it can to ease jittery nerves following a recent crime spree in the community. And that comes as a promise, right from the top cop in Las Vegas.
Clark County Sheriff Joe Lombardo issued a tough reassurance to residents of Sun City, that the police are here to protect them.
Lombardo made it clear that Metro will continue to do whatever is necessary "to calm the fears" of senior citizens, following a series of break-ins, burglaries and attempted armed robberies that occurred in the retirement community over a four-day period last month.
Among other things, his commitment includes heavier police vigilance in the form of an increased presence of patrol cars.
"If there's any kind of uneasiness among residents in Sun City, I will address my people to assign more black and whites to the community," the sheriff emphasized during an exclusive interview with View .
The interview came about after a formal request was made to the sheriff, as a result of several emails I received from Sun City residents expressing fears — especially when leaving their homes during evening hours. Their concern stemmed from the rash of criminal incidents in the community. Seven of those crimes were detailed in an "email broadcast" from Sun City Executive Director Paul Henderson, urging residents to be wary.
According to one of the incidents mentioned by Henderson, "a resident was confronted at gunpoint and asked to give up his wallet. The resident refused and … as the resident drove away in his golf cart, the robber shot at him twice. The resident called 911 and Metro responded quickly to the scene."
Lombardo said Metro has made an arrest of the armed robber.
"One individual committed three separate robberies. That person has been taken into custody," he said, noting that a second arrest also has been made relating to break-ins during the crime spree.
He sympathized with the fears of seniors and especially the many who live alone in the community of 7,779 homes. But Lombardo also pointed to the overall increase in crime in Southern Nevada, especially within the last year, as well as the need for additional resources, with an emphasis on the funds needed to add police officers.
"My mother lives in Sun City," he revealed. "So that only adds a personal interest to my overall concern. I spoke to my mom about what's happening there, and she told me she feels comfortable with things."
He spoke generally about how the spread of criminal fear could sometimes become exaggerated, commenting that while data is at his fingertips, the extent of crime "often becomes more of a perception as opposed to the reality. I'm concerned about that perception. I try to convey the fact that the amount of crime in Sun City is not as bad as the perception," he explained.
Still, Lombardo recognized that when a person is faced with an armed robber, "it can be very scary."
In the meantime, the community is also taking action of its own. David Steinman, president of the Sun City Board of Directors, said that, in addition to working closely with Metro, the community has recently hired a security expert, "someone who can give us guidance in what we can do as a community to help prevent criminal acts."
"We have taken other steps as well," Steinman added, referring to plans for upgrading alarm and surveillance systems.
There have been several meetings between Sun City officials and resident groups in the last few weeks. "A large group from the Sun City Computer Club came to our last board meeting," Steinman said. That's because burglars invaded the community's computer lab during the crime spree and stole 12 laptops valued at an estimated $11,000.
And on May 26, police officers from Metro planned to be on hand at Sun City's Desert Vista Community Center to answer questions from residents. The program, scheduled from 9 to 11 a.m., is being widely advertised in the community as "Coffee with a Cop."
Herb Jaffe was an op-ed columnist and investigative reporter for most of his 39 years at the Star-Ledger of Newark, N.J. His most recent novel, "Double Play," is now available. Contact him at hjaffe@cox.net.