MountainView continues to grow, innovate valley's health care
February 4, 2016 - 12:45 pm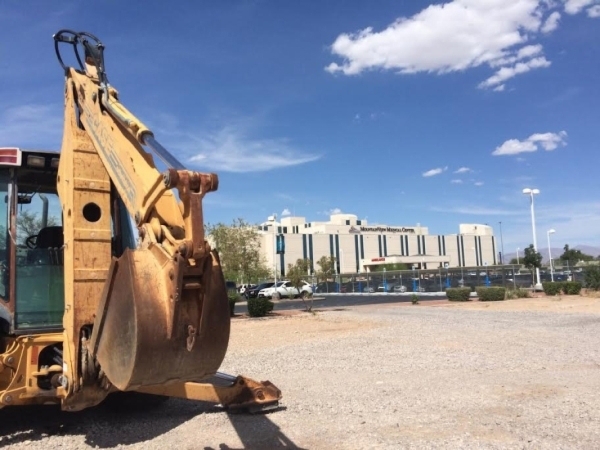 When they cut the ribbon to open the doors at MountainView Hospital exactly 20 years ago this month, there weren't many who would have predicted the facility would expand into the ever-growing, increasingly popular, and medically and surgically advanced health care provider it is today.
For one thing, there was nowhere near the present resident population that surrounds the hospital's site in the northwest Las Vegas Valley. In fact, the 155 beds at MountainView in February 1996 appeared to be more than sufficient for well into the foreseeable future.
But things were developing fast in that part of town. Growth was everywhere, and few would have guessed there would soon be the need for hospital expansion — followed by another expansion, followed by recognition nationally for its high accreditation standards. Followed by a variety of other achievements, all of which have helped lift MountainView into the upper echelon of hospitals in the state.
Or, as Chris Mowan, MountainView chief executive officer, put it during an interview: "We started out on the outskirts of the desert as a small, suburban hospital. But despite the economic downturn and the terrible recession, MountainView Hospital continued to grow at a rapid rate throughout those years."
And with that growth came the need for innovation. Mowan talked proudly about a new residency program at the hospital that will begin in July with 40 medical students, to be followed by a similar continuation of resident students each year thereafter — all in an effort to help increase the population of permanent physicians in the community.
He noted that in addition to completing "the transition from a suburban hospital to an academic teaching institution," the new residency program "will definitely make us one of the largest hospitals in the valley."
Indeed, the expansion of hospital infrastructure combined with the move to become a teaching institution will complement each other.
"When MountainView opened 20 years ago, no one could have predicted the expansion in health care that we see today, or that we would be training students to be physicians through a residency program at our hospital," Mowan commented.
The bottom line is this: There's much activity going on these days at the sprawling site of MountainView Hospital, 3100 N. Tenaya Way, not the least of which will be the completion of two new floors in its south tower that will house an additional 64 beds by early 2017, raising the hospital occupancy to 400 beds.
Add into that the expansion and renovation of women's facilities, further expansion of the emergency department, and a new medical office building that will help accommodate the residency program.
"We have seen tremendous growth in our women's services department. More moms are choosing MountainView for their delivery," Mowan said. As a result, the hospital will increase the numbers of labor and delivery beds and beds for the treatment of women with after-birth difficulties. It will also open a 24-bed neonatal intensive care unit for infants.
The new four-story medical office building will also include a 225-seat auditorium to help support the residency program as well as increased plans for community outreach lectures. The present $90 million expansion program comes on the heels of another major expansion that cost more than $70 million and was completed only three years ago. At that time, emergency room and patient rehabilitation facilities were increased substantially.
The list of achievements at the hospital includes its recent recognition as a "Top Performer on Key Quality Measures" in 2014 by The Joint Commission, which is the leading accreditation organization for hospitals throughout the country.
MountainView and its sister hospitals, Sunrise and Southern Hills, owned by Hospital Corp. of America, are three of the 1,043 hospitals out of more than 3,300 such facilities in the U.S. to achieve the 2014 "Top Performer" designation.
According to The Joint Commission, MountainView was one of 14 hospitals in Nevada that attained a top performance rating for accountability measures in areas of heart attack, heart failure, pneumonia, and surgical care. And in a separate recognition, The Joint Commission this past November awarded MountainView its Gold Seal of Approval for Sepsis Certification after a rigorous evaluation of the hospital's care standards for the infectious illness.
— Herb Jaffe was an op-ed columnist and investigative reporter for most of his 39 years at the Star-Ledger of Newark, N.J. His most recent novel, "Double Play," is now available. Contact him at hjaffe@cox.net.