Golf: Eagle Crest one of the best executive courses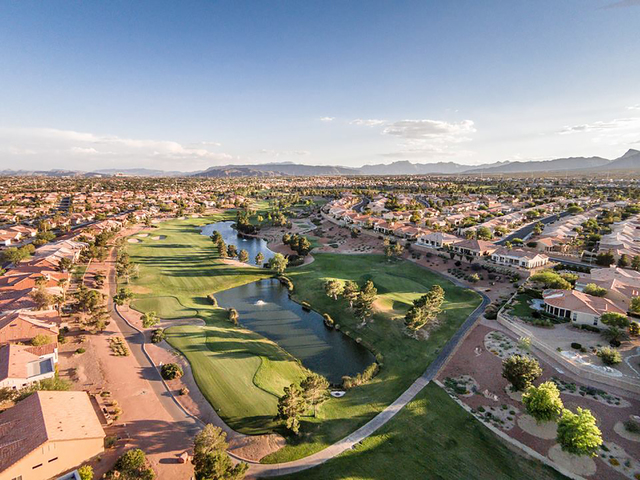 What exactly is an executive golf course? To find the answer, I turned to Donny Long, director of golf at Golf Summerlin, for his definition of an executive golf course.
"It's a beginner golf course but not," he said. "It's great fun for beginners but can be very challenging to the seasoned player. Executives are made up of a majority of par-3s, with four to six par-4s in the mix. They're less expensive to play and generally can be played in less than three hours."
This column marks the last in a series of executive golf course reviews. I've previously reviewed on Desert Willow Golf Course, Durango Hills Golf Club, and Lake View Executive Golf Course. The last, Eagle Crest Golf Course, 2203 Thomas W. Ryan Blvd., part of the Golf Summerlin group, is a perfect example of an executive golf layout.
Why do executive golf courses exist? Donny said, "Business-wise, executive courses require less land and less finances to build. Player-wise, they became popular because they can sharpen a player's short game. And the time required to play is also shorter."
People often confuse executive courses with par-3 courses, which consist solely of par-3 holes. Examples of par 3s are nicknamed "The Approach" at TaylorMade Golf Experience and Cloud 9 at Angel Park Golf Club and all short courses at North Las Vegas Golf Course. Typically, holes are less than 200 yards.
Pitch and putt courses are confusing, as well. These courses, featuring holes 100 yards or less, require only two irons and putter to play. I can't think of one in Las Vegas.
How popular are executive golf courses? Donny oversees three golf courses at Golf Summerlin. Palm Valley and Highland Falls are both regulation-size courses. Donny said, "Eagle Crest accounts for 26 percent of play for our three courses. Palm and Highland each account for 37 percent of play. We have more walk-ons at Eagle Crest. We have a more diverse clientele: beginners, ladies and more youth play. Experienced golfers arrive later in the day after work when they can fit in a quick round."
Billy Casper and Greg Nash designed the course, which opened in 1996. It's a 4,067-yard par 60 with a course rating of 60.6 and slope of 95. There are three par 4s on each nine, ranging from 327 yards to 403 yards. The par 3s range from 101 yards to 224 yards. The speed of play, which is noted on the bottom of the scorecard, says it can be played in two hours and 57 minutes. And Donny notes, you'll use every club in the bag at Eagle Crest.
Are the holes challenging? You bet.
No. 1 is a downhill 327-yard par 4 ready for a good score. An easy wedge to the green could set you up for an opening birdie.
Water comes into play on No. 3, a 135-yard 3 par. Don't go right, or you'll either get wet or wind up in a hazard.
You never know when talent will strike. In this case, it was on No. 6, a 115-yard par 3. I found the traps in back of the green and spent a day at the beach.
The signature hole is the 18th. It's a 349-yarder, which, if you're a long-hitter, will reach a slope that might roll your drive to the green. None in our foursome could do it. Next time.
Eagle Crest winds its way through the Sun City Summerlin neighborhood, providing many of the best views you'll see on a golf course. Several times, you'll be treated to panoramic views of the valley, and it seems that every putt breaks to the city.
We played in two hours and 55 minutes. We retired to the snack bar, ordered some beverages and soaked up the great views sitting on the veranda. One friend noted that Eagle Crest has a private feel to it. True, but all three golf courses in Sun City are available for play to the public.
Eagle Crest and Desert Willow Golf Club are two of the best here in Las Vegas. You should find time to experience them.
John Asay is a longtime golfer and local freelance writer.