Engage teen curiosity with 'Unlock the Weird!'
September 14, 2016 - 10:45 am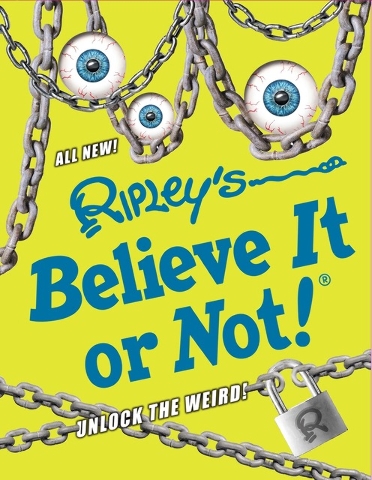 School has started, and you've got it all locked down.
You know your class schedule, who your teachers are, who assigns the most homework and who takes the best notes. You even know where your locker is, but before the semester gets any further, why not relax a little and read something fun — something like "Ripley's Believe It or Not! Unlock the Weird!"
For most of the rest of this year and well into next, your mind will be focused on All Things School, whether it's class or extracurricular. Every now and then, though, you're gonna need a break, and it might as well be something odd, right?
That's when you want this book.
Let's say you're really into history. With "Unlock the Weird," you'll learn about a war that started over a dog, why you shouldn't sing "Jingle Bells" at Christmastime and why you should never take toys out of their packaging.
If contests are your thing, read about the Lady of the Lake Festival's sheep dung spitting contest. Try your hand — um, face — at gurning, and see why you should grunt if you're a tennis player.
Or maybe you're into natural oddities. In that case, read about the mountain lion with teeth atop its skull. Learn what's unique about a Michigan couple's 13 children, and meet a guitarist with no arms and a woman whose laugh almost killed her. See why snakes shouldn't eat porcupines. Learn about a two-headed calf and see a photo of a two-headed piglet.
Find out where you never want to celebrate your birthday. Learn about Tibetan sky burials. See why Norwegian dictionaries are popular — in Norway! Read about the country in which you can marry someone who's dead, and learn about an outdoor artist who wants it to rain. Find out about a haunted doll collection and cannibal monks, see how Paris gets by with just one stop sign, visit a hidden town near Las Vegas and learn about a dubious honor for Michael Jordan.
Then, when you're done reading this book, turn back to page 11. Believe It or Not, you could be featured in next year's book!
Work, work, work. You know that you can't do it all the time. You need a break now and then, and so does your child. That's why you need "Ripley's Believe It or Not! Unlock the Weird!" around. It's the perfect diversion.
In a format that's very browse-able and meant for pick-up-and-put-down reading, this book features thousands of short (often, one or two sentence) factlets, quick articles and tons of pictures that are entertaining, surprising and sometimes a little disgusting. That makes it a great book to give to older kids, particularly those who aren't big on reading because what's inside will spur their inquisitiveness and may nudge them to search for more information on their own.
While parts of it may be disturbing to wee ones, trivia-loving kids ages 12 to adult will pick this book, for sure. When enjoying "Ripley's Believe It or Not! Unlock the Weird!" curiosity is key.
View publishes Terri Schlichenmeyer's reviews of books for children weekly.
About the Book
"Ripley's Believe It or Not! Unlock the Weird!"
c.2016, Ripley Publishing $29.95/$34.95 Canada, 256 pages