'Get Outside' guides readers through outdoor amusement opportunities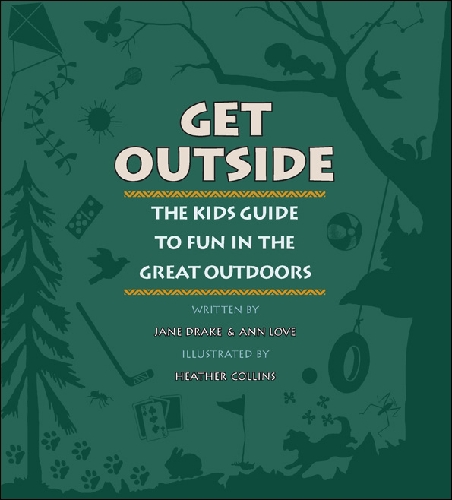 Your mom is awfully tired of you.
She's tired of you running up and down stairs, in and outdoors, from kitchen to bedroom. She's tired of your noise from video games, talky toys, TV shows and electronics. Most of all, she's very, very tired of you saying that you're bored.
But it's true: You're bored, and nothing's fun. So maybe it's time to make your own fun, with help from your siblings and friends. Grab "Get Outside" by Jane Drake and Ann Love, illustrated by Heather Collins, and bring your imagination.
Mom says that if you can't find something to do today, she'll give you something to do, and you don't want that! But you and your friends have already done everything you planned on doing this summer, and you've run out of ideas, which is why you need this book.
First of all, when was the last time you really looked around outside? What kind of cool creepy-crawlies live in your yard? What does the night sky look like where you live? What can you do with a single blade of grass? This book will tell you.
Or let's say you and your friends love to play games. With a few simple things you have around the house, you can make a hoop-and-arrow game, a goofy-golf course, or a fun hockey game in the grass. If you're facing a rainy day, there are card games for you to learn in this book, as well as some magic tricks to try, some different kinds of hide-and-seek, and a new game called Crikinole that you can make and play.
If you really like crafts, learn to make rock art either for your garden or lawn or for your bedroom shelf. You can mix your love of creatures with art by making an ant farm. Or, if you love to dream on the stars, make a night sky dome.
And for the kid who just wants to spend the summer with a good story, this book has those, too. There are myths and legends to read about, as well as tips on game-playing, wildlife-watching, and enough boredom-busters to last all year long.
This summer, you've promised yourself that your kids will get three things: outside, fresh air and out from under your feet. But let me add another: this book.
Drake and Love give even the most outdoors-averse child something to do in "Get Outside," and they appeal to all kinds of interests. What's especially great about this book is that there are things to do for kids who have acres and acres to explore, as well as for apartment-dwellers without backyards. I also liked that the illustrations by Collins make this an easy book for reluctant readers to enjoy.
With adult help, I think a 4- to 6-year-old could find fun here, but your 7- to 10-year-old is probably going to get more out of this book. If you need to battle boredom before it balloons, "Get Outside" is something your kids will never get tired of.
View publishes Terri Schlichenmeyer's children's book reviews weekly.