Kids will love gross gifts in 'Mr. Goat's Valentine'
February 11, 2016 - 1:42 pm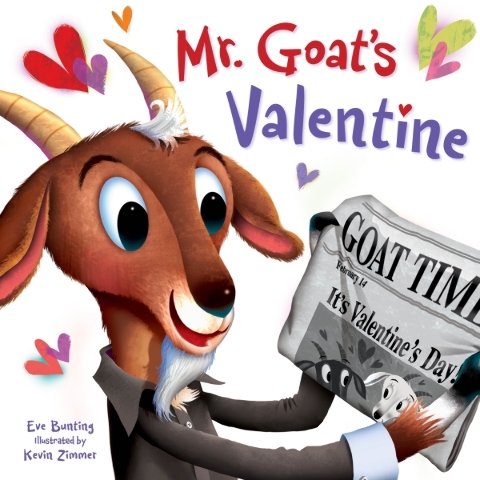 Be Mine, Valentine.
Surrounded by pink and red hearts, that's what the card said, and it came from your best classroom friend. Another Valentine is from your teacher, and you got one from a kid you know on the bus. Everybody gets Valentines on V-Day, but in the new book "Mr. Goat's Valentine" by Eve Bunting, illustrated by Kevin Zimmer, some are more special than others.
The headline in the Goat Times was a big one. How could Mr. Goat miss it? It was Valentine's Day, and he had to find something really super-special for his first love. She surely deserved it. He wanted to tell her how much she meant to him, so Mr. Goat put on his big straw hat and headed out.
He didn't go far before he came to Miss Nanny Goat's "weed stall."
Among the flowers and plants, Miss Nanny Goat had the perfect bouquet for Mr. Goat to give his first love. Everything was presented beautifully in a rusty, dented tin can — sticky weeds, ugly weeds, pigweed, ragweed and crabgrass — and he knew his first love would enjoy that. She was quite "fond of a ragweed salad," and rusty cans were yummy when you salted them.
Mr. Goat's nose took him to the next place on his journey: Mr. Pygmy-Little Goat was offering smelly rotten eggs for sale. "Guaranteed foul and disgusting," he promised, so how could Mr. Goat resist? He couldn't, so he bought four of them.
There were other stalls nearby, but Mr. Goat wanted to hurry … until he came across Miss Skunk's pretty pink perfume cart. Being helpful, she spritzed Mr. Goat with her special perfume so he'd smell wonderful for his first love. As he walked away, she reminded him that he needed a Valentine card to go with the weeds and the rotten eggs.
After walking a while, Mr. Goat began to think: Maybe he did need a card to go with everything else, but where would he get one? And if he couldn't get one, what else could he do? What would his first love think?
Awww, who needs chocolates and roses when you can have stinkweed and rotten eggs for V-Day? Who wants a bunch of sappy cards? Your child surely doesn't — especially when "Mr. Goat's Valentine" is already so darn sweet.
And yet, this book isn't sugary-smoochy. Bunting and Zimmer instead allow your child to laugh at Mr. Goat's taste in food and gifts. There's a definite sense of "eeewww" here (maybe even about mushy-gushy love in general), but it's there without giving the slightest hint of who that "first love" might be or what she may think of the wonderful gifts. By the time you get to the end of this book, I think you'll both be charmed.
Kids ages 4 to 7 will get the giggles from this book, which makes it a just-right substitute for candy in this month of amour. One look at "Mr. Goat's Valentine," and your child will want it to be hers.
— View publishes Terri Schlichenmeyer's reviews of books for children weekly.
About the Book
"Mr. Goat's Valentine" by Eve Bunting, illustrated by Kevin Zimmer
Sleeping Bear Press, c.2016, 32 pages
$16.99/$20.99 Canada