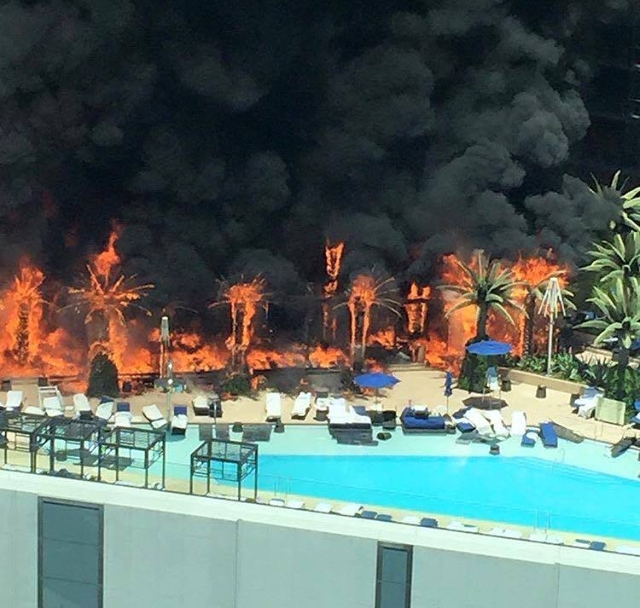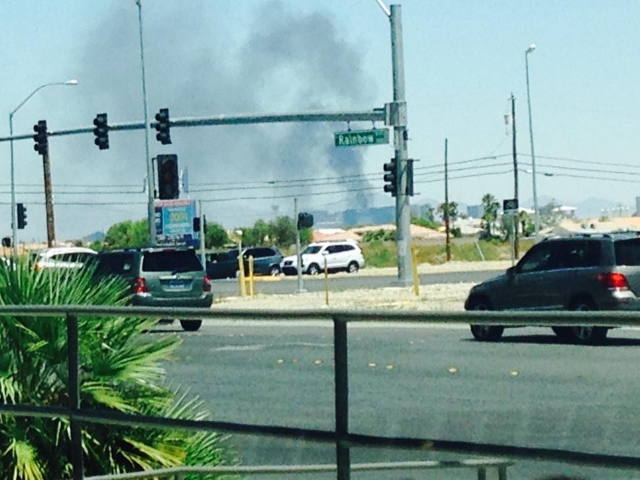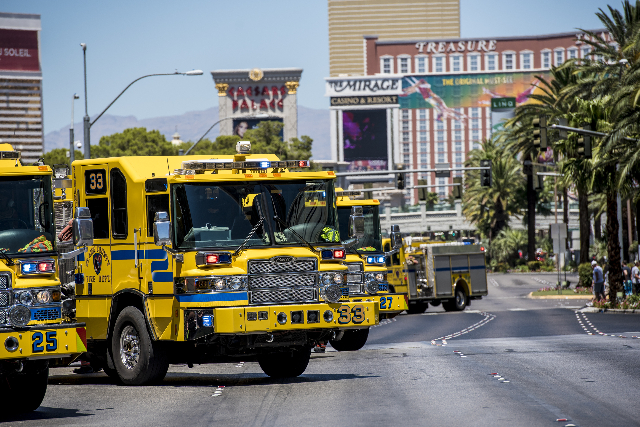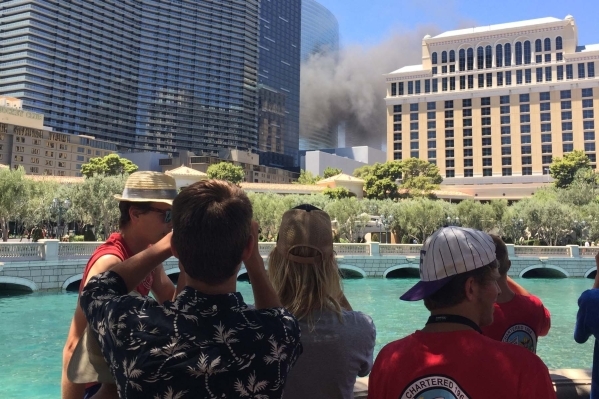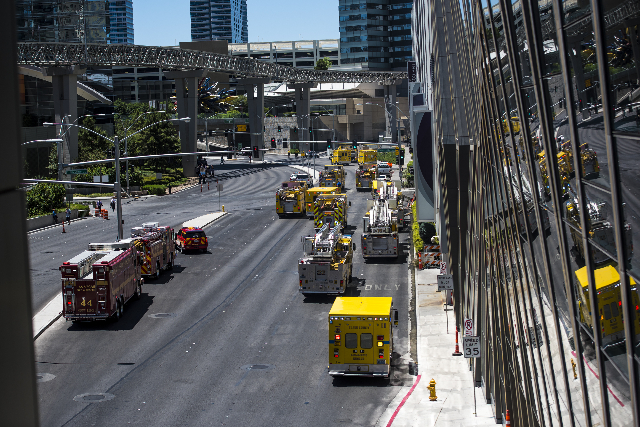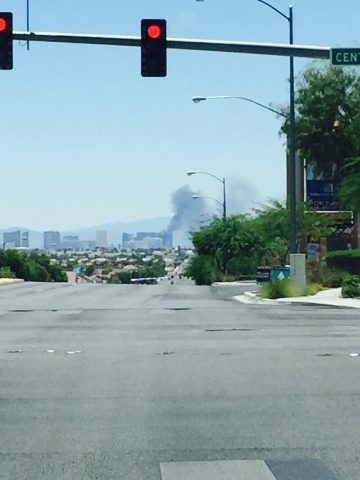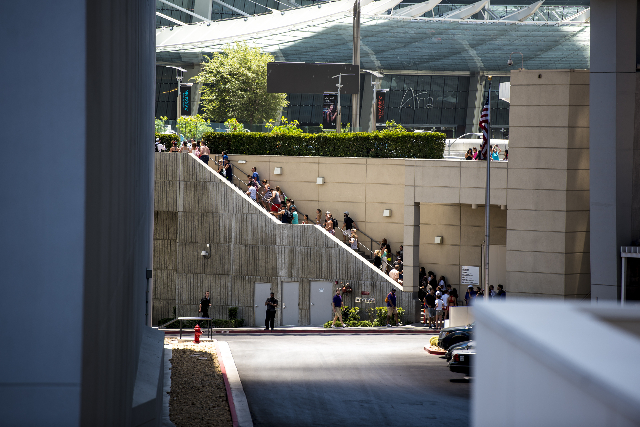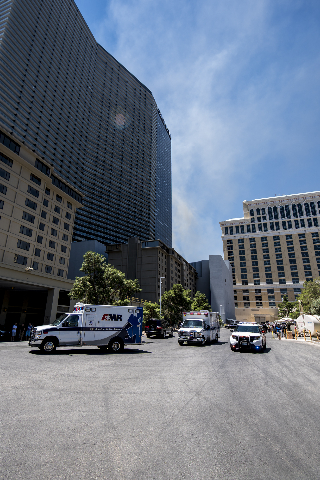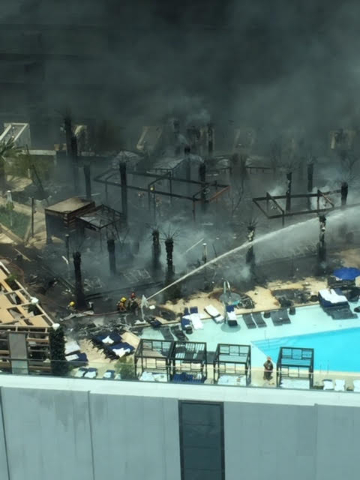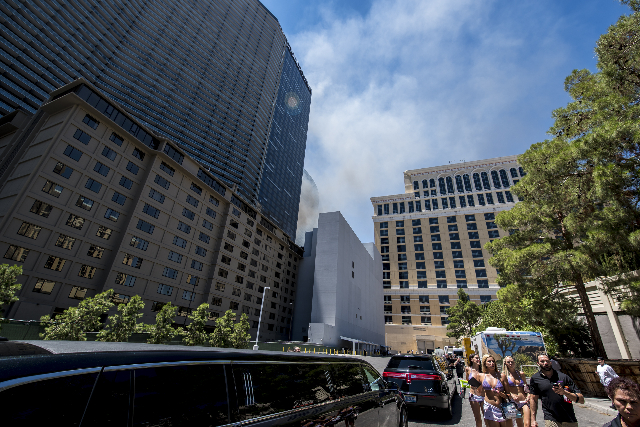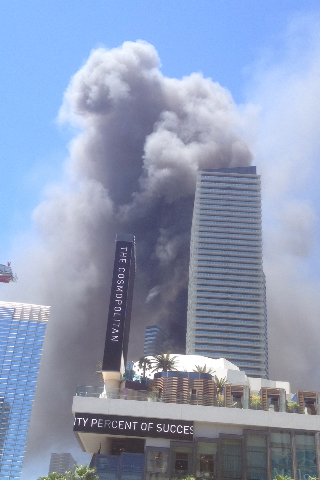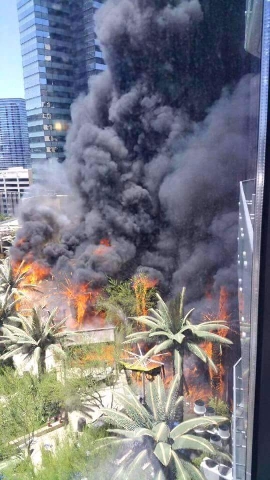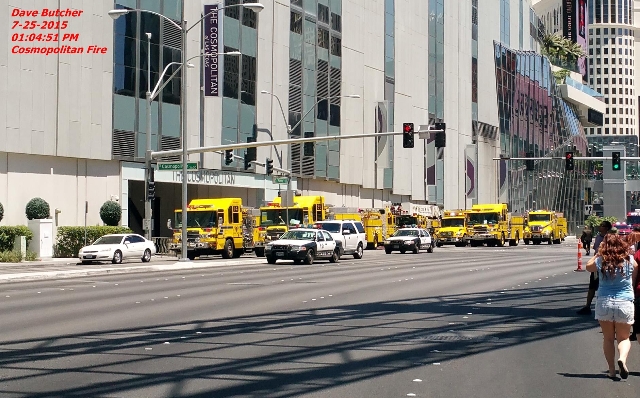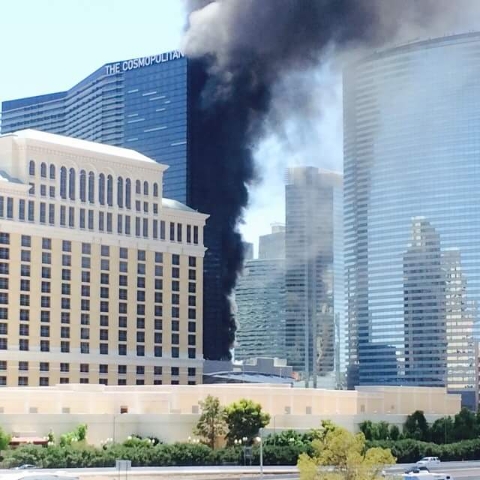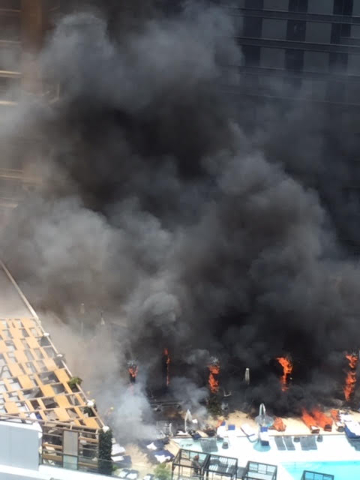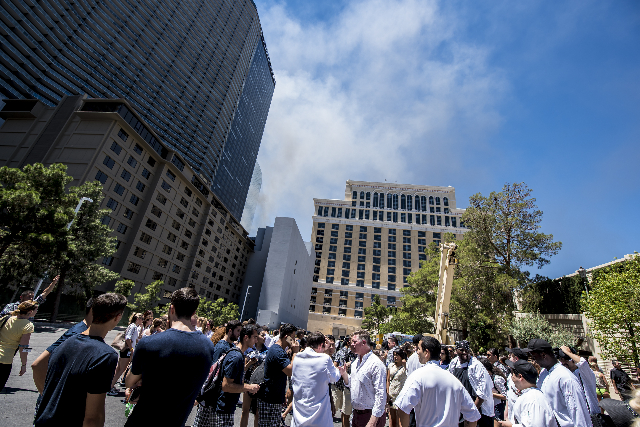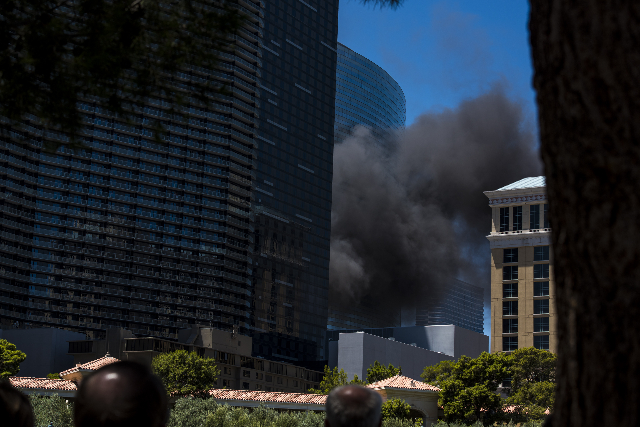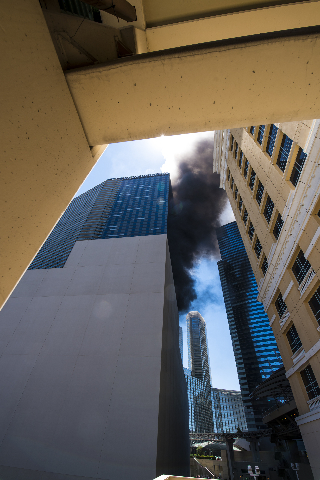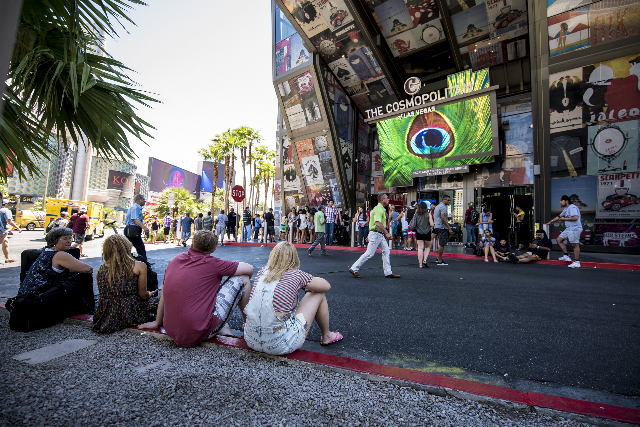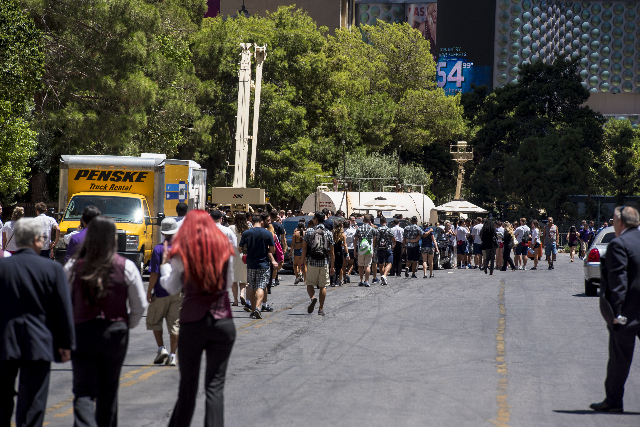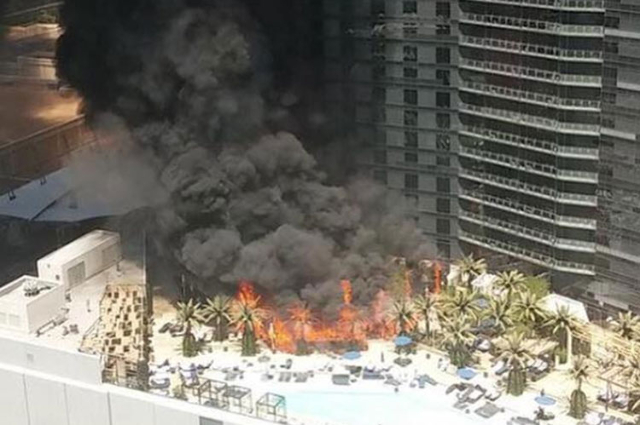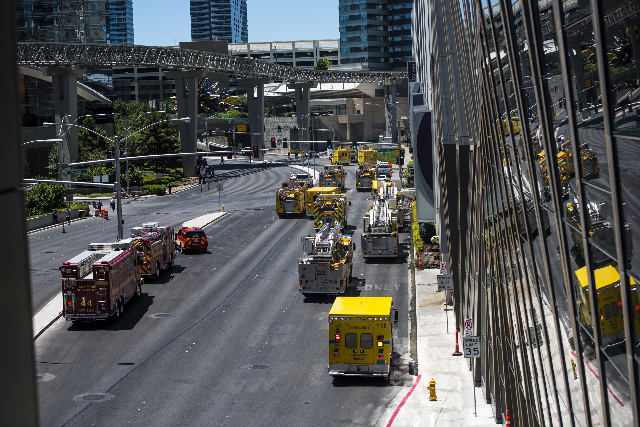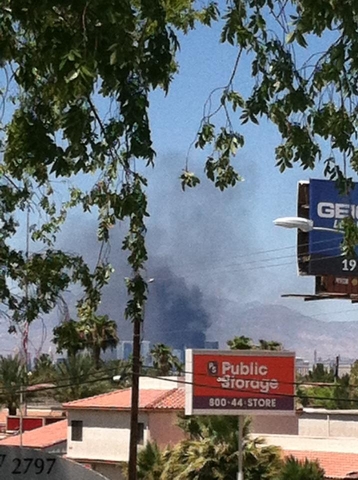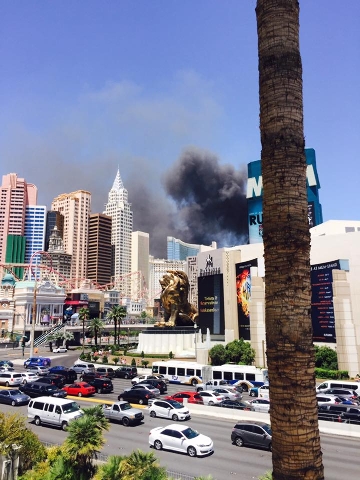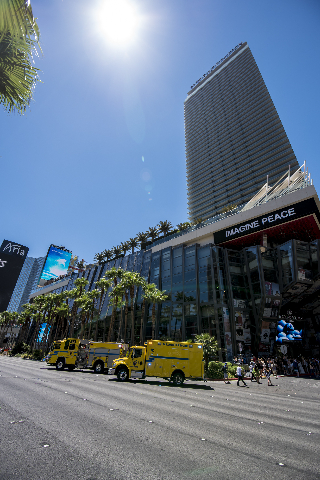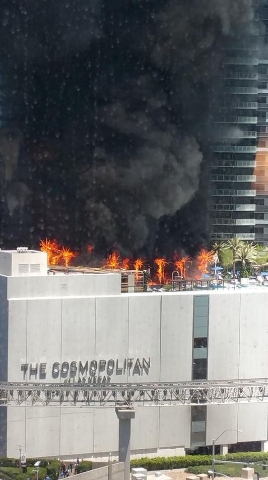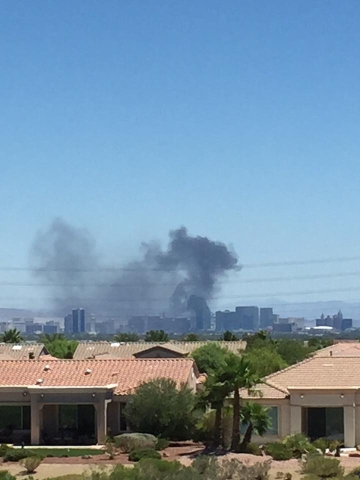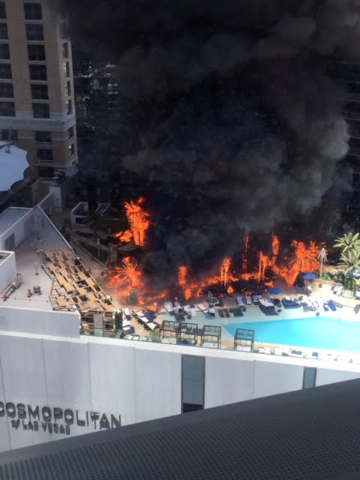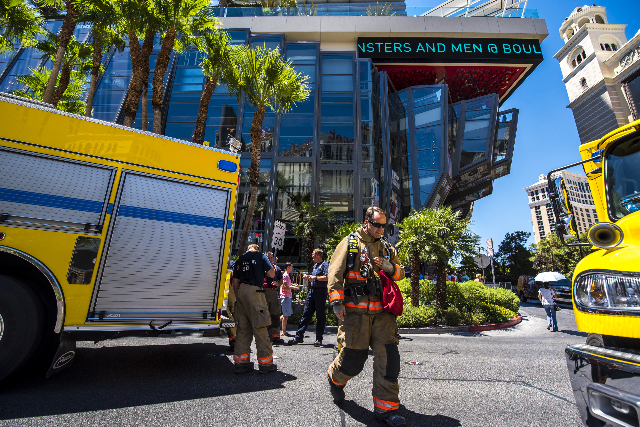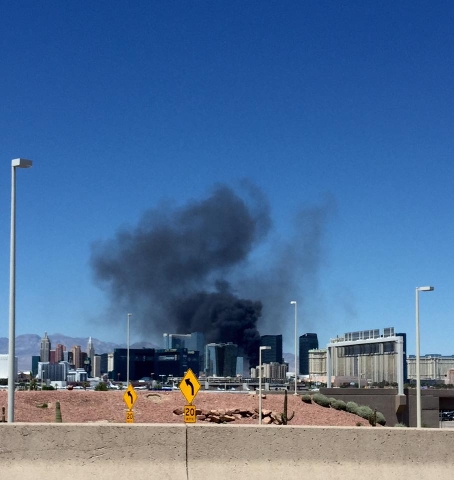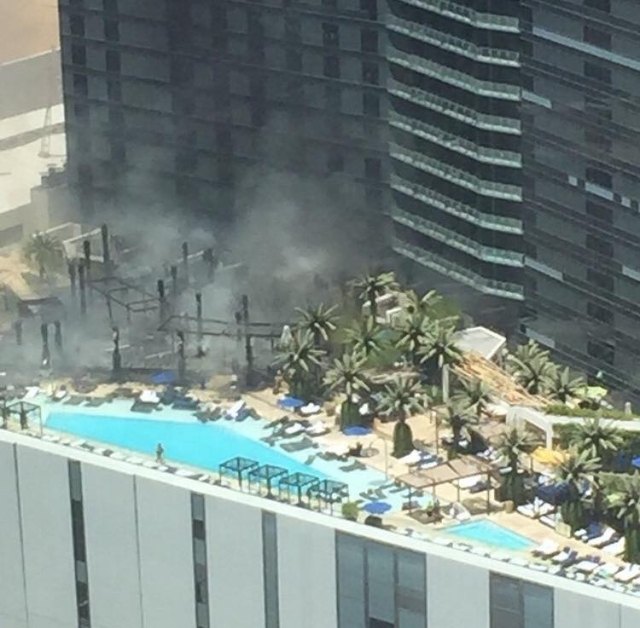 A rare hotel-casino fire shut down the Strip about an hour, forced the partial evacuation of The Cosmopolitan of Las Vegas, and hospitalized at least one person early Saturday afternoon.
One person was taken to the hospital for smoke inhalation and another was treated by medical personnel at the scene and released, Clark County Fire Department spokesman Greg Cassell said at a press conference shortly after the fire was put out.
There were no burn injuries, Fire Department spokeswoman Sandra Baker wrote in a release.
The 14th floor blaze started about 12:15 p.m. and burned through cabanas, trees and furniture surrounding the rooftop Bamboo Pool, where the fire started. Cassell likened the artificial landscaping to "liquid gasoline."
"It's a lot of work to get our assets and resources up there," but the department's firefighters are "very, very good at what they do," Cassell said.
The fire was extinguished about 30 minutes after it started. More than 110 firefighters were called to the scene at 3708 Las Vegas Blvd. South.
"We did not have any fire inside," Cassell said, crediting the intense high-rise fire training that firefighters go through and tough county building codes for keeping the flames from spreading into the resort itself.
Spokesman Brad Seidel about 4 p.m. that the resort had returned to full operation, except for the pool and the 14th and 15th floors.
Guests on "a few floors" of the resort were evacuated, Baker said. They are being housed at the nearby Vdara and Aria, according to an MGM spokesperson.
"So much smoke reminded us of something from a horror movie," said evacuee Michelle Masilon, whose 40th-floor suite overlooked the pool.
Although no fire got inside the 61-floor West End tower, smoke traveled through open windows and caused smoke detectors to go off.
"I'm sure that's gotta be terrifying," Cassell said of the thick black smoke and piercing alarms people inside the hotel-casino experienced.
After seeing "huge clouds of black smoke," Masilon and her husband, Chris Masilon, grabbed their belongings and joined hundreds of guests evacuating through a hotel stairwell.
With the elevators shut down, the couple from Huntington Beach, Calif., walked down 40 flights of stairs to reach the hotel lobby.
But they described the scene as "surprisingly calm," with guests and visitors chatting and even laughing while observing the fire outside of the hotel.
"For some people, I think it was just another crazy moment in their Vegas trip," Chris Masilon said. "Just part of the Vegas experience."
New York couple Joe and Erin Santos were enjoying the last day of their Vegas trip poolside in one of the hotel's cabanas when the blaze began.
"We were in the cabana where it started. We noticed the palm tree next to us was on fire and I noticed it because it smelled strange. I told our waitress and she didn't realize how serious the situation was. The fire spread to our cabana and we all ran out. We left our phones and wallets in the safe in our cabana but they're burnt up," Erin Santos said.
The pair are heading home Sunday, and Joe Santos said he has no money, identification or credit card.
Las Vegas resident Jill Alegre said she was also near where the fire started.
"We were in the pool, saw flames and everyone scrambled. The staff was pretty calm and under control. There were people outside and in the stairwell telling us where to go."
Other guests felt the evacuation was more chaotic, however.
Naylah Tuaoa-Medeiros, 25, of Las Vegas, had been staying on the 35th floor of the resort since Thursday for a friend's birthday party and was in the process of leaving when she was alerted to the fire.
At first, housekeeping staff would not give a reason for the evacuation, saying only that people could not use the elevators, she said.
Moments later, panic ensued, she said.
"All they kept saying was 'The building is on fire! The building is on fire!,'" Tuaoa-Medeiros recalled warnings from the housekeepers.
The stairwell was packed and people were forcing the people in front of them, including families with small children, down the stairs, she said.
It took Tuaoa-Medeiros and her group nearly 45 minutes to get to the bottom floor, she said.
"They were so disorganized," Tuaoa-Medeiros said of hotel staff. "There was no sense of urgency, there was no flow."
Evacuees were escorted across the street to the Aria, where after 10 minutes of waiting outside, they were told they could wait in the ballrooms.
It will be "quite some time" until investigators determine what caused the fire, Cassell said. No foul play is expected.
The pool area has designated smoking areas that are situated near the cabanas, Tuaoa-Medeiros said.
Las Vegas Boulevard reopened to foot and vehicle traffic after the fire forced its closure in both directions between Tropicana Avenue and Flamingo Road for nearly an hour.
On Saturday afternoon, nearly a dozen hard-helmet-clad workers shoveled ash and charred debris from the south end of the pool's deck into a dumpster. Small pieces of charred wood were also visible inside the hotel, scattered on the floor of a 14th floor elevator lobby.
A Cosmopolitan representative at the pool declined comment on how long the cleaning efforts might last and when the pool would reopen.
This is a developing story. Check back for updates.
Review-Journal writers Kimber Laux and Howard Stutz contributed to this report. Contact Kimberly De La Cruz at kdelacruz@reviewjournal.com or 702-383-0381. Find her on Twitter: @KimberlyinLV. Contact Chris Kudialis at ckudialis@reviewjournal.com or 702-383-0381. Find him on Twitter: @kudialisrj. Contact Ann Friedman at afriedman@reviewjournal.com or 702-380-4588.
OTHER LAS VEGAS HOTEL FIRES:
—MONTE CARLO: On Jan 25, 2008, a fire forced thousands of people to evacuate the 32-story hotel and conjured images of the deadly MGM Grand fire. At least 13 people were treated for smoke inhalation, but authorities reported no major injuries. Fire inspectors blamed flying molten metal and a lack of safety measures by construction workers for the fire. Most of the damage was done to the building's exterior, although a handful of rooms suffered water damage.
—MGM GRAND: On Nov. 21, 1980, later dubbed Las Vegas' "darkest day," a fire at the MGM Grand Hotel and Casino killed 85 people, making it the second-largest life-loss hotel fire in U.S. history, according to Clark County records. Another 700 people were injured by the blaze, which investigators determined was ignited by an electrical ground fault.
—LAS VEGAS HILTON: Just 90 days later, on Feb. 10, 1981, county firefighters responded to reports of flames from the 22-floor Las Vegas Hilton. Eight people died in the blaze and 200 were injured. A hotel busboy, Phillip Bruce-Cline, was later found guilty of starting the fire, and convicted of eight counts of murder. He was sentenced to eight consecutive life terms without parole for the deaths, plus 15 years for first-degree arson.
–Las Vegas Review-Journal