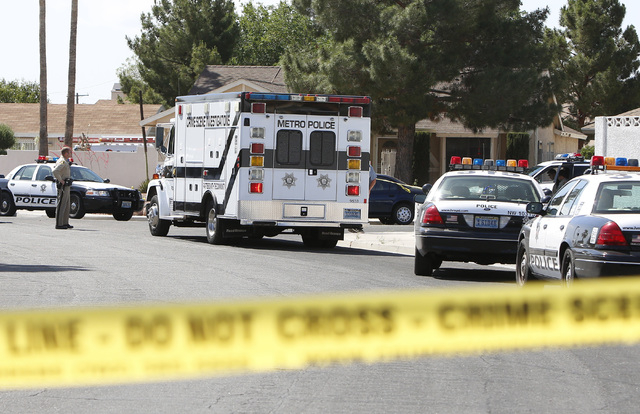 One of two men wounded in a northwest valley shootout Thursday morning is not expected to survive, according to Las Vegas police, and the other faces an attempted murder charge.
Police said Friday the violence stemmed from "an ongoing dispute" between neighbors — bitter enough that one man planned to kill the other, according to a warning he sent a woman he'd been dating.
Metro wouldn't say what started the feud. But an arrest report detailed points of tension leading up to the shooting.
Officers were called about 9 a.m. Thursday to the 5800 block of Westport Circle, near Gowan Road and Jones Boulevard, where several people said shots had been fired, Metro said in a news release. Officers found two men with gunshot wounds, one of whom had been shot in the head.
John Banova, 60, was backing his Dodge pickup out of his driveway, police said, while arguing with his neighbor, 46-year-old James Stapleton.
Stapleton and his parents were outside their house when the argument started, police said.
As Banova backed out of the driveway, Stapleton pulled a "long rifle" from the passenger seat of his truck and walked toward Banova's driveway, according to a police report.
A neighbor told police she heard Staple­ton's father yelling for him to calm down.
Police said video from Banova's surveillance system showed he had backed out of his driveway then pulled back in as Stapleton approached. Stapleton raised the shotgun and pointed it at Banova's truck.
Banova fired a handgun out his driver's side window at Stapleton, the police report said. Stapleton returned fire.
Both men were hit, police said.
Officers found five bullet casings on the road next to Banova's truck and one casing inside the truck. They found four fired shotgun shells near the driver's side of Banova's truck.
Both men were taken to University Medical Center, where Banova is in critical condition, police said. He has one gunshot wound to the head and another to the hand. He is not expected to live, Metro said.
Stapleton was treated and released for wounds that were not life-threatening, police said. He was arrested and is being held without bail at Clark County Detention Center on charges of attempted murder with a deadly weapon and shooting at an occupied vehicle.
A woman who told police she and Staple­ton had been dating for a year said she had been texting Stapleton the morning of the shooting, Stapleton's arrest report said.
Stapleton texted the woman at 6:44 a.m. Thursday, according to his arrest report.
"Just so you know, you might not hear from me again, I think I am going to put an end to my problem with my neighbor —can't take it anymore — he is done, EFF."
The woman told Stapleton he was being stupid and advised him to stop and rethink things.
Stapleton texted her again at 7:42 a.m. "Thank you, it sucks I had to steal my dad's shotgun, but he won't realize it, Goodbye."
The rifle Stapleton used was registered to his father, Frank Stapleton, who also lives on Westport, according to a police report. The father declined to comment.
Earlier Thursday, Stapleton's father told police his son was complaining about Banova having pulled a gun on him and knocking over a trash can.
A woman who has lived on Westport for 25 years said the Stapletons are not liked by most of their neighbors.
"They don't have a good reputation in the circle," Angelika Mascarin, 65, said of the Stapleton family. She said people who had lived in Stapleton's house before him never had problems with Banova. But since Stapleton move in, police have been called in many times.
Banova had lived in his house on Westport, four houses away from Mascarin, for more than 30 years. Living between James Stapleton and his parents was "frustrating" him, Mascarin said.
"That man has always been very, very nice to everyone around him," Mascarin said of Banova.
If Banova dies, the attempted murder charge will be amended to murder with a deadly weapon.
Contact Kimber Laux at klaux@reviewjournal.com or 702-383-0381. Find her on Twitter: @lauxkimber