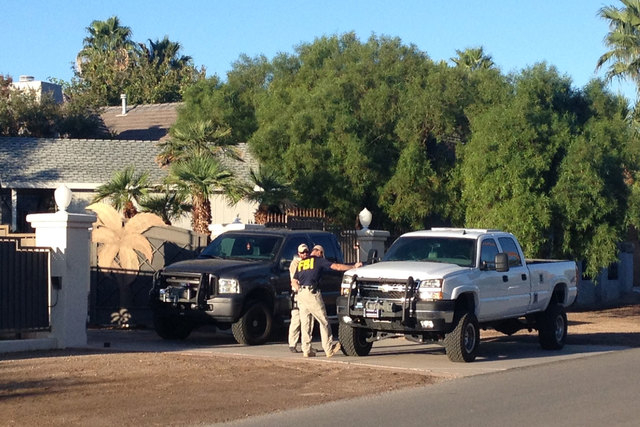 Reviewjournal.com's most-viewed stories for 2014 were a mix of big news and celebrity antics — so, completely unsurprising for Las Vegas. Take a look at the 10 most popular:
10. Shooting instructor dies after being accidentally shot by girl
In August, a shooting instructor in Northern Arizona died at UMC after being accidentally shot with an Uzi by a 9-year-old girl.
Authorities said the girl, from New Jersey, successfully fired the gun multiple times when it was in single-shot mode, but lost control of the weapon when it was put into "fully automatic mode."
No charges were filed.
9. Own a small business? Brace for Obamacare pain
In May, as early Affordable Care Act renewals started rolling in, the RJ's Jennifer Robison wrote about small businesses bracing for increases in coverage costs that put as many as 90,000 policies across Nevada at risk of cancellation or nonrenewal.
The concern for employees was that businesses with employees with lower salaries would cut health coverage altogether, and other businesses would lower salaries to make up for higher healthcare costs.
8. It's a crazy life for 'Pawn Stars' Chumlee
In September, Doug Elfman wrote about an interview with Austin "Chumlee" Russell, the breakout star of "Pawn Stars."
Chumlee talked about how his life has changed since the show started and his girlfriend's boob job. Read the full story here.
7. Woman in class-action lawsuit against Xerox dies
The Las Vegas woman who wasn't able to enroll for health insurance in time to fight an aggressive brain tumor died in June.
Linda Rolain was part of a class-action lawsuit against Xerox for enrollment mixups that left people without health insurance they were paying for. Rolain first tried to sign up for coverage in November, but after repeated sign-up problems didn't end up with coverage until late spring.
6. FBI raids rapper Mally Mall's Las Vegas home, business
The FBI raided Mally Mall's home and escort service in late September as part of a federal human trafficking investigation.
The rapper is known for his work with Snoop Dogg and Chris Brown. He's also worked with Drake.
5. Obamacare leaves Las Vegas man owing $407,000 in doctor bills
Larry Basich, 62, owed $407,000 for medical care from January and February, despite having bought a plan through the state's Nevada Health Link insurance exchange in the fall and having paid monthly premiums since November.
Basich's nightmare wasn't over until late March, when an insurer finally agreed to cover him retroactively.
4. Dignitaries, Strip visitors experience air of new era as High Roller opens
In one of the most anticipated additions to the Strip of the year, the High Roller opened in late March to great fanfare.
The 550-foot observation wheel is the tallest in the world, beating out the London Eye and Singapore Flyer.
3. Wynn, Clooney exchange barbs over heated dinner conversation
Norm Clarke wrote in April about a heated exchange between George Clooney and Steve Wynn at the Botero restaurant inside the Encore.
Wynn said Clooney got drunk off tequila shots and stormed off after dropping an F-bomb. Clooney said Wynn likes to go on rants. Read about the exchange here.
2. High fashion, expense for Hillary travel
In August, Laura Myers detailed the demands Hillary Clinton makes before agreeing to speaking engagements, sparking a "here's what Hillary Clinton demands" trend among outlets nationwide.
Among the requirements were a private jet and that Clinton's speech not be recorded, broadcast or covered by the media. Read about it here.
1. Shooters in Metro ambush that left five dead spoke of white supremacy and a desire to kill police
Tragedy struck the Las Vegas Valley in June when two Metro officers, Alyn Beck and Igor Soldo were fatally shot inside a CiCi's Pizza. A civilian, Joseph Robert Wilcox, was killed while trying to stop the shooters when they then entered a local Wal-Mart.
Thousands turned out to honor the three slain men. Read more of the RJ's coverage here.
Like the RJ on Facebook: