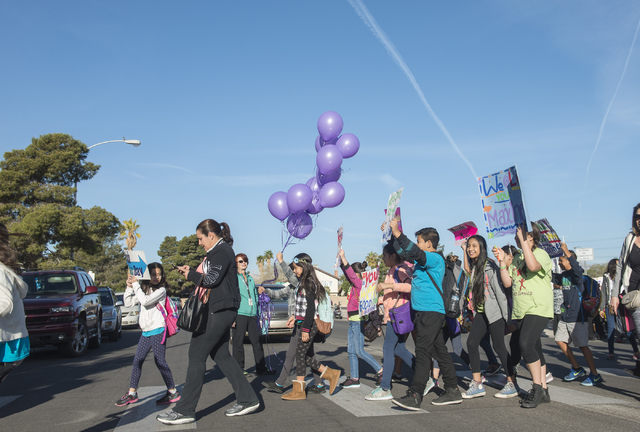 A 12-year-old girl whose mother raised questions about the standard of care the middle-schooler received at local hospitals in February died of H1N1 influenza, or swine flu, the Clark County coroner's office said Monday.
Maxine Starmarie Zepeda Lopez, who died Feb. 9 at University Medical Center, reported pain in her neck, stomach and thighs as well as difficulty moving her legs before she was taken to the hospital, her mother, Christina Lopez, previously said.
The mother said she transported the Guinn Middle School student first to Spring Valley Hospital, where the seventh-grader was treated for dehydration and underwent medical tests.
The girl was discharged within about three hours but continued to feel pain, so her family called an ambulance, Christina Lopez said.
Doctors at UMC, where Maxine Lopez was transported, told her mother they believed she had a virus, according to medical records.
Both parents were in the room when the 12-year-old was pronounced dead.
"I can't even explain it to anybody, the pain that I feel," Christina Lopez said about a month after her daughter's death.
H1N1, which caused a pandemic in 2009, is now the most common flu type in Southern Nevada and causes symptoms similar to those of other strains.
Anytime a child dies of influenza, health officials conduct a chart review, obtaining hospital records and looking for data such as whether or not the child was vaccinated, Southern Nevada Health District Medical Epidemiologist Tony Fredrick said. That data is then reported to the Centers for Disease Control and Prevention.
Maxine Lopez received a flu shot in September, her medical records show. Her mother could not immediately be reached for comment Monday.
In the month following her daughter's death, Christina Lopez said staffers at UMC behaved unprofessionally as her daughter was being treated, saying some staff members didn't thoroughly explain what was happening, some cried and one fainted as the girl died.
Both UMC and Spring Valley Hospital representatives couldn't comment on the specifics of the case due to patient privacy concerns.
However, UMC said in a statement that "anytime our team has an unexpected or heart wrenching outcome, they take it personally, and those situations can be extremely emotional for families as well as trained care givers."
Between the Oct. 1 start of the flu season and Sunday, 559 confirmed cases of influenza were reported in Clark County, leading to 28 deaths and 350 hospitalizations, Fredrick said.
During the same period last year, the district recorded 545 confirmed cases, 27 deaths and 301 hospitalizations, he said.
The increase in hospitalizations has occurred across the board in every age category. The reason for the increase was not immediately clear.
Fredrick added that this year's flu vaccine seems to acceptably target the strains of flu circulating in the area, and he described this year as typical in terms of the number of influenza cases reported.
"Frequently people that die of flu have some underlying factor," said Touro University associate professor of microbiology and immunology Karen Duus said.
Duus said that, although she can't speak to the specifics of Lopez's case, there's always a chance the vaccine won't stop someone from contracting the illness.
She said it's still crucial for patients to watch out for signs that their illness may be getting serious.
Individuals at higher risk for flu complications including the elderly, young children and people with medical conditions including asthma and diabetes should see the doctor when they develop flu symptoms, according to the Mayo Clinic.
Contact Pashtana Usufzy at pusufzy@reviewjournal.com or 702-380-4563. Find @pashtana_u on Twitter.
RELATED
Guinn Middle School students mourn girl who died suddenly and mysteriously