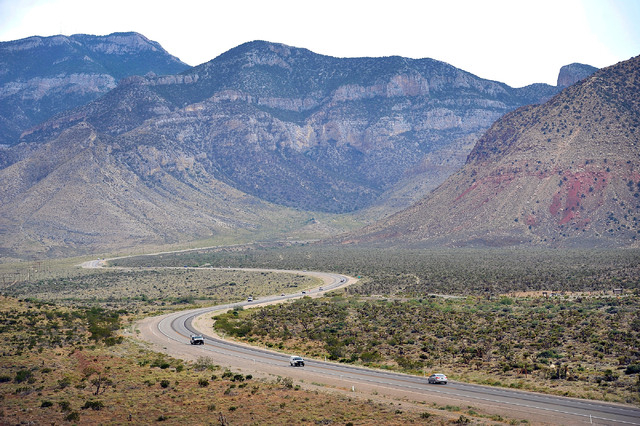 CARSON CITY — A $16.5 million contract to widen a 5-mile section of the Blue Diamond Road in Southern Nevada was awarded Monday by the Nevada Department of Transportation.
Aggregate Industries SWR Inc. will perform the work on state Route 160, which will widen the road from two lanes to four travel lanes between the Red Rock Canyon junction and Mile Marker 16.63.
The improvements will flatten side slope shoulders for safer vehicle turnouts while installing new drainage pipe and tortoise fencing. Other work consists of placing barrier and guardrails as well as hydro-seeding 38 acres. Construction will entail moving enough dirt to fill 1,800 average sized swimming pools, and placing enough asphalt to pave 8,000 driveways.
The project is scheduled for completion in early 2017. Although the speed limit will be lowered to 55 mph during construction, one lane will remain open at all times. Motorists should use caution while traveling through the work zone and take alternate routes, if possible.
Contact Sean Whaley at swhaley@reviewjournal.com or 775-687-3900. Find him on Twitter: @seanw801