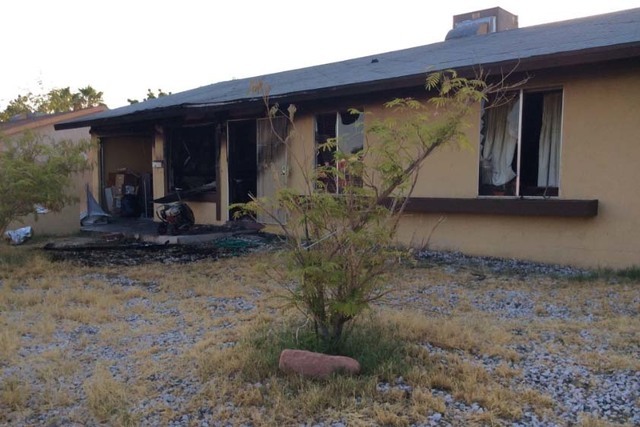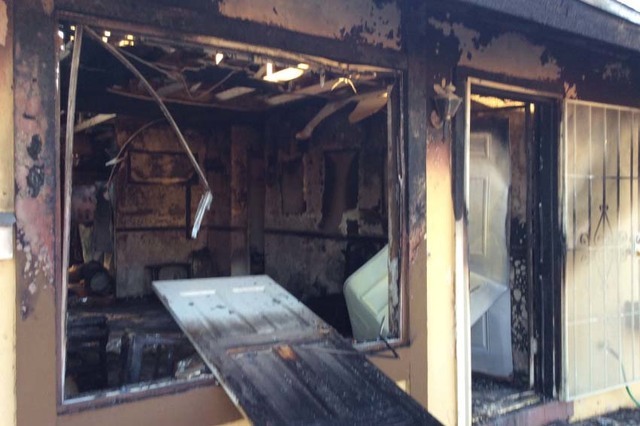 A kitchen fire in the eastern valley sent two people to the hospital Wednesday morning and may have been set intentionally.
The fire broke out about 5:45 a.m. at 1009 Marion Drive, near Washington Avenue, and several calls were made to 911, the Las Vegas Fire Department said. One of the calls came from the house and dispatchers heard what sounded like a disturbance inside the home, Fire Department spokesman Tim Szymanski said.
The Metropolitan Police Department said reports suggest someone was being held inside the home. Arson investigators have reason to believe the fire was set intentionally, Metro spokeswoman Laura Meltzer said.
One person has been detained in connection with the fire, Meltzer said.
The one-story house had heavy fire and smoke coming from the front window and door when firefighters arrived. There was a woman in her late 50s near the front door with flames over her head, Szymanski said.
The woman suffered extensive burns to most of her body and was taken to University Medical Center in critical condition, the Fire Department said. Her burns appear to be life-threatening.
Another person escaped through a window on the side of the house and was taken to the hospital for minor smoke inhalation, the Fire Department said.
The fire was extinguished about 6:05 a.m., according to the department's Twitter account.
The department believes five people were inside the home during the fire, which gutted the home's kitchen and living room, Szymanski said. The attic and roof sustained heavy damage, he added.
Damages are estimated at $35,000.
Contact Lawren Linehan at llinehan@reviewjournal.com or at 702-383-0381. Find @lawrenlinehan on Twitter.