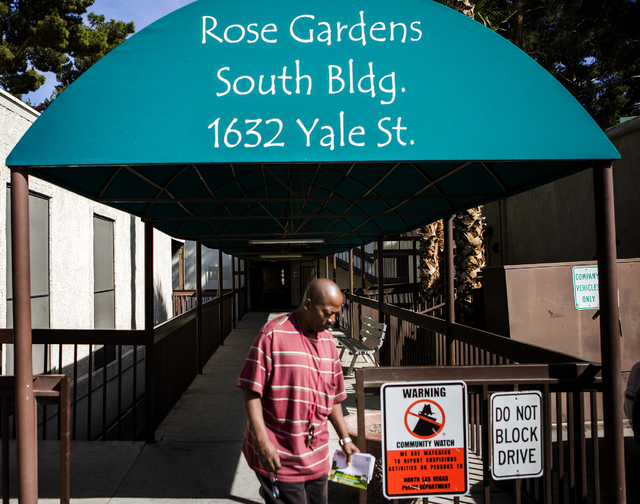 A $20.5 million public housing complex for seniors is step one of an ambitious plan to redevelop a blighted section of North Las Vegas.
The Rose Gardens apartment building, built in 1975, has had problems with the sewer system, limited space and energy inefficiency. Following a routine assessment of its properties, the Southern Nevada Regional Housing Authority determined that it would be easier to rebuild the property rather than renovate it.
The current building off North Main Street and East Tonopah Avenue has 120 units for residents over 55, who pay 30 percent of their adjusted income.
Rose Gardens is the only public housing building that the authority has in North Las Vegas. Valleywide, there are more than 300 seniors waiting for public housing, said Amparo Gamazo, the authority's development modernization director.
The new facility would have the same number of units, but they would be larger. Rent would remain the same.
The project is part of a joint two-year plan by the city of North Las Vegas and the authority. The two entities received $485,000 from the Department of Housing and Urban Development to develop the plan, which could help the city's application for a $30 million HUD grant. For that grant, the city will compete with about 15 other cities and it's considered a long shot.
Plan B is for the authority to find money to finance the project now so that construction could begin as early as next year.
Following the Rose Gardens development, the authority wants to develop land in Buena Vista Springs, the site of a former subsidized housing community that was demolished in 2013.
Gamazo said the authority is securing a developer to look at the entire community.
The funding for the new Rose Gardens will consist of $500,000 in grant funds from North Las Vegas, $1 million in grant funds from Clark County, $1 million from Nevada Home Loan Bank, $6 million from the authority and $12 million in bond funding, to be promoted with low-income tax credits.
Some residents at the complex Wednesday said they liked living there but hoped the new facility would have more security. Resident Lona Richards said her car battery had been stolen three times from the open parking lot. There is security at night but residents said sometimes strangers sneak on site. The new development would have a secure parking lot, Gamazo said.
Vasile Orza, 64, has lived in the building for several years. Orza, a Romanian immigrant who worked as cab driver in the valley for a decade, said he would like to move to a new facility.
Contact Alexander S. Corey at acorey@reviewjournal.com or 702-383-0270. Find him on Twitter: @acoreynews