28K flags planted at Southern Nevada cemetery for Memorial Day
Updated May 26, 2018 - 7:02 pm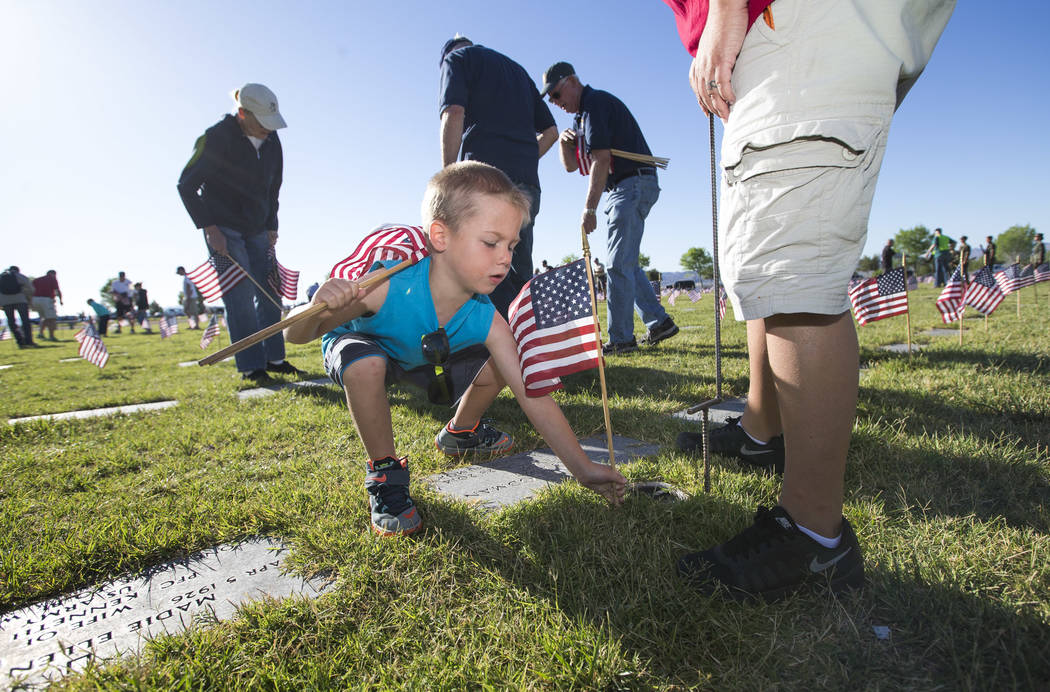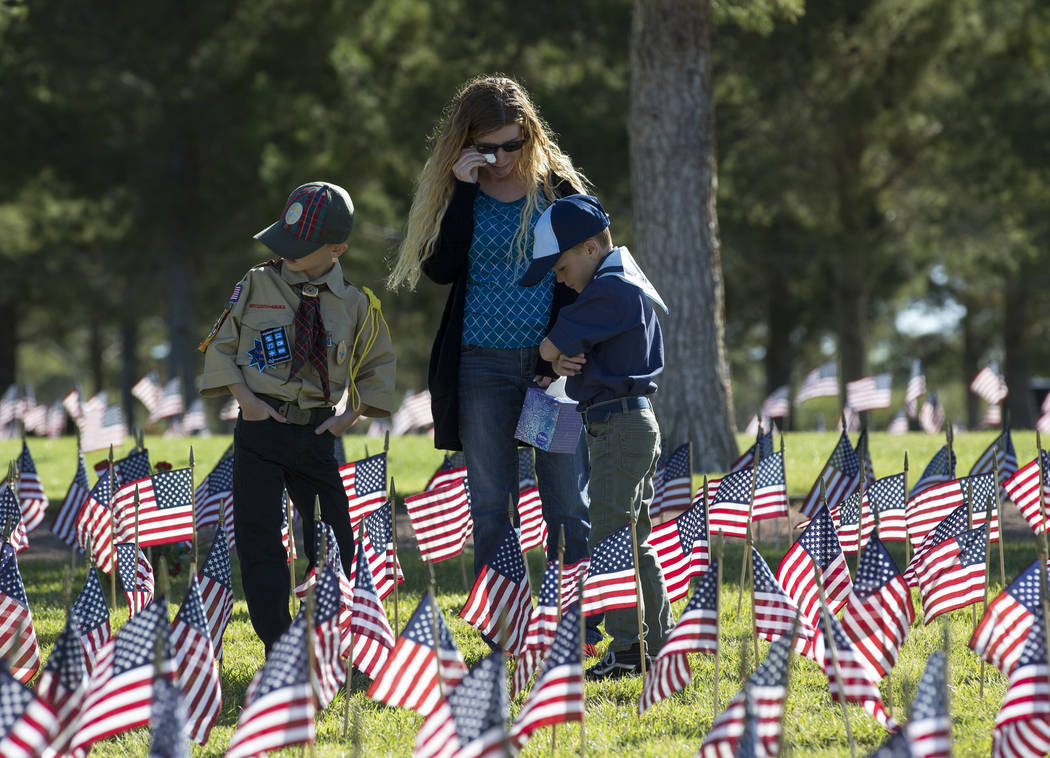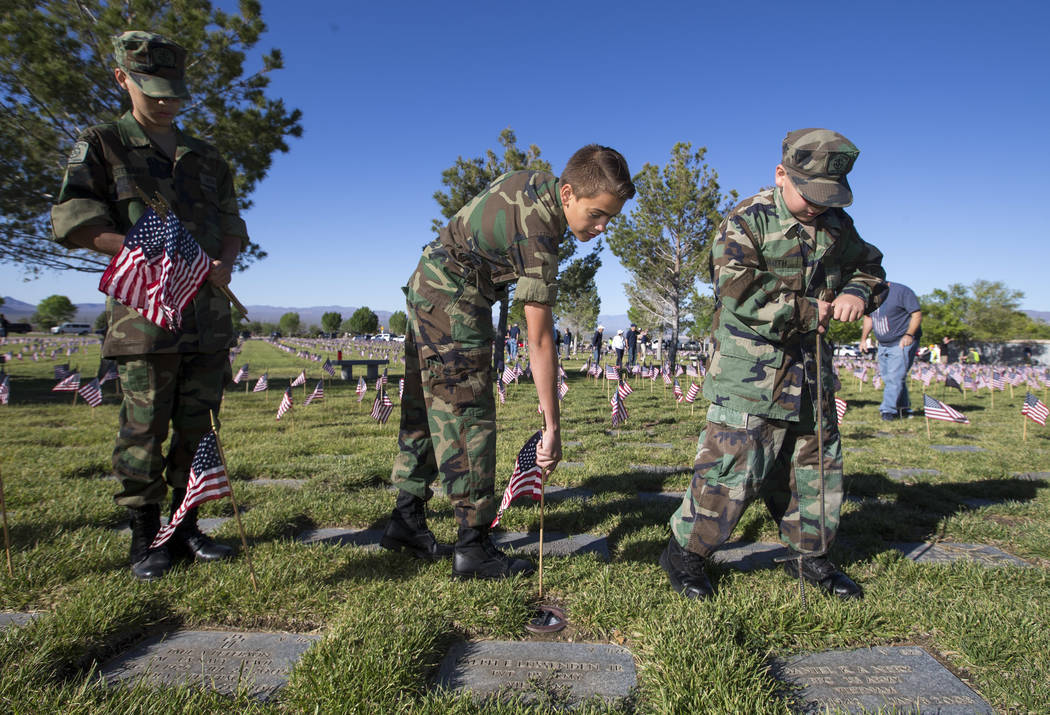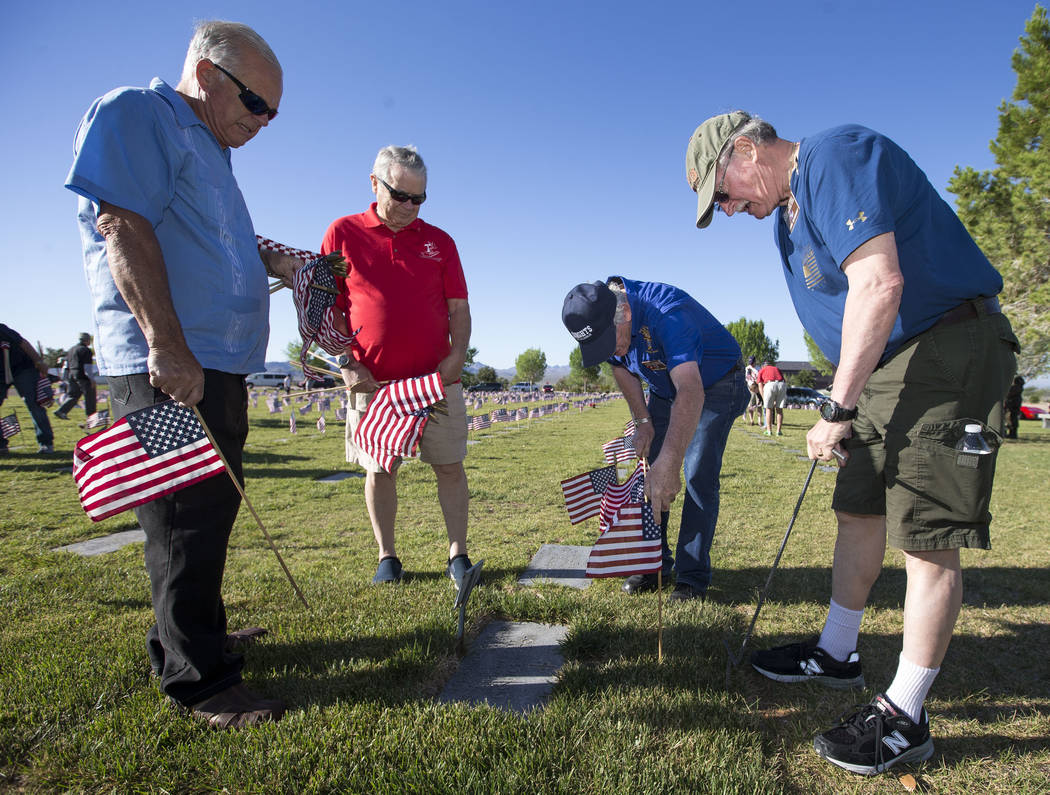 As she whispered the man's name, Noemi Manarang found herself overcome by an emotion that she could not tame: gratitude.
At her feet, her 3-year-old son dug an American flag into the ground at the veteran's grave site.
On either side of Manarang and her son Saturday morning were thousands of flags marking more than 28,000 graves at the Southern Nevada Veterans Memorial Cemetery in Boulder City. Volunteers from all walks of life, including Manarang and her son, had come together to decorate the 79-acre cemetery with American flags ahead of its Memorial Day ceremony, slated to begin 1 p.m. Monday.
At 10 a.m. Sunday, a Special Forces ceremony also will be observed at the memorial cemetery at 1900 Veterans Memorial Drive, near the Memorial Gardens area.
The sea of flags fluttered in unison Saturday morning against a cool breeze, their red and white stripes contrasting with the vibrant green grass blanketing the cemetery.
"As I was reciting the name, it was emotional," Manarang said just before 9 a.m. By then, the crowd of about 1,000 volunteers had cleared out, but she stayed behind to take it all in. "To me, it's just a name. But to someone, that's a grandparent, a brother, a sister, a spouse."
As the 30-year-old mother surveyed the flags, her son hugged her leg.
"Memorial Day is about the service men and women from the past, the present and future," Manarang said, looking down at her son. "Today gave me perspective. We have 28,000 veterans buried in Boulder City, so it just makes you think of all the memorials across the country. I'm honored I got to help today, and having my son embedded in this, growing up knowing what Memorial Day is really about, is important to me."
A first-time volunteer, Manarang said she plans to come back with her son next year to help plant flags at the cemetery.
For Marie Tomao, founder of Southern Nevada Youth Leadership Authority, Saturday marked her youth group's 15th year volunteering. About 45 of her kids and teens showed up Saturday.
"These kids are out here today to honor our fallen heroes," the youth group leader said. "We do these community service projects because the veterans in this town are the ones who've truly given us so much."
The youth group will return to the cemetery Monday to attend the ceremony. But afterward, she said, everybody gets to go home.
"Except us," Tomao said.
The group will collect and stow away the 28,594 flags that were planted Saturday.
"It's very emotional for me to see the kids out here today," she said. "Instead of playing video games and doing all the things that most people do on Memorial Day weekend, we teach them about our heroes and the ones who laid their lives down for us."
In less than an hour, volunteers from all walks of life placed flags at more than 28,000 headstones ahead of #MemorialDay at the Veterans Memorial Park in Boulder City pic.twitter.com/bge0u8ahR1

— Rio Lacanlale (@riolacanlale) May 26, 2018
Each year, the state hosts two Memorial Day ceremonies, including Monday's 1 p.m. ceremony in Boulder City. The other is held at the Northern Nevada State Veterans Cemetery in Fernley.
The Rotary Club of Green Valley will hold a special program honoring veterans at Henderson's Cornerstone Park, 1600 Wigwam Parkway, at 8 a.m. Monday. There, the public will find a display of more than 800 American flags for veterans, active-duty military, first responders and community members whose lives reflect the Rotary motto: "Service above self."
Contact Rio Lacanlale at rlacanlale@reviewjournal.com or 702-383-0381. Follow @riolacanlale on Twitter.
History of Memorial Day
Memorial Day officially got its start when, during a speech on May 5, 1868, Gen. John A. Logan issued General Orders No. 11, setting aside May 30, 1868, as Memorial Day, "for the purpose of strewing with flowers, or otherwise decorating the graves of comrades who died in defense of their country during the late rebellion."
This order for strewing flowers or other decorating graves led to the observance first being called Decoration Day. The name was changed in 1967 when the observance was officially declared by federal law as Memorial Day.
Nevada Department of Veterans Services