3 accused of videotaping sexual abuse of kids in Las Vegas
December 13, 2014 - 6:47 am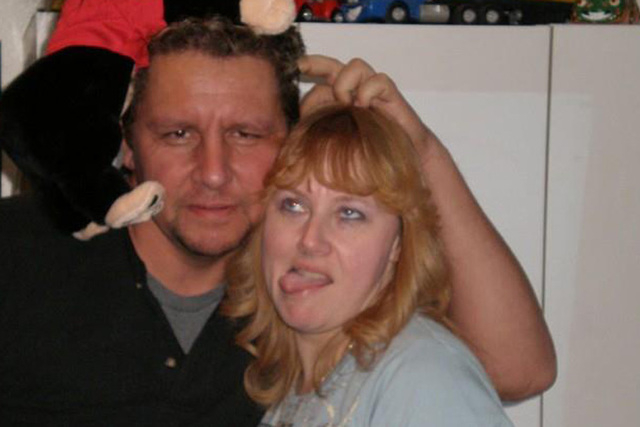 Neighbors of three adults accused by Las Vegas police of sexually abusing at least eight children and young teens over the past 12 years and making videos of it said that the family was "atypical" and "unusual."
The two neighbors, who did not want to be identified, told the Review-Journal on Friday that they knew "something was different" at the home.
Deborah Sena, 50, and Terrie Sena, 43, were arrested Thursday following an investigation that had led to the arrest of 47-year-old Christopher Sena three months ago, Metro Lt. Dan McGrath said Friday.
Metro's investigation started in September when Deborah Sena, another adult and a child told a family law attorney about the abuse, McGrath said. The lawyer called police with the information as required, police said.
Officers were dispatched to investigate the claims that a woman and a male juvenile were forced to have sex with their parents, the three Senas who have since been arrested, said police, adding the acts were recorded.
The eight children identified as being abused were immediate and extended family members, police said. McGrath said investigators believe there are more victims.
Not every child who lived in the house was abused, McGrath said.
A Metro SWAT team on Sept. 18 served a search warrant at a trailer home in the 6000 block of Yellow Stone Drive, near Lake Mead Boulevard and Mount Hood Street, where police say the abuse occurred. Officers found at least 30 pieces of electronic and recording equipment, McGrath said.
County records show that Christopher Sena has owned that home since March 2003, about the same time police believe the abuse was taking place.
Christopher Sena was arrested that day.
After police reviewed the videos, McGrath said Deborah Sena and Terrie Sena also were arrested. They and Christopher Sena each face multiple charges including child abuse and neglect, sexual assault of a minor and incest, according to records.
More charges, including some involving child pornography, are expected, police said.
Deborah Sena and Christopher Sena are married, but Deborah filed for divorce in late August, according to court records.
She moved out of the house where the abuse happened in June, McGrath said.
Attorney Jillian Tindall of Tindall Law, who according to Clark County court records is representing Deborah Sena in her divorce case, declined to comment Friday evening.
Terrie Sena and Christopher Sena also were married. They both filed for divorce in 1997, records show.
Neighbors, however, said that the three Senas lived in the same house with some of their children.
Christopher Sena was described by McGrath as the main perpetrator. He said that once he was arrested, the children were no longer in danger.
"There is a description of fear and intimidation" coming from Christopher Sena, McGrath said.
Sena was "controlling," a neighbor said. He would often work on his vehicles or yard and he would order his family members around. "They didn't just walk. They ran," a neighbor said. "It was kind of a strange relationship," the neighbors said of Christopher Sena living with his wife and ex-wife.
Neighbors described the Sena home as a crossroads for different people who visited for swimming parties or to watch movies. Sena would install a big-screen projector and show movies in his yard, the neighbor said.
Some of the abused children lived in the residence where police say the abuse happened. Others sometimes visited.
At least one of the abused children is now in protective custody, police said. Another has been moved into a family member's home.
Some of the children who were assaulted are now adults, McGrath said.
Christopher Sena's Facebook account showed that he was involved in many community events, such as National Night Out, a crime awareness event, and 1st Tuesday, a Metro-sponsored event to interact with the community.
McGrath said that officers familiar with Sena from the events were interviewed about their interactions with him.
Police believe more children could have been sexually assaulted and are asking them to come forward. McGrath said that they received a phone call on Friday from someone who may come forward as a victim.
The trailer home has been empty since the SWAT warrant was served, a neighbor said. On Friday night, the trailer home was dark and appeared abandoned.
"This is probably one of the worse cases that I have seen, that a number of us have seen," McGrath said.
Contact Ricardo Torres at rtorres@reviewjournal.com and 702-383-0381. Find him on Twitter: @rickytwrites