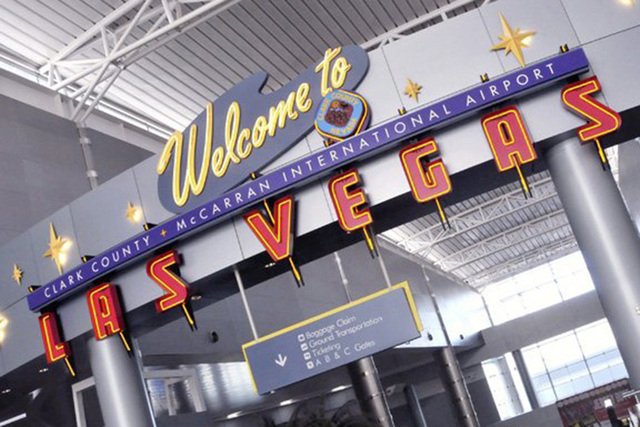 Three men face federal charges after authorities say they smuggled more than 20 pounds of cocaine through McCarran International Airport.
One of the men, an airport baggage handler for 17 years, was released from federal custody Wednesday, while another remains held in Las Vegas.
According to an indictment unsealed in Alaska, Darren D. Cole, 47, Dewane E. Blue, 37, and Bryan M. Bledsoe, 36, were charged with conspiring to smuggle five or more kilograms of cocaine between Las Vegas and Alaska.
Bledsoe, who worked for U.S. Airways, took the drugs into the airport without passing through security, according to the indictment. After Blue passed through security, Bledsoe gave him the drugs.
Inside a men's room at the airport, the drugs were transferred to Cole and other travelers, who would fly to Alaska and other states to distribute the cocaine, according to the indictment.
Cole would then mail cash payments to Blue and others involved in the operation, the indictment stated.
U.S. Drug Enforcement Administration agents began monitoring Bledsoe in May, McCarran officials said.
Along with working for U.S. Airways, Bledsoe had a second job as a delivery driver for UPS, according to his lawyer, Jonathan Powell, who said Bledsoe was "approached and targeted" by the smuggling ring.
An American Airlines employee gave Bledsoe a bag at the airport, Powell said, and "he thought he was doing a friend a favor."
The trio is linked to at least six instances of smuggling between March 2012 and June 2014, according to the indictment.
Cole, who was in custody in Anchorage, Alaska, was arrested June 1, when authorities seized 10 kilograms of cocaine before he got on a flight. Authorities in Las Vegas arrested Bledsoe on Tuesday and Cole on Wednesday.
Prosecutor Frank Russo said Bledsoe told authorities that he helped bring luggage into the airport at least three or four times without knowing what was inside.
"That speaks to disregard for the public's safety," Russo said, adding that the bags could have contained weapons or explosives.
Bledsoe's wife and parents appeared in court but declined to comment on the allegations.
In the investigation, federal authorities seized more than $400,000, a 2007 Cadillac Escalade, a 2006 BMW and a 2010 Mercedes Benz.
In court Wednesday, U.S. Magistrate Judge George Foley Jr. ordered Bledsoe released with supervision and restricted his travel to within Clark County and to Alaska, where a trial would be held.
Blue was slated for a detention hearing Thursday afternoon. He worked as a U.S. Airways baggage handler for 10 years, according to his attorney, Chris Rasmussen.
The maximum penalties for the charges are up to life in prison, a $10 million fine and five years of supervised release.
Contact reporter Colton Lochhead at clochhead@reviewjournal.com or 702-383-4638. Find him on Twitter: @ColtonLochhead. Contact reporter David Ferrara at dferrara@reviewjournal.com or 702-380-1039. Find him on Twitter: @randompoker.