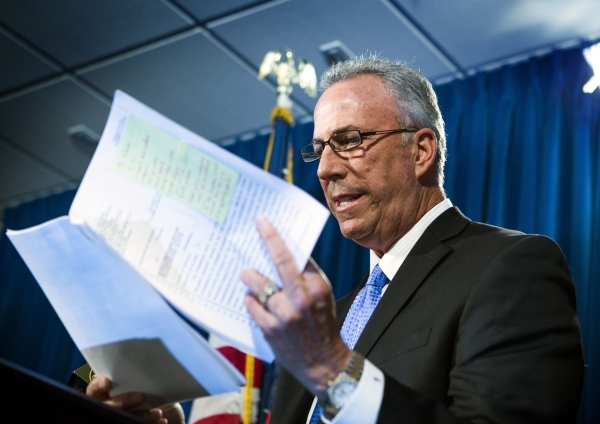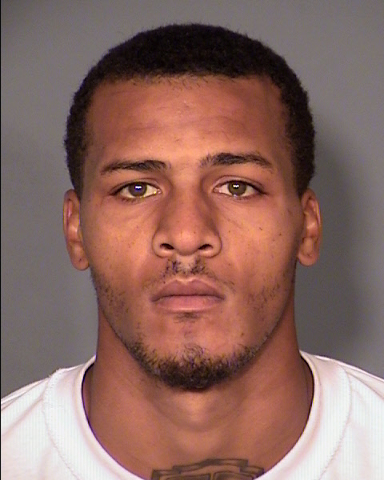 A trio of men terrorized the southwest Las Vegas valley for weeks, jumping fences, kicking in back doors to homes and savagely attacking whomever they found inside.
Prosecutors said Wednesday that Quincy Williams, 23, Brandon Black, 28, and Wilbert Knight, 42, were indicted in connection with the home invasions.
Each faces dozens of charges, including robbery, battery, sexual assault, kidnapping and home invasion, in connection with what prosecutor Lisa Luzaich called "extraordinarily violent offenses."
The victims were pistol whipped, tied up and raped, authorities said. The robbers wore latex gloves to conceal fingerprints and rummaged through closets and drawers. If they found safes, they would force the victims to open the safes at gunpoint.
In the first attack prosecutors described, a 76-year-old man and his 75-year-old wife were home watching television late on the evening of July 7, when the attackers burst in the door and started beating the couple with their fists and guns.
The woman struggled to climb upstairs, and she was beaten further.
In the home for roughly 45 minutes, at one point one of the attackers forced his hand down the woman's pants as she writhed on the floor. She yelled for him to take his hands off her, and he kicked her in the face, "causing a severe injury," prosecutor Lisa Luzaich said.
Another late evening invasion occurred Aug. 25, when the men smashed open the back door of a home with a middle-aged couple and their 12-year-old daughter. The assailants attacked the man and rushed upstairs, where the woman was just stepping out of a shower, authorities said. They dragged the girl out of her bedroom and sexually assaulted her mother in front of her.
The woman reached for an assailant's gun, yelled for help, and suffered another attack.
In the early afternoon of Aug. 31, the trio broke into the home of a Chinese man, who spoke little English, covered his head, tied him with zip ties and brutally beat him.
"Where's the money? Where's the money?" Luzaich said they asked. But when the man could not understand enough to respond to their demands, he was pistol whipped.
The men ransacked the house and took "a significant amount of property," the prosecutor said.
The victim was later hospitalized and underwent multiple surgeries for "brain bleeds," Luzaich said. "And he's not the same today."
Two days later, the suspects were identified through photo lineups and DNA evidence, authorities said.
In court Wednesday, after Luzaich requested $10 million bail for each of the defendants, Clark County District Court Chief Judge David Barker ordered the men held without bail pending an arraignment hearing at the end of this month.
Later, during a press conference, authorities described an "ongoing investigation" into the defendants but declined to say whether they were tied to other invasions in the valley.
Metro Lt. Jack Clements called the attacks "completely random," saying the burglars sought elderly victims or easy targets.
"That's the scary thing in this," Clements said. "There is no nexus. There is no reason as to why these suspects wound up at these victims' homes."
Clark County District Attorney Steve Wolfson vowed to fully prosecute the defendants.
"If my office has anything to do with it, and it does, they will not see the light of day for a long, long time," Wolfson said. "These three individuals have committed some of the most serious crimes you can imagine."
All three men, who are from the Los Angeles area, have a history of violence, authorities said.
Knight was convicted in California in 1992 for armed robbery and spent 15 years in prison, authorities said.
Black has a felony conviction from 2006 for car jacking and street terrorism, according to Wolfson.
Williams has juvenile convictions, as well, authorities said.
Martin Hart, a defense lawyer for Williams, declined to comment. Attorneys for the other defendants were not known as of Wednesday.
Contact David Ferrara at dferrara@reviewjournal.com or 702-380-1039. Find him on Twitter: @randompoker