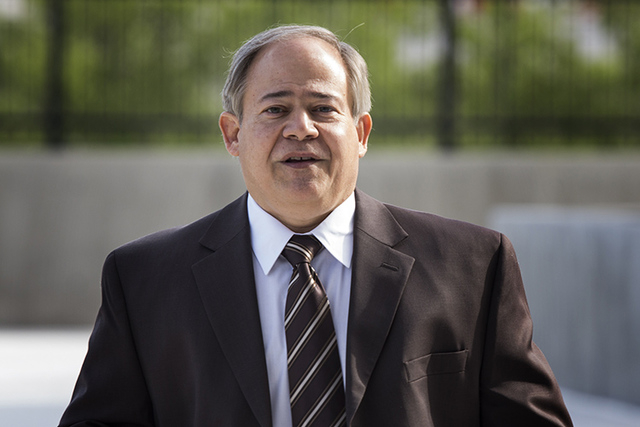 Three men have been sentenced to federal prison terms and ordered to pay more than $35 million in restitution in a massive tax fraud scheme that left thousands of victims across the country in its wake.
The scheme, which federal prosecutors said took place between 2001 and 2004, involved the now-defunct Las Vegas company the National Audit Defense Network. The company was accused of selling an Internet package, dubbed Tax Break 2000, to help its nationwide clients claim improper tax deductions.
The Justice Department once estimated that the losses to the Internal Revenue Service were more than $324 million, though a federal judge years later has scaled back that figure to more than $60 million.
All three defendants — former NADN General Manager Alan Rodrigues, former NADN Chairman Weston Coolidge, and marketing agent Joseph Prokop — were convicted in May after a six-week trial on numerous charges, including conspiring to defraud the IRS.
After two days of arguments and testimony from witnesses, including victims of the scheme, U.S. District Judge Miranda Du late Tuesday sentenced Rodrigues to six years in prison.
Rodrigues, 55, the former owner of two small North Las Vegas casinos, was arrested late last month by FBI agents in Las Vegas after authorities alleged he was trying to flee to Mexico on the eve of his sentencing. Du this week ordered him to remain in federal custody as he waits to serve his prison term.
Rodrigues was indicted in December with seven other defendants following an FBI investigation into a telemarketing scheme that agents say defrauded struggling small businesses by falsely promising help to obtain federal grants. The scheme is alleged to have taken in $26 million from 3,500 victims across the country.
Coolidge, 70, a onetime Las Vegas businessman, was sentenced to 70 months behind bars.
Prokop, 54, a former NFL punter who worked for a California company that sold Tax Break 2000 to NADN, was sentenced to 18 months in prison. He also was ordered to serve 30 months of home confinement after prison.
Du ordered all three defendants to serve three years of supervised release after prison and share in the payment of the more than $35 million in restitution to the victims of the scheme.
Coolidge and Prokop, who are free on their own recognizance, were given until June 11 to surrender to federal prison authorities.
John Collins, special agent in charge of IRS Criminal-Investigation in Las Vegas, hailed the sentences Wednesday.
"We view schemes like Tax Break 2000 as organized tax evasion," Collins said in a statement. "It is a top priority for the IRS to stop promoters of these harmful schemes. The public should remember the old saying, 'If it sounds too good to be true, it probably is.'"
The defendants were indicted by a Las Vegas federal grand jury in 2009, and the case, prosecuted by the Justice Department's Tax Division in Washington, made its way slowly through the court system. The company's co-founder, Robert Bennington, committed suicide.
"Unfortunately, the defendants are not the first businessmen who have defrauded their customers by selling a product based on false promises," Justice Department lawyers said in court papers. "What sets this case apart from the average fraud, however, is the scope and ruthlessness with which the defendants pursued their crimes, with no regard for anyone but themselves."
Prosecutors had sought significantly more prison time for the three defendants — up to 22 years behind bars for Rodrigues and Coolidge and as many as 20 years for Prokop.
They said they wanted the lengthy sentences because the actions of the defendants showed a "callous disregard for the law and a willingness to harm others."
During the trial, prosecutors contended that Tax Break 2000 was sold as a website that allowed customers to claim up to $10,475 in income tax credits and deductions under the Americans With Disabilities Act.
Many of the customers, prosecutors alleged, were audited by the IRS after it questioned the legality of the program.
Contact Jeff German at jgerman@reviewjournal.com or 702-380-8135. Find him on Twitter: @JGermanRJ