4.8-magnitude earthquake shakes Las Vegas; Spaghetti Bowl ramps have reopened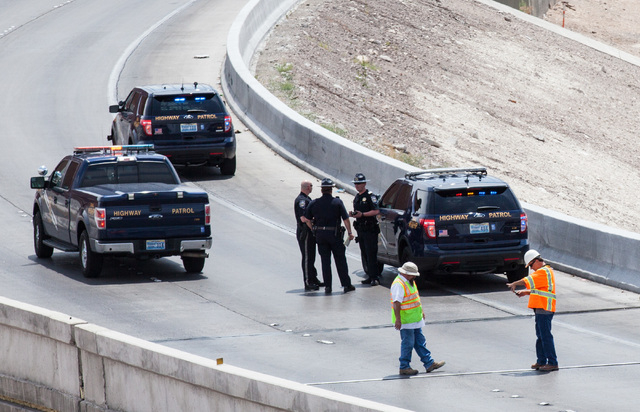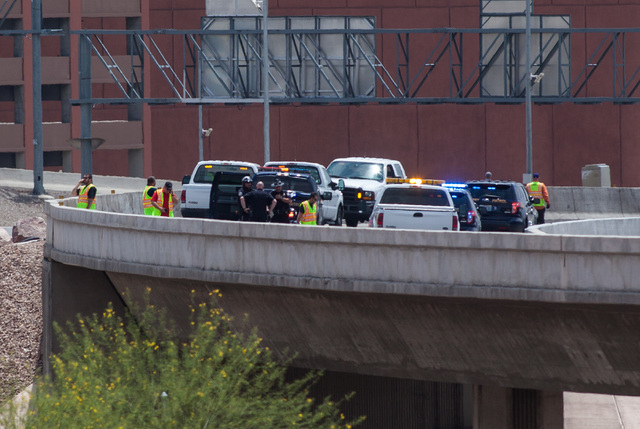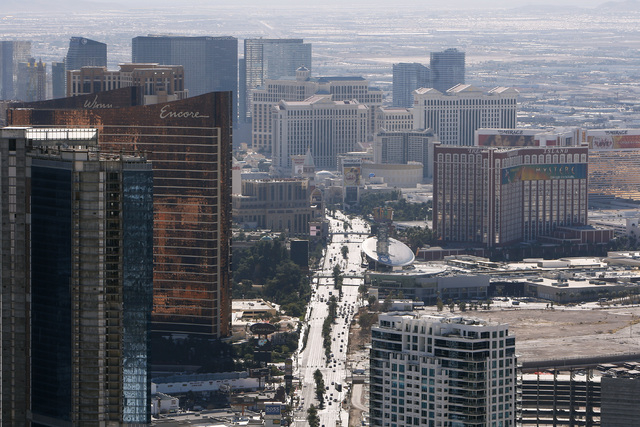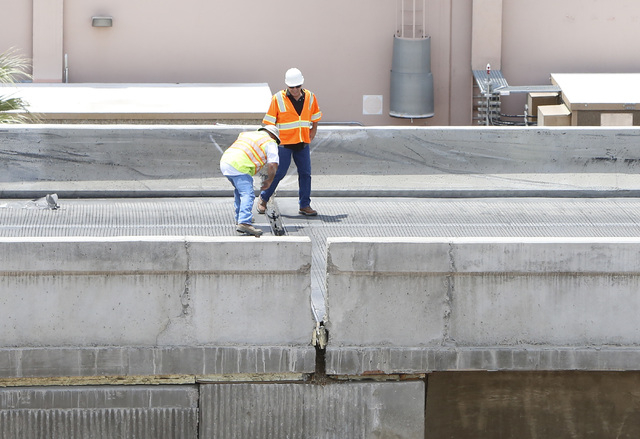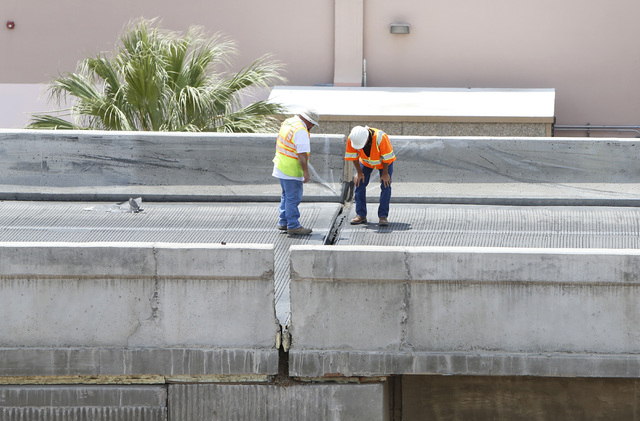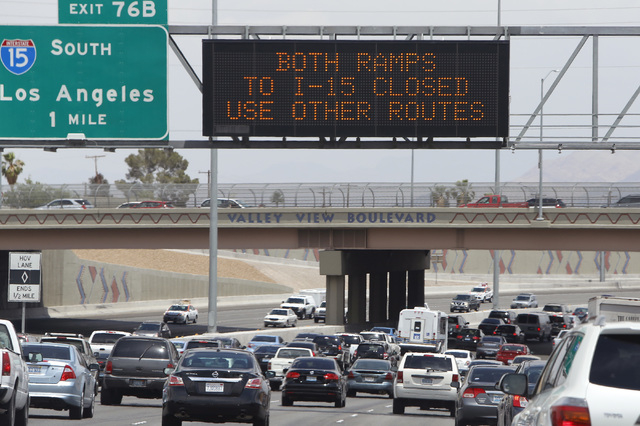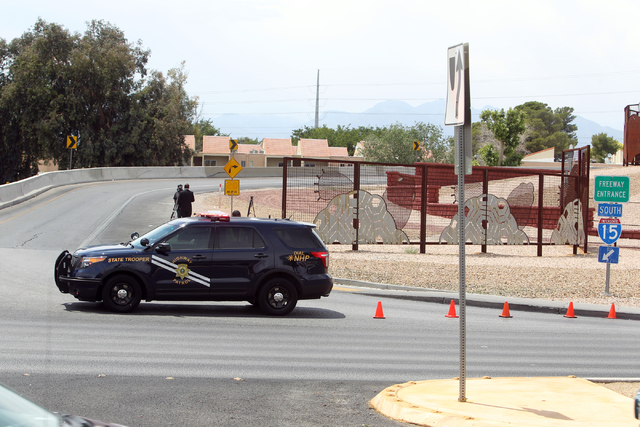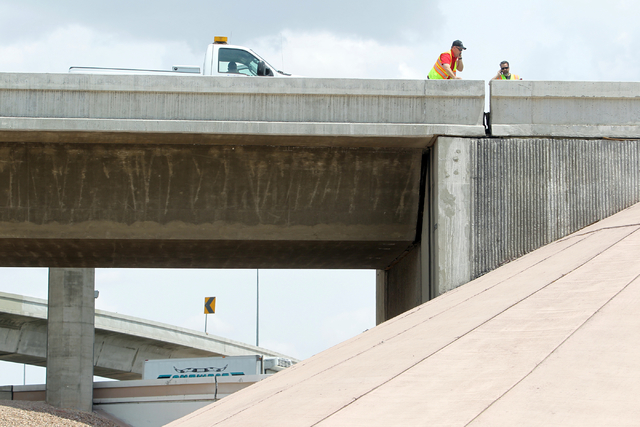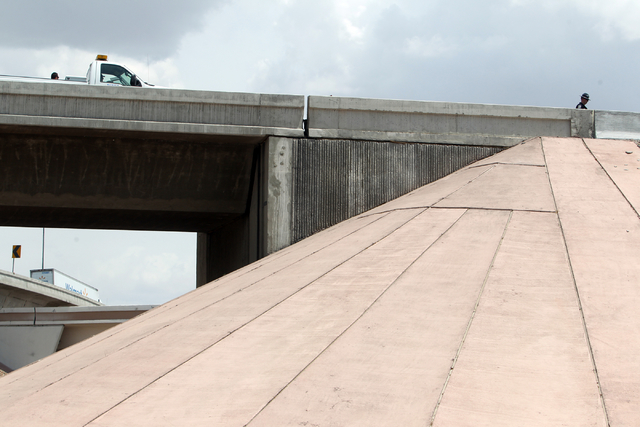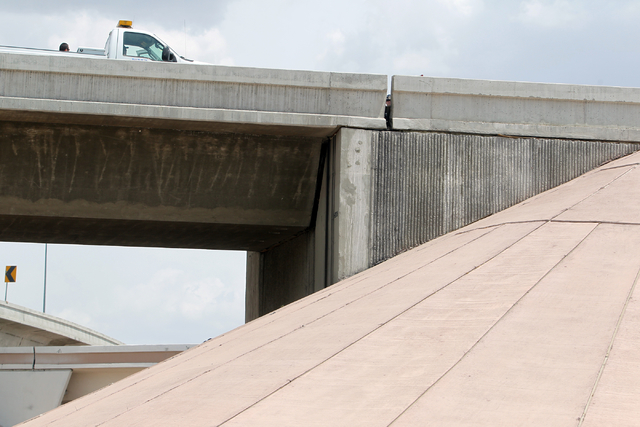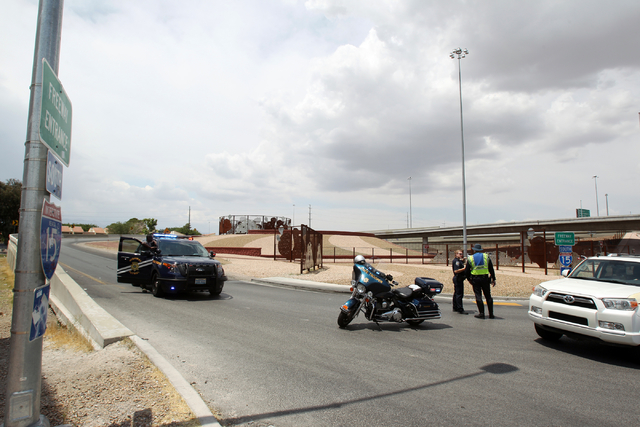 A 4.8 magnitude earthquake shook Las Vegas and surrounding areas Friday morning, forcing loose a rubber casing on a bridge and leading state officials to close Spaghetti Bowl interchanges for several hours.
After the Nevada Department of Transportation inspected bridges for possible structural damage, they deemed the roads safe for travel and reopened them just before 5 p.m. Traffic had backed up for miles during the closures, which came at the start of the Memorial Day weekend.
The quake, which hit at 11:47 a.m., was centered about 23 miles south-southwest of Caliente, the U.S. Geological Survey said. The magnitude was originally reported as 5.4, but the official number was lowered twice Friday.
The ramp from southbound U.S. Highway 95 to southbound Interstate 15 was closed about 12:20 p.m. Friday, officials said.
"The joint damage was pre-existing. The temblor simply dislodged the protective rubber encasing the bridge seam making it look much worse than it was in reality" and prompting an immediate shutdown of the ramps, NDOT engineer Mary Martini said in a news release about 3:45 p.m.
An emergency contract was issued to repair the seam, but the ramps are structurally sound, Martini said.
The southbound U.S. 95 to northbound I-15 and Martin Luther King Boulevard to southbound I-15 on-ramps were also closed as a precaution, the release said.
The I-15-U.S. 95 interchange is the busiest stretch of road in the state, with 250,000 vehicles a day traveling through it. That number could be even higher this weekend, NDOT spokesman Tony Illia said, as an extra 198,000 drivers come to Las Vegas for the holiday weekend.
NDOT said it was not doing a widespread inspection of the state's bridges as a result of the earthquake because most bridges are designed and engineered to withstand small quakes and high winds.
"Nevada lies within an active seismic zone, which is something that we take into account during the project design and engineering phase," Illia said.
The Highway Patrol checked for possible damage at other freeway interchanges, Trooper Loy Hixson said. None had been reported Friday evening.
Illia said Nevada has some of the best-rated bridges in the country, according to a recent report by the American Road and Transportation Builders Association. Only 1.8 percent of Nevada bridges are classified as structurally deficient, which is the lowest in the country.
The national average is 6 percent.
Officials at McCarran International Airport said there were no disruptions in operations and planes were routinely taking off and landing after the quake.
The Las Vegas Monorail, the High Roller at the Linq and rides at Circus Circus' Adventuredome were unaffected by the earthquake, employees said.
The Lincoln County Sheriff's Office had no immediate reports of any damage in or around Caliente.
Though people reported feeling the temblor across Southern Nevada and as far away as San Diego and Salt Lake City, "we barely felt a thing here," said Deputy Dathan Lewis at the sheriff's office in Pioche, about 20 miles north of Caliente.
A couple of items fell off the shelves of a Caliente grocery store, but there was no serious damage to the old building, Great Basin Foods manager Alyson Hammond said.
At Priest Elementary School, near Craig Road and Simmons Street in North Las Vegas, former Review-Journal reporter Francis McCabe said the shaking seemed to go on for 15 to 30 seconds and prompted a few people to venture outside the building.
The USGS reported four significant aftershocks, with magnitudes 3.8, 3.0, 3.4 and 2.5, between 12:05 p.m. and 12:58 p.m.
People across the Las Vegas Valley said they felt the first earthquake, including in Henderson, North Las Vegas and Boulder City. People in three other states — Utah, Arizona and California — also reported it through the USGS website's "Did You Feel It?" feature. A man who works in Boulder City said his office had "shifted/swayed."
In downtown Las Vegas, District Judge David Barker was in the midst of a grand jury hearing on the 10th floor of the Regional Justice Center when the quake shook the valley.
Barker, who has practiced law in Southern California, guessed that the earthquake measured about 5.5 on the Richter scale. He was very close to the USGS's initial number.
"You might want to check outside," the judge said after the proceedings. "We may have had a gentle ride."
A marshal on the top floor of the 17-story building at 200 Lewis Ave. reported a few nervous people, but picture frames remained on the walls.
A woman in southwest Mesquite said her husband was sitting in his reclining rocking chair, watching a movie, when the chair began to rock on its own. Betty Richer, 65, said the chair rocked for about 20 seconds after the start of the quake.
The couch she was sitting on felt as if someone were moving it back and forth, she said.
Richer and her husband, Leo, moved from Colorado to their home in Mesquite, near the CasaBlanca Resort golf course, about a year ago.
She said the last experience she had with an earthquake was in the late 1990s when she felt tremors in Ridgway, Colo.
"But that was nothing like this," Richer said.
Lampshades were swaying and the home's ceiling fans shook abnormally for about 30 seconds after the quake, she said, but the couple didn't feel any aftershocks.
Review-Journal writers Henry Brean, Richard N. Velotta and David Ferrara contributed to this report. Contact Kimber Laux at klaux@reviewjournal.com or 702-383-0381. Find her on Twitter: @lauxkimber. Contact Cassandra Taloma at ctaloma@reviewjournal.com or 702-383-0381. Find her on Twitter: @CassandraTaloma
Earthquake map
Keep track of reports of aftershocks as they happen.
RELATED
8 biggest earthquakes in Nevada history