4-year-old girl rescued from burning vehicle in crash that left 3 dead
Updated August 13, 2020 - 7:49 pm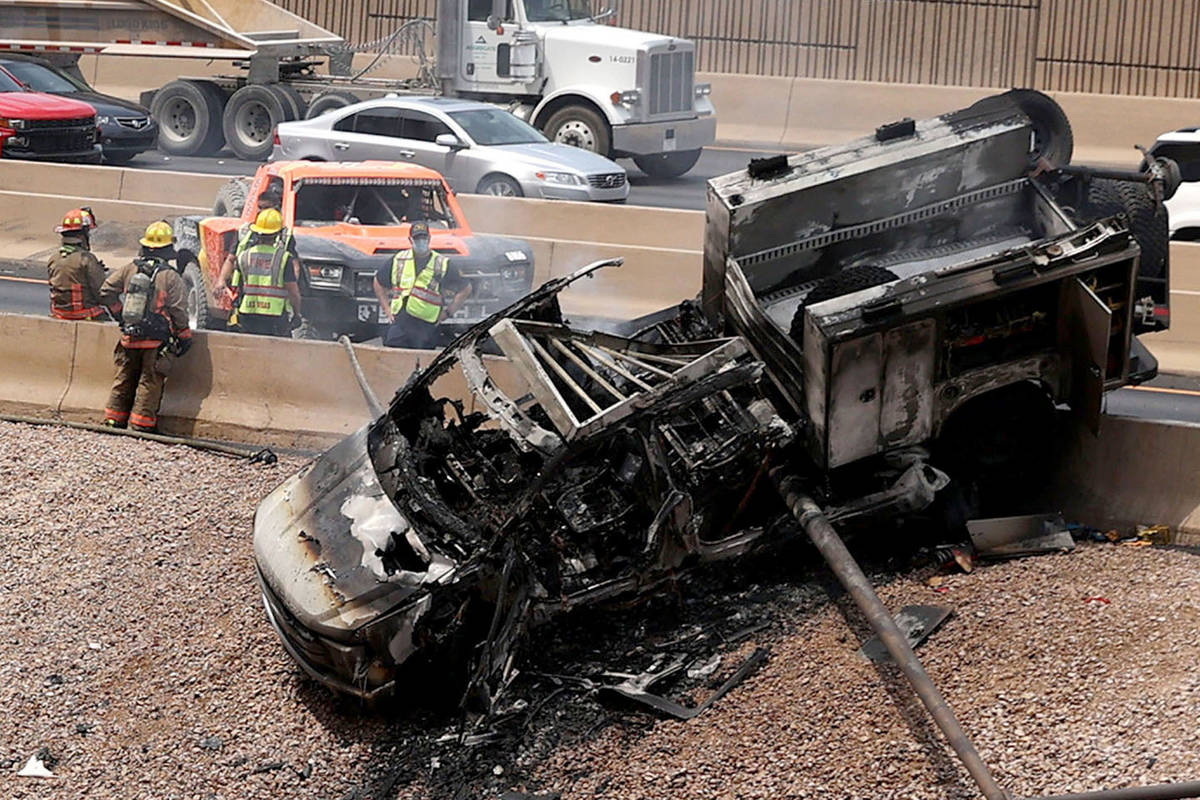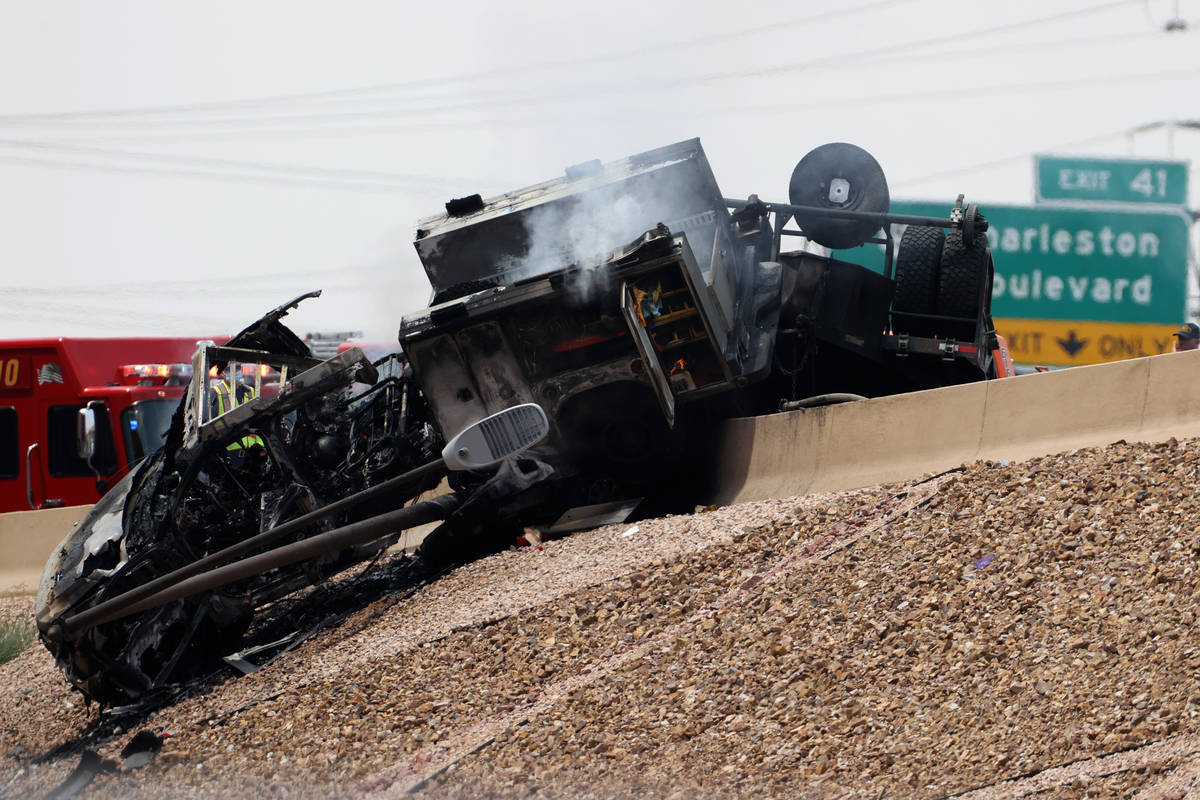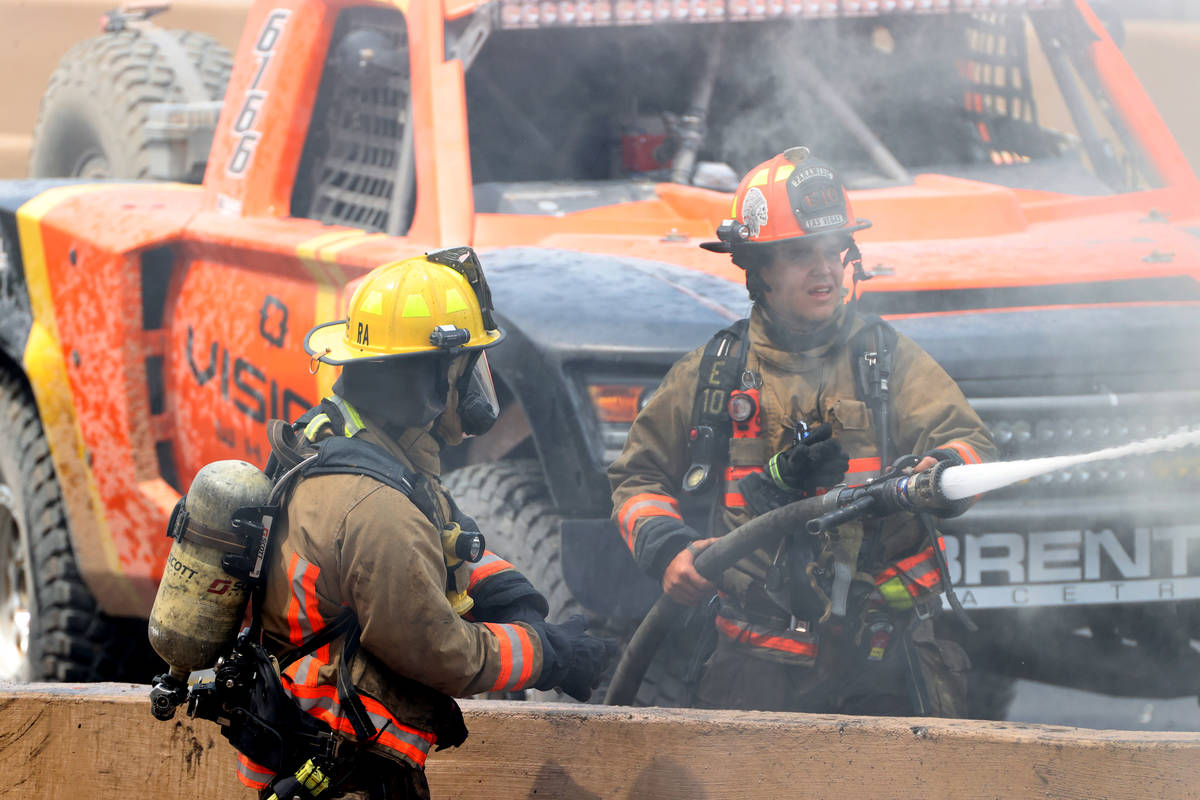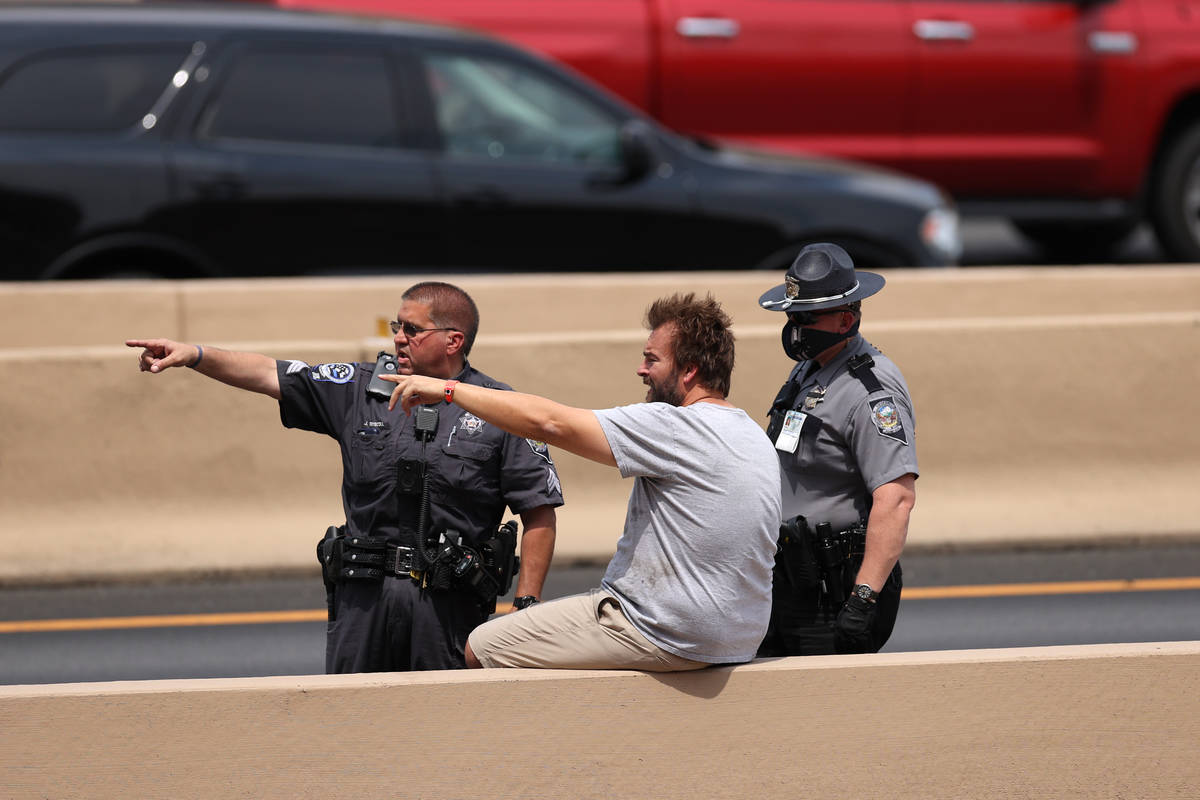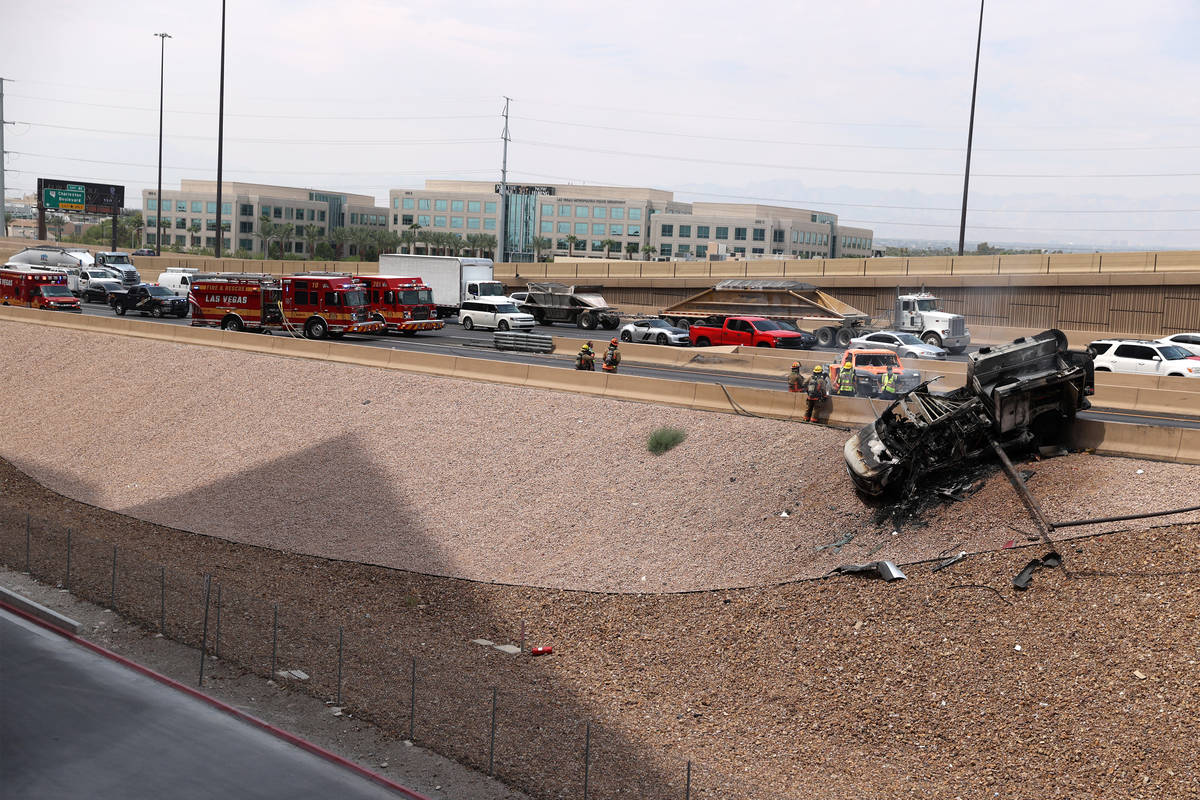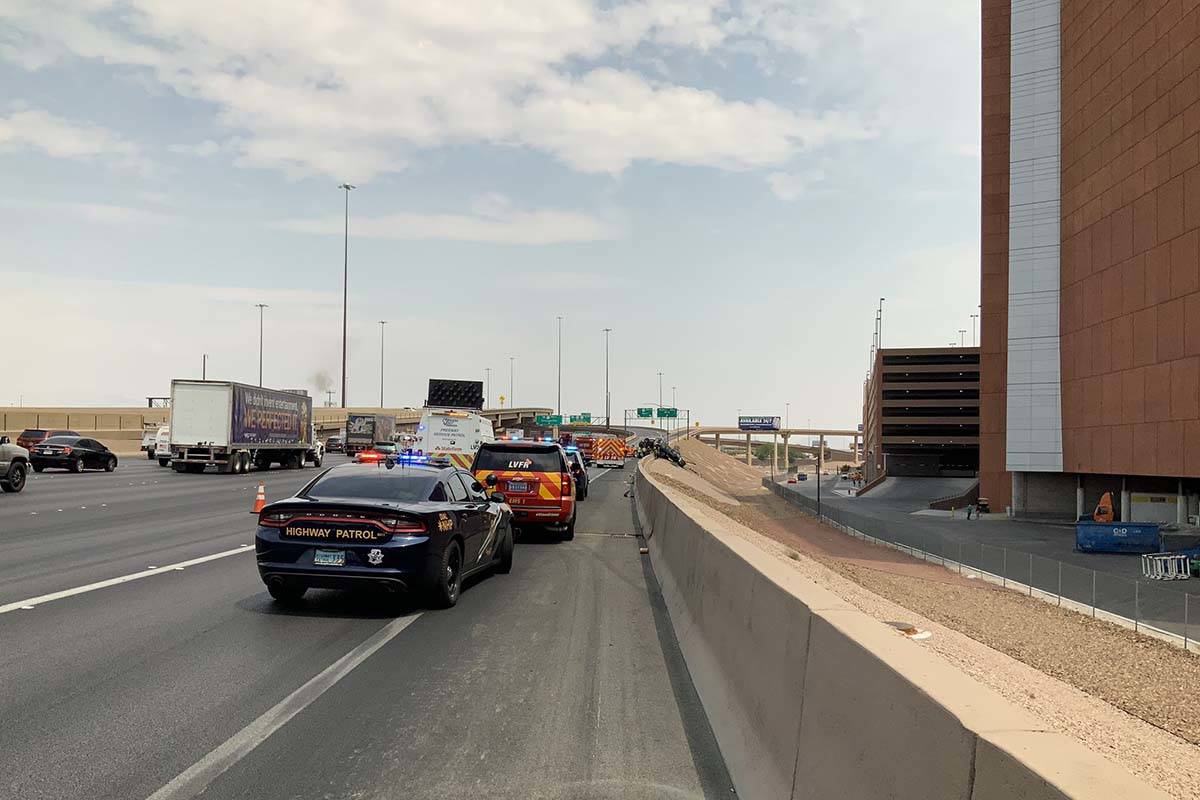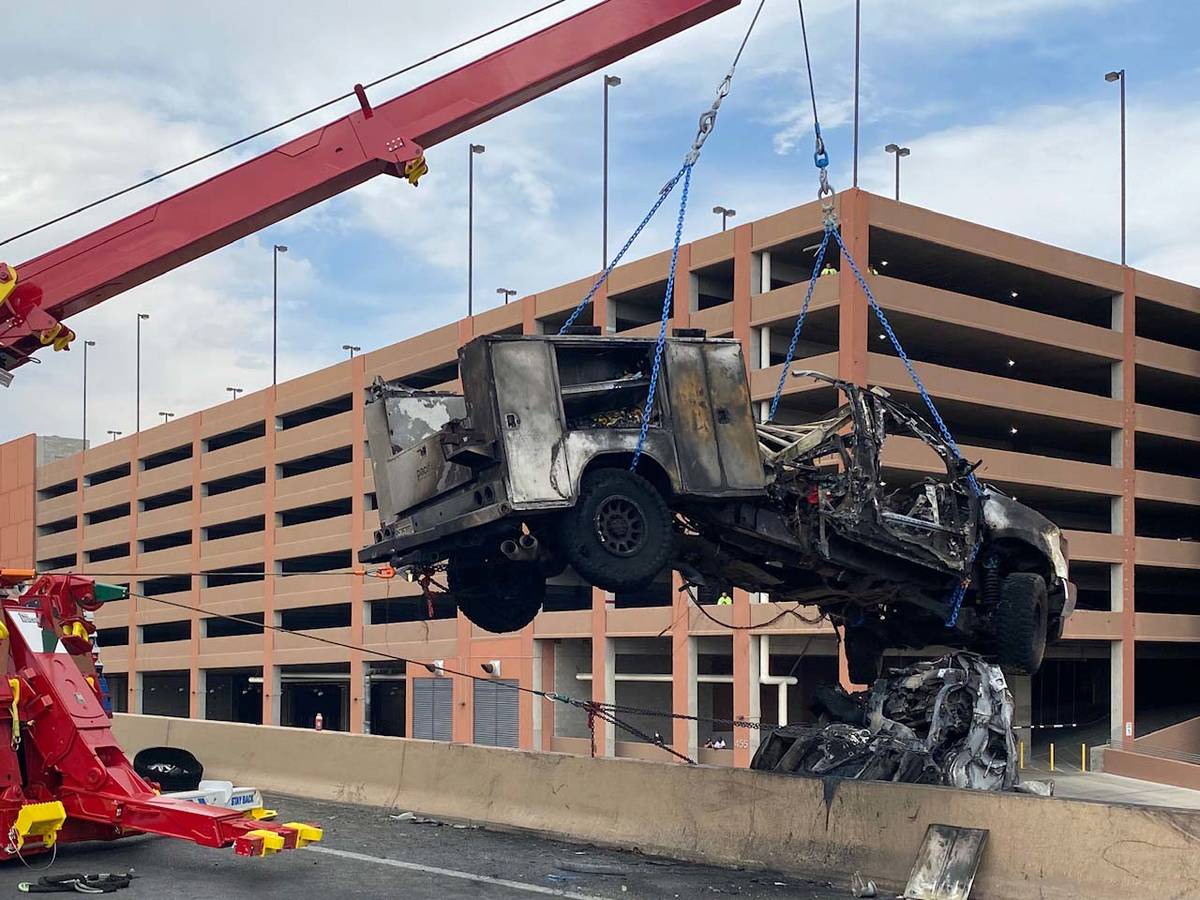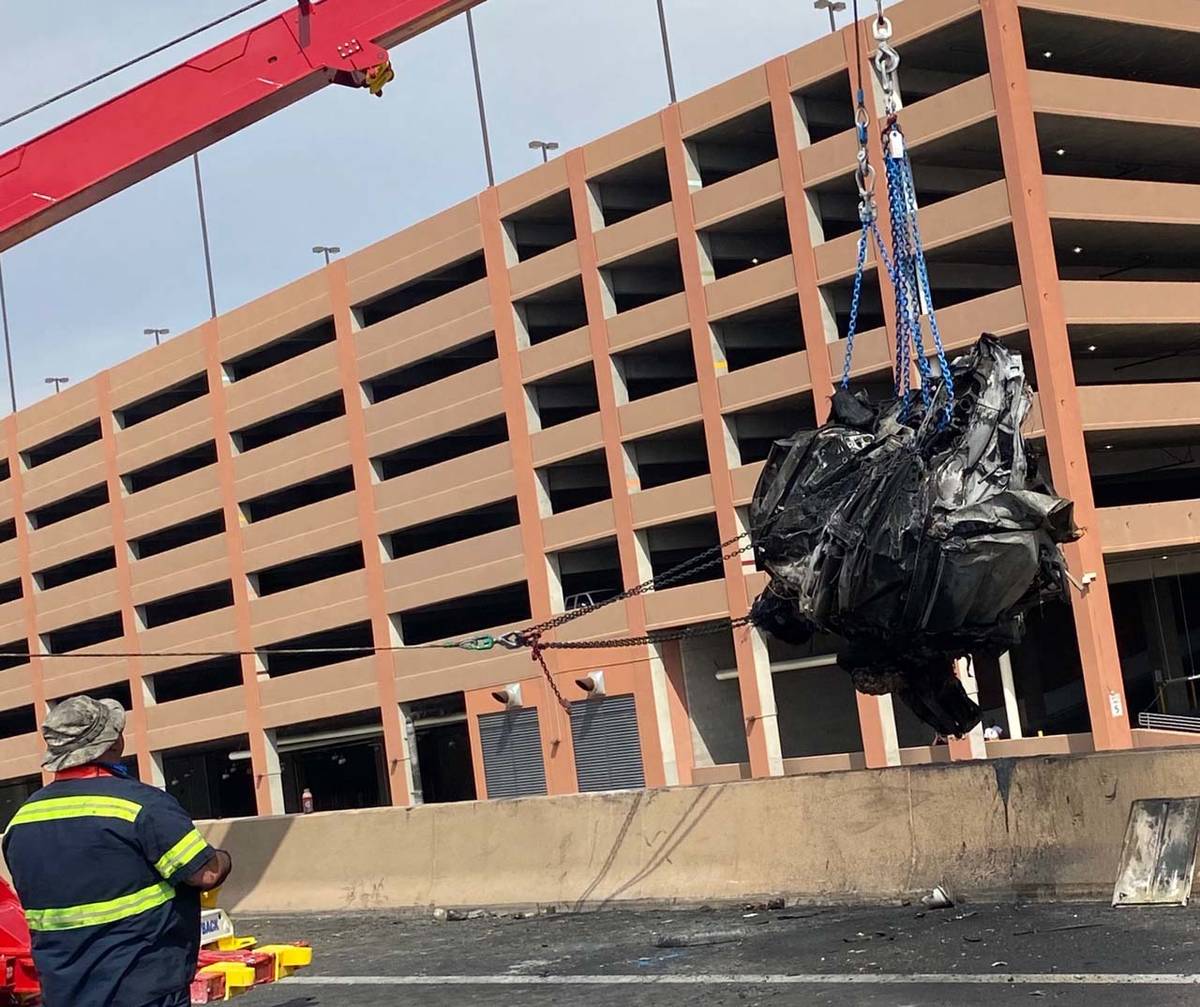 Three people and a dog were killed in a fiery crash in central Las Vegas on Thursday morning, according to the Nevada Highway Patrol.
Trooper Jason Buratczuk said the deceased appear to be two adults and a child.
Buratczuk said the crash occurred at 11:16 a.m. Thursday on the ramp connecting northbound Interstate 15 to northbound U.S. Highway 95. A Ford pickup truck towing an off-road vehicle was headed north on I-15, getting ready to merge onto U.S. 95 when a 2001 Volvo sedan cut across lanes of traffic, through a restricted area of the highway, and hit the truck's trailer, he said.
The truck and car then both went over the wall on the right side of the ramp connecting the two highways. The car became pinned under the truck, and both caught on fire. The vehicles came to rest on what Buratczuk described as an electrical pole.
Another vehicle heading north on I-15 then hit the off-road vehicle, which Buratczuk said had been knocked off the trailer in the initial crash. Nobody in the car that hit the off-road vehicle was injured.
Two people in the truck, the driver and his 4-year-old daughter, escaped unharmed.
Buratczuk said that after the crash, the driver of the truck got out and, while the truck was on fire, some good Samaritans pulled over and helped him get the child out before the truck was fully engulfed in flames.
The driver of the car is believed to have been speeding and driving recklessly, Buratczuk said.
Traffic was backed up along I-15 for hours as the Highway Patrol investigated. The investigation required them to get the power shut off to the electrical pole and pull the vehicles apart to be able to determine the extent of the crash.
This was the second fatal crash on the ramp in days; a pedestrian was fatally struck on the ramp late Sunday.
The off-road vehicle that was being towed is registered to Brenthel Industries as a trophy truck, based on the number on the vehicle. Brenthel Industries drivers Jeff Bader and Dan Fresh won the Texas Desert Racing Association's Race to Midnight in the truck in July, according to a July 17 statement from Brenthel Industries.
The Brenthel Industries website says that the organization's drivers compete in the Best of the Desert race series, which has a 550-mile race from Las Vegas to Reno scheduled for this weekend.
Fresh declined to comment but said in a post on his Instagram story that the team will not be racing this weekend. He said in a Facebook message that Brenthel Industries "will release a statement once we are all accounted for and ready."
Contact Alexis Ford at aford@reviewjournal.com or 702-383-0335. Follow @alexisdford on Twitter.