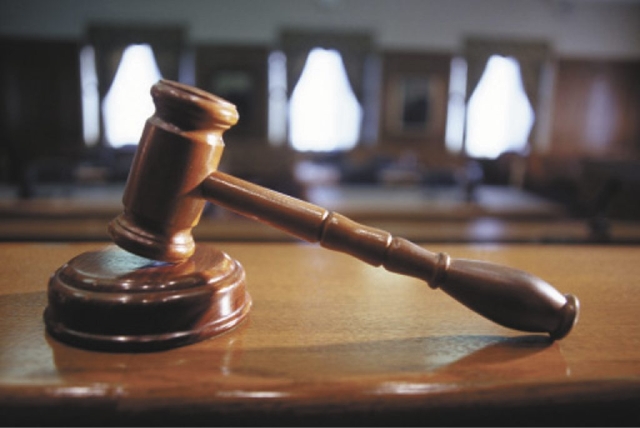 Six people have been indicted by a federal grand jury in what authorities say was a Las Vegas-based criminal operation that trafficked in painkillers throughout the West.
A paid confidential informant told federal drug agents that the alleged leader of the organization, Dennis McPherson, had a crew of 40 people who lawfully obtained prescriptions for the addictive painkiller oxycodone and sold the medication to McPherson for $12 per pill.
McPherson, 64, of Las Vegas, then sold the drugs on the street for $30 each, according to a criminal complaint filed last month.
The investigation, which began in March 2014, made use of court-approved wiretaps and undercover agents also were able to buy pills directly from McPherson, the complaint alleged.
Agents heard McPherson on wiretaps calling himself a "dealer," and bragging that his activities amounted to organized crime, the complaint alleged.
McPherson and the five other defendants — his son Timothy McPherson, 38, of Sparks; Jay Saletra, 57, of Las Vegas; and Alex Hong, 30, Susan Cope, 57, and Mark Lloyd, 25, all of the Seattle area — were indicted late Tuesday on one felony count each of conspiracy to distribute a controlled substance, oxycodone.
McPherson and Saletra were arrested and released on their own recognizance with restrictions. The two men and Hong are to be arraigned next Wednesday. Warrants were issued for the arrests of the other three defendants.
The indictment is part of an ongoing federal crackdown on prescription drug abuse in recent years. Five physicians are among those who have been charged and more are under investigation.
"Persons who are buying prescription drugs from patients and re-selling them for profit are drug dealers, plain and simple, and will be investigated and prosecuted by the federal government," Nevada U.S. Attorney Daniel Bogden said Wednesday.
"Besides the fact that the drugs are being illegally purchased and sold and are potentially addictive, the condition and quality of the pills are unknown and the purchasers and users could be children, elderly or other exploited persons."
In the McPherson investigation, agents alleged that Timothy McPherson acquired large amounts of prescription drugs in Northern Nevada for distribution by his father outside the state.
Wiretaps revealed how the drug trafficking operation worked.
"The investigation confirmed Dennis McPherson purchased oxycodone prescriptions from those who appear to have legally obtained the prescriptions from local physicians," the criminal complaint said. "Dennis McPherson would then redistribute the pills throughout the Western United States."
Agents said they recovered 2,449 oxycodone pills during the investigation. Much of the organization's transactions were conducted in the Seattle area and elsewhere in Washington state, according to the complaint.
Contact Jeff German at jgerman@reviewjournal.com or 702-380-8135. Find him on Twitter @JGermanRJ