7 Las Vegas Valley neighborhoods with head-scratching street names
Updated June 5, 2023 - 12:29 pm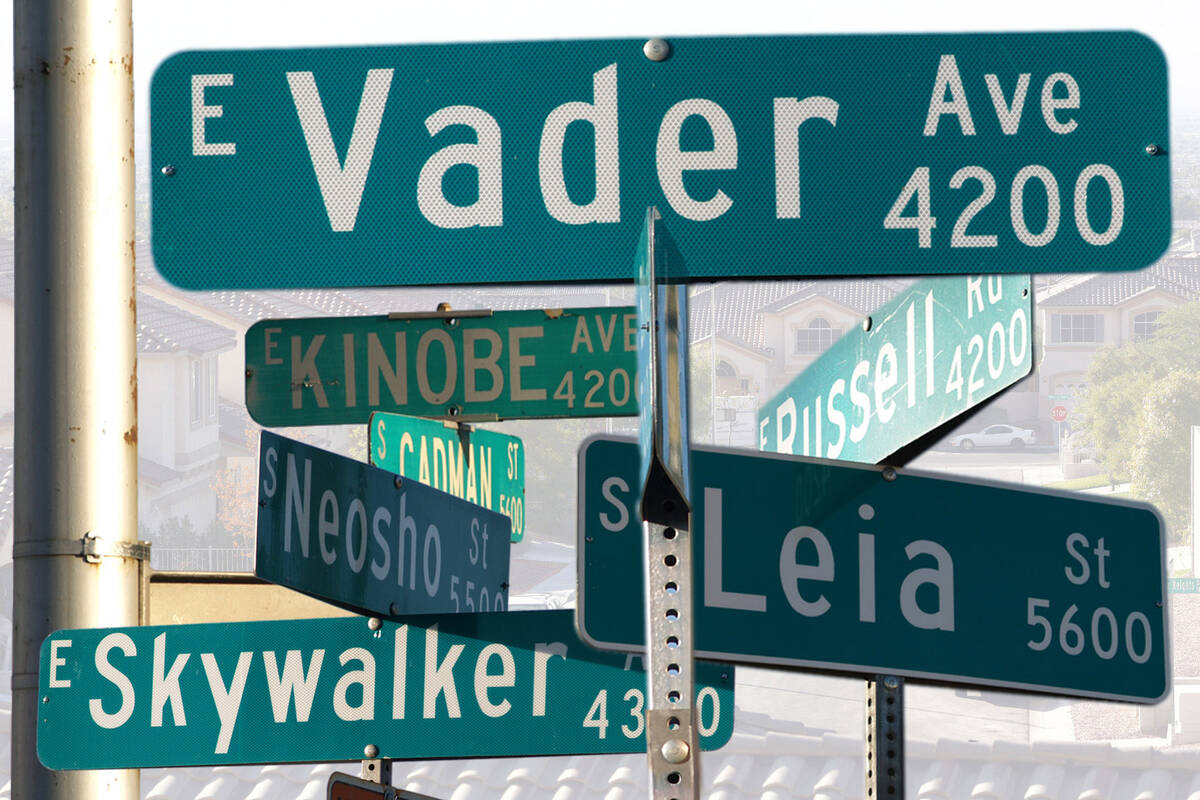 You may have already heard about Las Vegas neighborhoods with Pokemon and Beatles-themed streets, but there are many more weird street names hidden across the valley.
Here's a list of some head-scratching street names that you might drive past across Las Vegas and Henderson.
Train-themed streets
Located in the northwest valley near Floyd Lamb Park, a housing development built in 2009 off of Grand Teton and Durango drives has several train-themed streets, including:
Amtrak Express Avenue;
Ice Train Avenue;
Eurorail Street;
Polar Express Court;
Central Railroad Court;
and, for the Ozzy Osbourne fans, Crazy Train Court.
French-themed streets
Though these streets are located on the edge of the desert near Sloan Canyon National Conservation Area in Henderson's Anthem neighborhood, the street names will make you feel like you're living in Paris.
Some street names in the gated, Del Webb development include:
Bonaparte Lane;
French Alps Avenue;
Joan of Arc Street;
King Louis Street;
and Marie Antoinette Street.
Magic-themed streets
The Las Vegas Valley is full of magic with illusion artists like David Copperfield and Penn & Teller — and the streets are no exception.
One neighborhood near Boulder Highway and Equestrian Drive in Henderson has streets named:
Hocus Pocus Place;
Abracadabra Avenue;
Houdini Street;
and Magic Way.
Cat-themed streets
Located in the northeast valley, one neighborhood has several paw-fectly named streets that only true cat connoisseurs could appreciate.
The streets, named after cat breeds, are called:
Ragdoll Avenue;
Ocicat Avenue;
Himalayan Street;
Tonkinese Avenue;
Havana Brown Court;
Anatolian Street;
Siamese Court;
and Russian Blue Court.
Star Wars-themed streets
These intergalactic-themed roads near Sandhill and Russell roads and are named after the Star Wars saga's most famous characters, including:
Leia Street;
Skywalker Avenue;
Tarkin Avenue;
and Kinobe Street.
Fruity streets
A row of cul de sac roads behind Basic Academy of International Studies in Henderson have quite the salad mix of names.
The four fruit-themed streets in the development built in the late 1970s are:
Lime Circle;
Papaya Place;
Tangerine Court;
and Citrus Circle.
Love-themed streets
Love is in the air — and on the road.
A development next to Tule Springs Fossil Beds National Monument has streets named:
Lovers Knot Court;
Wild Thing Court;
Kisses Avenue;
and, the most risqué name in the neighborhood, Hanky Panky Street.
Contact Taylor Lane at tlane@reviewjournal.com. Follow @tmflane on Twitter.