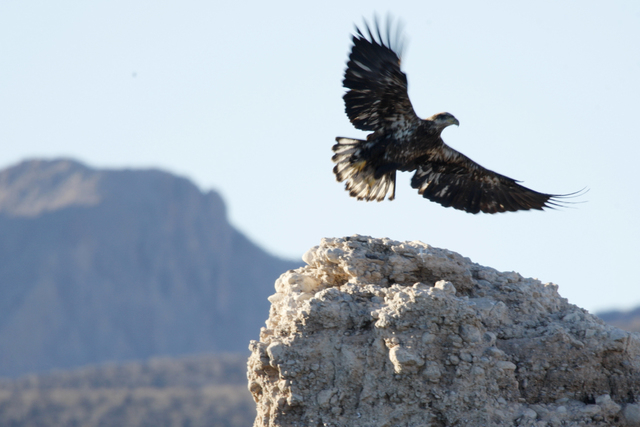 Strong winds delayed completion of a Jan. 6 eagle survey at Lake Mead National Recreation Area, but boat crews from the National Park Service made it out to Lake Mohave last week and spotted eight more bald eagles, bringing this year's total to 99, officials said.
Julia Mueller, a Park Service fish biologist, also released final, adjusted tallies Monday for previous surveys conducted from 2000 through 2014. The changes added two more bald eagles to the record high of 183 logged in 2011.
While this year's total didn't come close to the record, Mueller doesn't think the difference is drastic enough to sound alarms because generally warm temperatures allowed migratory bald eagles to stay longer in their northern habitats before beginning their flights southward.
She said Lake Mead's low level also made it difficult to look for eagles where many normally hang out near backwater areas at the north end of the lake along the Virgin and Muddy rivers.
In addition to the 99 bald eagles spotted on lakes Mead and Mohave this year, observers recorded three golden eagles, 13 Northern harriers, nine peregrine falcons, 21 red-tailed hawks, one osprey and one prairie falcon.
Typically, observer teams travel in boats at 15 mph or less on eight designated routes along the shorelines of the two reservoirs looking for eagles roosting near the water or hunting above it. But winds gusting to 38 mph on Lake Mohave south of Hoover Dam kept three boats from going out Jan. 6, the designated day for the survey.
The eagle-count tradition began in 1979 with the National Wildlife Federation. It is now carried out by the Army Corps of Engineers in partnership with the U.S. Geological Survey. The count has been used over three decades primarily to chart recovery of the bald eagle.
The nation's iconic bird was declared an endangered species for much of the United States in 1967, before passage of the Endangered Species Act of 1973. Only 417 nesting pairs were known to exist in the contiguous 48 states in 1963, according to the National Wildlife Federation. The bald eagle's decline was blamed in part on habitat loss, but pesticides that have since been banned played a role by contaminating prey the eagles ate, causing egg shells to thin and making adults sick and infertile.
The eagles are still afforded protection under three federal laws: the Migratory Bird Treaty Act, the Lacey Act and the Bald and Golden Eagle Protection Act.
After the U.S. Fish and Wildlife Service documented an increase in the number of breeding pairs from 6,471 to 9,789 during a six-year span, they were delisted in 2007 as a threatened species under the Endangered Species Act. Nevertheless, federal biologists have continued to monitor their winter migration numbers at Lake Mead National Recreation Area and other survey sites in the lower 48 states.
Contact Keith Rogers at krogers@reviewjournal.com or 702-383-0308. Follow @KeithRogers2 on Twitter.