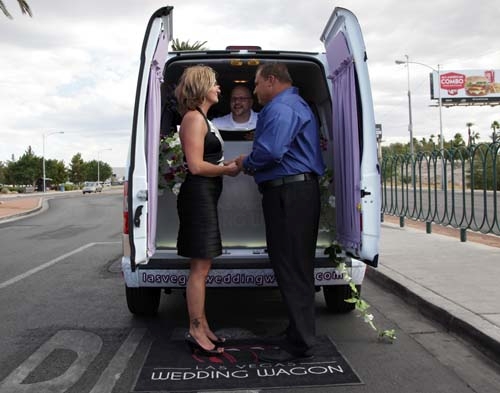 On an overcast, windy Thursday, Stefanie Montoya and Kelly Tucker tied the knot in the parking lot of the "Welcome to Fabulous Las Vegas" sign.
She wore a little black dress while he looked nightclub-ready in a pressed, blue dress shirt. No bouquets or bridal gowns for the New Orleans couple; they've been there, done that with their first weddings.
No, this was a quick and easy ceremony standing behind the Wedding Wagon, Las Vegas' newest option for the marrying kind. For $99, you and your betrothed can say "I do" in a place of your choosing. The price includes wedding photos, too. Wedding Wagon founders Andy Gonzalez and James Cass will drive to you.
Montoya and Tucker chose the iconic sign because it provided the perfect Strip backdrop for their nuptials. And at 10 minutes, it was about as fast as any wedding could be; a good thing, since the couple had a concert to attend at Wynn Las Vegas.
"We decided to come to Vegas to see Garth Brooks and get married," Montoya said.
Tucker is a huge fan so they planned the entire wedding and trip around his July 19 concert at Wynn. She purchased the concert tickets back in January and made travel arrangements.
Choosing a wedding chapel proved to be much harder. On Thursday, they visited a chapel after receiving their marriage license. Even the basic package came with a limo ride and frills they did not want. And a themed wedding? Forget it.
"I was not going to pay $400 for an Elvis wedding," Montoya said. "He told me, 'I want to get this done because I want to enjoy Garth.' "
When the couple awoke Thursday morning, they had no idea where they were getting married. She found the website lasvegasweddingwagon.com only a day after Gonzalez and Cass launched the business.
Longtime locals, both men were burned out on corporate jobs; Gonzalez worked for Zappos while Cass managed a local call center. They quit their jobs in June to focus full time on their new venture, offering legal weddings, vow renewals and commitment ceremonies.
The men were inspired to start doing mobile weddings when they heard of another mobile business, the Hangover Heaven bus. During a lunch with friends last year, Gonzalez and Cass made jokes about how to offer other services on a bus. It didn't take long for them to realize that a mobile wedding van might be a viable business to offer on the Strip. They became ordained ministers and began researching their idea.
"That pretty much was another green flag that this would work," Gonzalez said of the Hangover Heaven, a bus people ride on the Strip while receiving intravenous hangover cures. "If people would do that, people will do anything. It did lend credibility to this fascination with the mobile business model."
While the concept of a mobile wedding in Las Vegas isn't entirely new, Cass and Gonzalez think they have an inexpensive option with a new twist. Their price is all-inclusive with the only extra being a $20 T-shirt.
A window on the passenger side of their lavender Ford Transit Connect van enables couples to stand by the van, almost like they're ordering from a food truck window. But that option is for ceremonies where sidewalk space is limited. For Tucker and Montoya's wedding, the rear doors were opened, revealing windows with drapery and a counter decorated with fake flowers and ivy.
Gonzalez, who calls himself Reverend Andy, presided over the service from the back of his minivan, while Montoya and Tucker stood on a mat. Cass took photos to commemorate the occasion.
Vows were said, rings and kisses exchanged and the couple pronounced husband and wife. No muss, no fuss. Just the way they wanted.
After posing by the "Welcome" sign for photos, the Tuckers toasted each other with the warm remnants in their cans of Bud Light.
That would have to do for now; Garth Brooks was waiting.
Contact reporter Sonya Padgett at spadgett@reviewjournal.
com or 702-380-4564. Follow @StripSonya on Twitter.