A can of soup soon could pay off that parking ticket in Las Vegas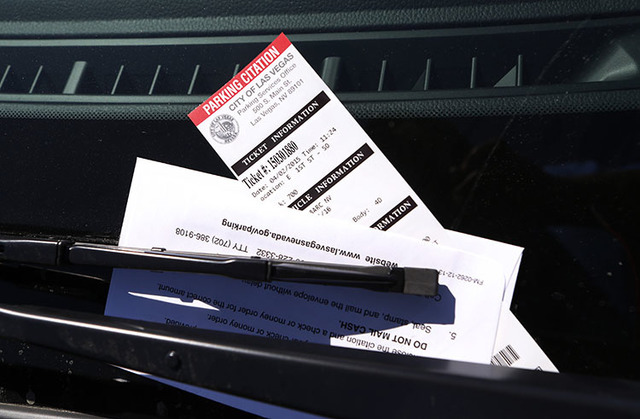 Paying parking tickets in Las Vegas could soon be temporarily replaced with acts of philanthropy.
The Las Vegas City Council will soon consider a proposal to allow people who are ticketed for certain nonmoving violations to donate food items and children's toys that total at least the value of their ticket amount to a local charity.
Public-safety-related violations won't qualify. More than 15 nonmoving violations, including parking in a fire lane, double parking and blocking traffic, won't qualify for the donations-in-lieu-of-paying-citations proposal.
Councilman Bob Beers is sponsoring the ordinance, which the City Council could take up at its next meeting June 15. He read about other cities that have offered similar programs and thought it was worth trying in Las Vegas.
Lexington, Kentucky; Albany, New York; and Tallahassee, Florida, have all offered similar programs.
"It's not an amnesty program, but basically it's an opportunity to assist in helping the community food banks or local charities," Parking Services Administrator Serafin Calvo told three Las Vegas council members at a meeting this week. "An equal or greater value would be acceptable. … We understand that we're not going to get dollar for dollar, but we do want to get as close as we can to it."
The dates haven't been set, but the idea is to offer the program twice annually, around the beginning of the school year and during the year-end holiday season, Calvo said.
One goal of the program is enhancing the public perception of parking enforcement as more than writing tickets to make money for the city.
Councilman Stavros Anthony said he thinks most people will probably give a bit more than they owe.
If approved, the city's Parking Services department will administer the program. Offering the program won't affect the department's operating budget, Calvo said.
Once the program is offered, city staff can analyze whether it encourages people who might not pay off tickets to donate instead. The city also wants to see whether the people who make the donations have paid tickets in the past or were scofflaws, Beers said.
"We'll have to analyze the results and decide" whether it makes sense to continue, Beers said.
Some higher-dollar-amount tickets won't be included, though people may be able to combine a donation and payment to remove their parking ticket debt to the city.
"This allows someone to make their parking citation and feel good about it," Anthony said. "Where right now, they're not feeling too good about paying that parking fine."
Contact Jamie Munks at jmunks@reviewjournal.com or 702-383-0340. Follow @JamieMunksRJ on Twitter.
RELATED
Las Vegas' low-income areas hit harder by parking tickets, analysis shows
LV may offer chance to violators (2008)
LV offers to forgive some parking fees (2008)