'A lot of emotion': Metro video project chronicles Black officers' experiences
Updated February 22, 2023 - 3:18 pm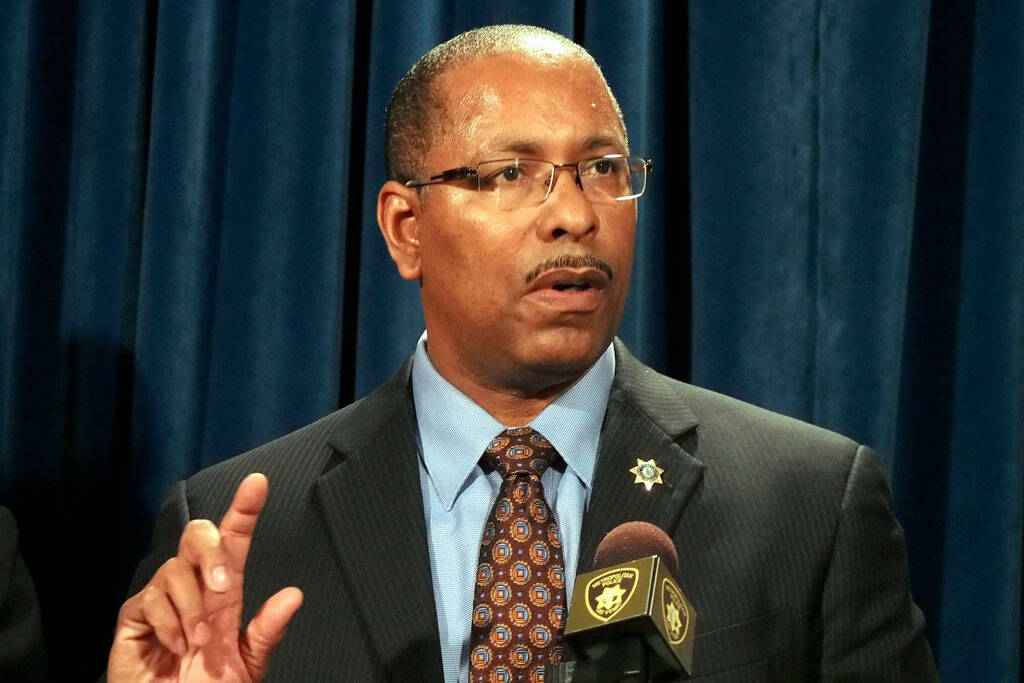 More than a dozen retired Black employees of the Metropolitan Police Department are sharing their experiences working for the agency, as part of a new video project chronicling the contributions of African American men and women to Southern Nevada law enforcement.
"They were given carte blanche to share their story," Clark County Sheriff Kevin McMahill said. "The intent behind that was to recognize the successes and the failures of us as an organization and how those officers were treated, so that we can learn from our mistakes in the past and not make the same mistakes moving forward."
The project, which Metro believes is the first of its kind by an American police department, is a partnership between Metro and the University of Nevada, Reno. To ensure the interviewees could speak freely, Metro staff was not present during the interviews.
"I believe that everybody that participated in this was very honest about their experiences, which I believe is going to help shape our organization moving forward," McMahill said.
Retired Assistant Sheriff Greg McCurdy said he had been thinking about how to capture the history of Black officers in the department after Metro officials asked him to help lead the project.
More than 50 former employees were asked to participate, 15 of whom agreed to do on-camera interviews, he said.
"There's a lot of emotion," McCurdy said. "It's not easy to really air out anything that could be seen as negative, but it was not just about the negative. Once you start to watch the videos, there will be a lot about the positive. But we can't be afraid to talk about the past so that we can make the future better."
'We had to prove ourselves more'
One of the participants was Dean Adkins, a former corrections officer for Metro from 1985 to 2012.
"As African Americans, I think we had to prove ourselves more," Adkins said. "(We were) held to a totally different standard. We had sergeants sneaking around … peeping to see if we were doing anything wrong. And we would ask our white companions if it happened to them. 'No, it never happened to us.'"
But Adkins is quick to paint his overall experience working for Metro as a positive one.
"I think we have a great department," he said. "I was proud to work here. I could do this again if I had to do it again."
Another participant Tamia Dow, who served in the department for 23 years, said that when she first joined Metro in 1989, she thought she had a strong resume, with a criminal justice degree from UNLV and as a veteran of the National Guard. But, she said, she received some pushback for being a black female, with one supervisor trying to get her to quit.
"I thought I would be the natural person to come work here. … I did all the stuff I needed to do to get there," Dow said. "What I didn't realize was that the color of my skin, my gender affected things… I was told when doing my field training that I had taken a white man's job. … It was shocking."
Setting an example
Dow said she thought it was important she serve as a police officer, in part, because it would show other women and African Americans that they could become police officers as well.
"In their mind, they could think, 'You know, I could do that,'" she said.
McCurdy and McMahill share a similar hope for the video project — both say they believe it may inspire young African Americans and others to come work for the police department.
"The idea of this is to help encourage good people to want to come into this profession," McCurdy said. "(It) is incredibly difficult for police departments to recruit in today's environment of negativity and divisiveness."
McMahill agreed. "I also believe it will be a real positive opportunity for us to use as a recruitment tool for African Americans," he said. "To see that while this is a difficult job and not everybody can do it, the truth is that there is a great opportunity, and all of (the project participants) loved it."
The interviews can be viewed here. They will become a permanent part of UNR's Shared Oral History Archives.
The project was funded by the Las Vegas Metropolitan Police Department Foundation.
Contact Justin Razavi at jrazavi@reviewjournal.com. Follow @justin_razavi on Twitter.