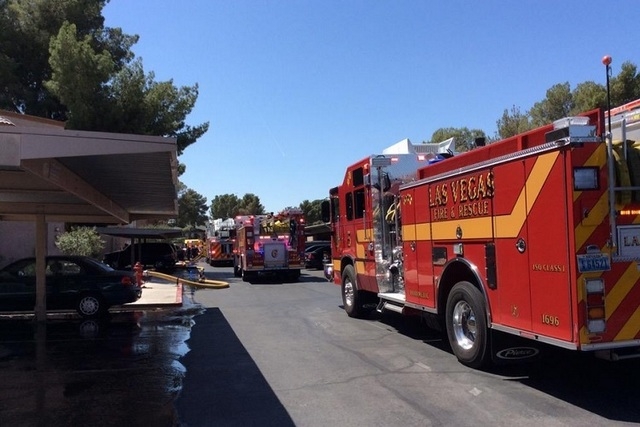 About 45 people have been displaced by an apartment fire Sunday morning in the southwest valley, the Las Vegas Fire Department said.
About 50 firefighters responded at 10:22 a.m. to the two-alarm blaze at Woodlake Villas Apartments, 4747 Pennwood Ave., near the intersection of South Decatur Boulevard and West Desert Inn Road, the department tweeted.
The fire started in the kitchen of a second-floor apartment where a flame in a pot on the stove got out out of control, Las Vegas fire spokesman Tim Szymanski said. The fire was ruled accidental.
The blaze was under control in 15 minutes and the fire was completely out at 11:15 a.m., Szymanski said.
No injuries resulted from the fire.
The apartment complex's management is making arrangements with the American Red Cross for about 45 people who cannot live in their apartments, Szymanski said. Fire damage to the attic of the building required that the utilities be shut off, and the complex management decided it would be unsafe for residents to stay there.
Most of the damage was to the apartment where the fire originated and to part of the building's attic, Szymanski said. One downstairs unit sustained heavy water damage and the rest of the 14-unit building had a smoke odor.
The fire caused an estimated $150,000 in damage.
Contact Kimber Laux at klaux@reviewjournal.com or 702-383-0381. Find her on Twitter: @lauxkimber.