Accused Vegas marijuana delivery operator facing federal prosecution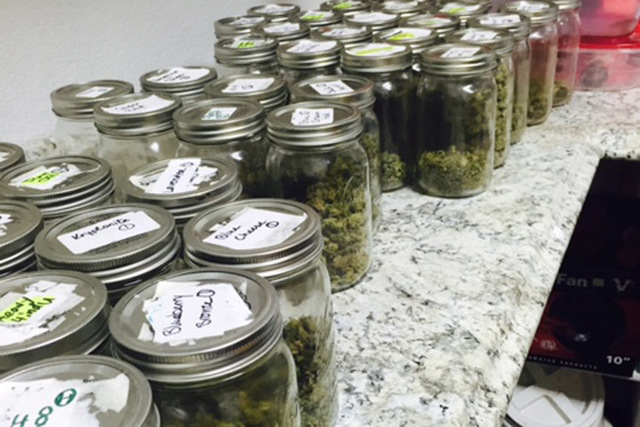 Federal authorities have taken over the investigation of a medical marijuana delivery service Las Vegas police raided last week.
The alleged operator of the service, Christopher McDermott, 36, has been charged in a federal complaint with conspiracy to distribute marijuana and was ordered temporarily detained in federal custody on Wednesday.
U.S. Magistrate Judge Peggy Leen continued his detention hearing until Friday to give his public defender a chance to review evidence obtained by prosecutors, including jailhouse recordings in which McDermott allegedly tells his wife to liquidate assets and get to government witnesses in the case.
In moving to keep McDermott behind bars, Assistant U.S. Attorney Amber Craig said he unlawfully distributed marijuana around town like a pizza delivery service through former clients hired as drivers.
Craig, who called McDermott a danger to the community, said investigators found an "arsenal" of firearms during the raid on McDermott's organization last week. In his car alone, investigators found seven rifles, one with a silencer, and two shotguns.
Last week police said they found more than 20 pounds of marijuana, 82 pounds of marijuana's active ingredient THC and 53 guns during the raid on his business, Super Budz, 1901 S. Highland Ave.
Craig said jailhouse recordings indicate McDermott, who is not currently facing any gun-related charges, has 80 more weapons investigators have yet to find.
Investigators believe McDermott also may have been running another medical marijuana delivery service in California, Craig said.
Contact Jeff German at jgerman@reviewjournal.com or 702-380-8135. Find him on Twitter: @JGermanRJ.